First secretary's diary details poverty alleviation efforts in Xinjiang village
p.china.org.cn by Liu Yizhou,September 14, 2020

Adjust font size:

"Several-centimeter notches need to be cut into some of the trees at the Tohti family walnut grove so that grafting can be performed. It can't be delayed any longer. We will deal with it tomorrow morning..." Zhang Wubin wrote the preceding words in his diary when he returned to his dormitory after 11:00 p.m. on April 4 this year. He usually summarizes the poverty alleviation progress that has been made in the village that he works in and writes down what he will do the next day before he goes to sleep at night.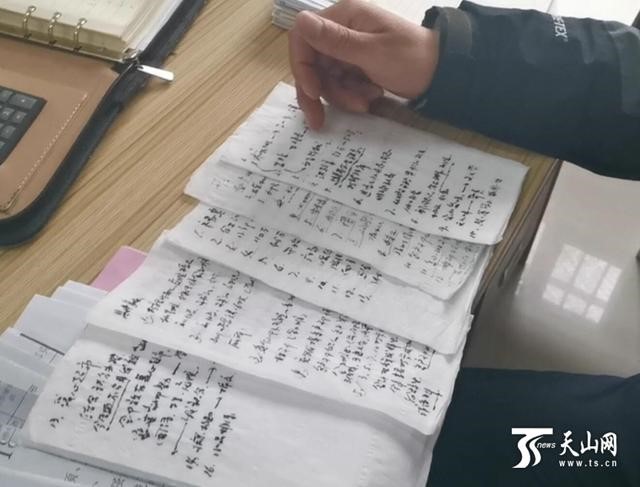 Zhang Wubin's diary [Photo courtesy ofwww.ts.cn]
Zhang was appointed first secretary of Baishikuduke village, Ailixihu township in Shache county and leader of the "Fanghuiju" ("visitation and benefit") working group assigned to the village by the Xinjiang Uygur Autonomous Region Public Security Bureau. He began maintaining a diary when he arrived in the village on July 2, 2019 and has written about 100 entries as of last spring. Zhang explained that his diary helps him remember things better and keep track of the poverty alleviation progress in the village.
Chronicling the improvements made to the village's trees
The technicians and farmers in Baishikuduke were busy engaging in grafting work on the walnut seedlings that grow in the village in the spring. Many small spikes covered in buds could be seen protruding from notches cut into tree trunks. Zhang walked through the mud and checked every tree.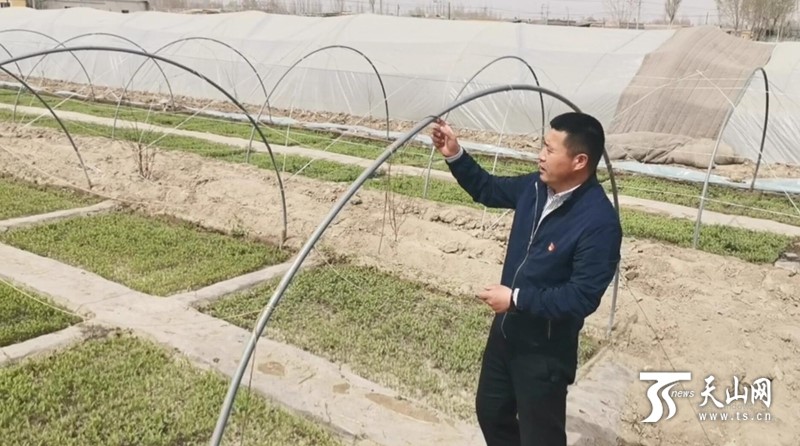 Zhang Wubin in an area that is used for grafting [Photo courtesy ofwww.ts.cn]
The diary entries that Zhang wrote towards the end of 2019 emphasized the importance of enhancing the quality of badam and walnut trees in Baishikuduke, finishing grafting work on them, and increasing the revenue that forestry and fruit production endeavors generate. These tasks were cited as the top poverty alleviation priorities in the village for the spring.
Zhang took a walnut the size of a badam out of his pocket and mentioned, "I always take it with me to remind myself of the urgency associated with improving the quality of the fruit trees." He noticed that nearly 187 ha of fruit trees had low yields the day he arrived in the village, and put a small walnut in his pocket and took it home with him. He has carried it with him ever since. That night he wrote: "The cultivars must be improved. The sooner this is done, the sooner the farmers can benefit."
Zhang wrote about making trips to other towns and villages to learn more about different cultivation techniques, invited experts to Baishikuduke to share their insight, and made other preparations. Tree improvement efforts officially began in December of 2019. The Fanghuiju working group invited Ailixihu's fruit and forestry technical service team to come to the village. Under the guidance of the experts, local villagers, organized into 42 small groups, pruned all of their trees, applied pesticides and fertilizer. All the dead trees had been cleared and new ones planted as of February, and work related to the creation of excellent new varieties via grafting was completed in the spring.
"We haven't been exposed to grafting before," Baishikuduke farmerIbrahim Kadir said. "The Fanghuiju working group came to our groves and taught us how to do it on a one-on-one basis. They also organized group training sessions. I am almost a half expert now!" He also stated that his family planted a new variety of walnut trees on one third of a hectare of land and that the cultivar makes him feel confident about the future.
Journaling about concerns related to courtyard renovation projects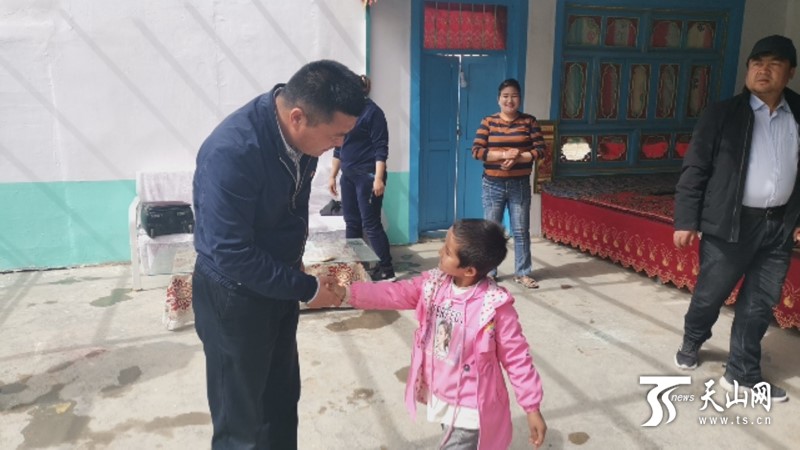 Zhang greets a young Uygur girl at a local family's home. [Photo courtesy ofwww.ts.cn]
A sign reading "beautiful courtyard family" shines in the sun on an iron door that leads to Baishikuduke resident Buniyazi Qurban's courtyard residence. Fragrant flowers grow out of pots that sit on the clean cement floor in the outdoor area, while Lush cabbage, leek, and watermelon seedlings grow in an arched shed in her backyard.
"Things used to be different for my family," Buniyazi noted. "We renovated our courtyard as a result of Secretary Zhang's advice." She explained that the Fanghuiju working group persuaded her to beautify her courtyard last year and that she reluctantly agreed. "I felt a little worried at that time, but all of the village officials came to help me," Buniyazi continued. "I didn't expect that my home would look so good when the renovation work was done. I began growing more vegetables and selling them and feel very happy!"
"We are used to living in old houses and don't want a change," many of Baishikuduke's residents mentioned when Zhang visited them and offered to help renovate their dwellings after he noticed that they were dirty, rundown, and had crooked shelves. He invited them to visit residences that had already been refurbished to witness the benefits that could be realized firsthand. The outdoor floors in their courtyards had been hardened, the floors in the indoor areas had been covered with tile, modern bathrooms had been installed, and they were no longer muddy.
"Secretary Zhang also determined that we would benefit financially in addition to aesthetically," Buniyazi stated. "We are able to grow vegetables and raise chickens in new sheds and live a more comfortable life. We eat what we produce and have gained a new revenue stream by selling what we don't need." She also explained that most people eventually agreed to participate in the renovation project. Zhang was concerned with every detail of the undertaking and wrote about them in many of his diary entries.
Expressing a desire to achieve poverty reduction via employment
The diary entries that Zhang wrote in the spring when he returned to work after the lockdown that was implemented due to the COVID-19 pandemic was loosened include information about a mesh bag factory that the village owns. The Fanghuiju working group helped establish it in 2019 in order to increase incomes and promote employment, and 80 of Baishikuduke's residents currently work there. A reward system has been implemented in which everyone who works more than 10 days per month receives a bonus in order to encourage steady participation. The overall attendance rate is currently more than 90 percent, and demand for the mesh bags that are produced is outstripping supply.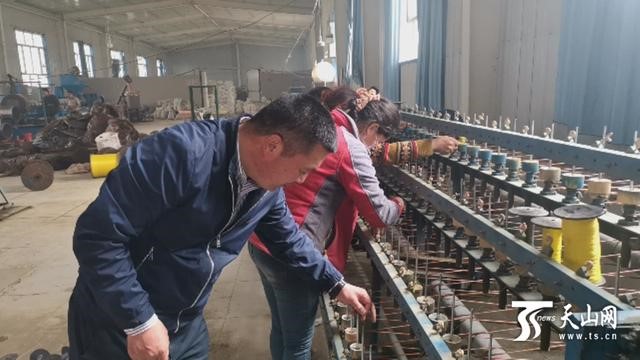 Zhang makes an adjustment at Baishikuduke's mesh bag factory. [Photo courtesy ofwww.ts.cn]
"My monthly salary is now almost as much as what I used to make from an entire year of farming," the mesh bag factory's deputy director, Ayishengul Qurban, said enthusiastically. She started off as a regular employee and worked her way up to her current position. Ayishengul continued: "Secretary Zhang is right. Hard work makes it possible to reap great rewards!"
"Sometimes when I lie in bed at night, I suddenly think of something that needs to be finished or a solution to a problem," Zhang noted while taking out several diary notebooks with napkins protruding from them. "I pull out a napkin and write my ideas down if nothing else is handy." He mentioned that he does not want to forget what dawns on him and that he can sleep soundly once he writes it down.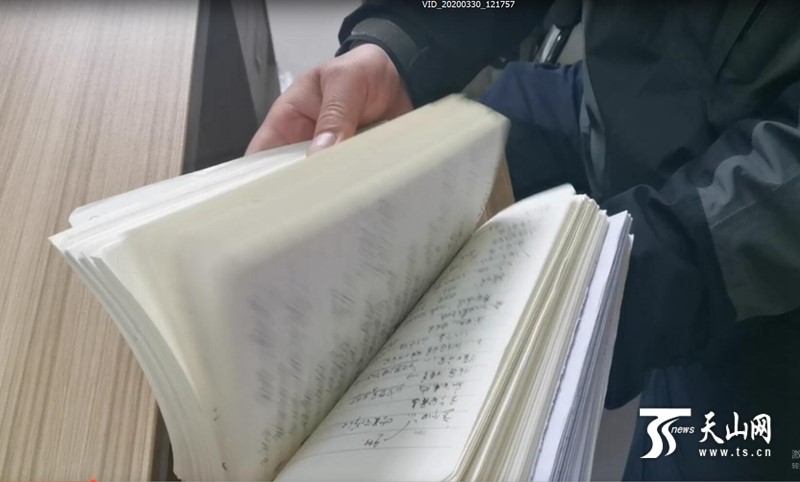 Zhang flips through his diary. [Photo courtesy ofwww.ts.cn]
Grafting fruit trees, planting chrysanthemums, checking on migrant workers who have left the village... Zhang's diary features detailed accounts of the poverty alleviation work that he has performed with the Fanghuiju working group. The entries reflect the changes that have been made in Baishikuduke and are the products of a lot of sweat and toil. Zhang's records are like the footprints that the working group leaves behind as it leads the villagers out of poverty.