A Chinese village's way to poverty alleviation through spoons and sauces
p.china.org.cn by Liu Yizhou,September 10, 2020

Adjust font size:
A section of about 30 kilometers of the ancient Meiling road in the Northern part of Nanxiong city is lined with more than 160 agritainment farmhouses, which all display the "Meiling Goose King" sign. [Photo courtesy of Wang Ruiping, Xinhua]
A minivan loaded with more than a dozen folding tables, chairs, benches, pots and pans, belongs to Xie Junming, aged 45. This is his "mobile canteen."
In the Nanling Mountain area, which borders Guangdong and Jiangxi provinces, people in the countryside like to celebrate all kinds of events — weddings, funerals, the baby's one month birthday, and the birthdays of the elder family members — in the ancestral hall or courtyard of the village. Xie Junming is a chef who travels in the countryside and provides his service.
"Life has improved in recent years, so there are lots of opportunities for banquets," said Xie. Dressed in his chef's costume,he looks in thehighest of spirits. "Our village has no restaurant, so I take my cooking materials to cook for people. And I'm a certified chef — not just some nobody!"
Guangdong has made a big effort to upgrade dining business. In 2018, a training program called "Guangdong Cuisine Master" was implemented. Through training, urban and rural workers like Xie Junming were able to acquire cooking skills as a means of raising themselves from poverty. To date, Guangdong Cuisine Master training has benefited 50,000 people, 11,000 of whom were registered poor.
Coming from a disadvantaged family, Xie left his hometown of Nanxiong City in Guangdong in his early 20s. He went off to work, helping out in the back kitchen of a hotel restaurant. A few years ago he ended his migrant working life and returned to his hometown. He first set up a stall for night-time snacks, and later found an income-earning opportunity in cooking for roadside banquets, a traditional dining culture in southern China. But he never dared to open a fixed canteen. "I was just a self-taught cook, and I didn't have the confidence," Xie noted.
In July 2019, an advertisement transformed Xie Junming's outlook. The local government was organizing a "Meiling Goose King" Chef Competition and providing structured chef training for participants.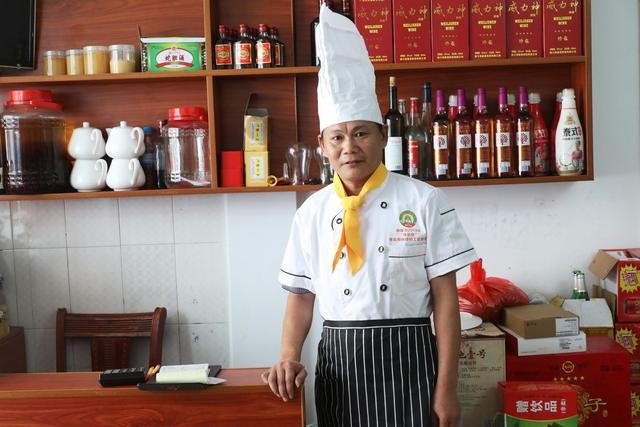 Xie Junming in his own store, wearing the competition uniform. [Photo courtesy of Wang Ruiping, Xinhua]
"Guangdong cuisine masters from the provincial capital taught us a lot about nutrition and cooking skills." The training opened Xie's eyes.
Xie Junming won Excellency award in the competition. He passed the training test and qualification examination, and obtained the national intermediate Chinese cook certificate. "The government paid the fees for our training. With the certificate, I become confident now," Xie said.
In October last year, Xie Junming rented a property in the county town and set up his own fixed establishment. People who came to order a banquet could first try two or three dishes in the premises. "I received orders for more than 300 tables within two months of opening. Everyone knew that I had won the prize, and I'm a master," he said proudly.
"It's true that eating can help people out of poverty," said Li Huixiang, chairman of the catering branch of the Nanxiong Tourism Association. He explained that Guangdong cuisine is one of the famous cuisines of China, with a wide variety of styles. Through exploiting local specialties and the planned training of rural chefs, we can help rural areas get rid of poverty.
"Meiling Goose King" is the local specialty. More than 400 chefs are adept at preparing this dish. [Photo courtesy of Wang Ruiping, Xinhua]
Nanxiong, one of the poor counties in Guangdong, is located in the northern mountainous area of the province. With transport links having improved in recent years, rural tourism and agritainment has begun to flourish. The local specialty, "Meiling Goose King," has been built into a local brand through the training of rural chefs and the competition.
Along a 30-kilometer stretch of the ancient Meiling road in the north of Nanxiong City, 160 farmhouses on both sides of the road display "Meiling Goose King" signs. More than 400 chefs are adept at preparing this dish and the more than 1,000 people are engaged in the business. Due to its proximity to tourist attractions, the area attracts thousands of tourists and diners every day, especially on weekends and holidays.
With the growing popularity of "Meiling Goose King," the cultivation of farm geese has become a new way for local farmers to escape poverty. Nowadays, 200,000 geese are farmed in the Meiling area every year, bringing revenues of more than 16 million yuan.
Lai Shifeng, 47, who lives in nearby Tianxin village, is an apprentice at the Meiyuan Goose King restaurant. Her family was registered poor as she alone has to support her husband who lost his ability to work because of blindness and four children.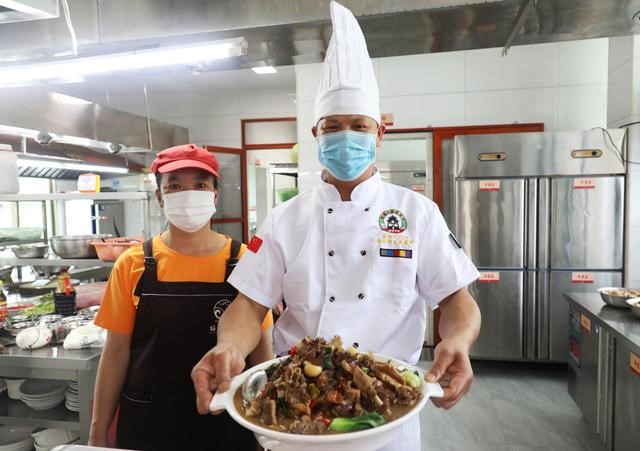 Lai Shifeng (L) and her mentor Lai Guozheng present their "Meiling Goose King" dish. [Photo courtesy of Wang Ruiping, Xinhua]
A few years ago, Lai Shifeng found work in the restaurant at a fixed salary. With the skills she has acquired, she can cook now on her own. She earns much more than she would as a waitress. This year, Lai's family shed their classification as a poor household and built themselves a new house.
As she sees her life getting better, Lai says her dream is to open her own "Goose King" shop one day.