Reflecting on China's poverty alleviation journey through the lens of Qinghai province
p.china.org.cn by Jin Ling,September 08, 2020

Adjust font size:

Editor's note: Wang Dajun, Qinghai Poverty Alleviation and Development Bureau member, director of the Office for Counterpart Support for Poverty Alleviation in Qinghai, and former director of the Exchange Division at the International Poverty Reduction Center in China, recently reflected on the country's poverty eradication journey through the lens of Qinghai province as the nation approaches its goal of eliminating absolute poverty in all of its rural areas by the end of the year and wrote the following article.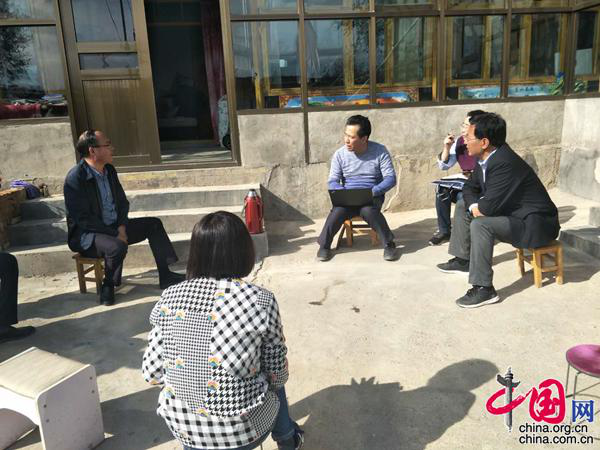 Wang Dajun (third from the right) talks with impoverished people and poverty eradication staff in Qinghai. [File photo]
People-centered development approach
China has made its poverty alleviation campaign and welfare system national priorities. The country has taken a people-centered approach to development and strives to make food, clothing, compulsory education, basic medical services, and safe housing available for all of its citizens.
The outcomes that have occurred in Qinghai province are a good example of China's poverty elimination undertaking. The administrative division is located on the northeast part of the Qinghai-Tibet plateau in the western part of the country and is one of the its most uninhabitable regions as a result of the fragile ecosystem, harsh climate, prevalent natural disasters, and poor transportation in the area. Dozens of government offices worked together to achieve a synergistic situation in which the 1,622 villages, 42 counties, and 539,000 rural residents that remained in absolute poverty in Qinghai were able to escape from it during China's 13th Five-Year Plan period (2016-2020). The following results have been achieved thus far:
- 20,0000 people have relocated from uninhabitable areas to newly constructed resettlement sites;
- 200,000 dilapidated homes belonging to farmers and herders have been renovated;
- All of the province's 17,836 impoverished residents with serious diseases have received treatment, and 49,800 poverty-stricken people with chronic illnesses have signed contracts with family doctors;
- 301,400 impoverished people have gained improved access to safe drinking water;
- The retention rate for nine-year compulsory education has reached 96.87 percent;
- 59,400 poverty-stricken people and 4,551 poverty alleviation entrepreneurs have received skills training;
- 428,000 impoverished villagers have received help finding work in more prosperous areas;
- Tourism endeavors in 208 villages have been upgraded, which has made it possible for 55,400 poverty-stricken people in 16,300 households to generate new sources of income;
- Nearly 80,000 impoverished people have increased their incomes by making ethnic handicrafts from the Qinghai area, such as embroidery, Thang-ga scroll paintings, carpets, and silver and bronze wares;
- 961 environmentally friendly animal husbandry cooperatives have been established that distribute dividends to 65,000 members;
- 82,000 impoverished people became members of 380 afforestation cooperatives, which has made it possible for them to earn a living by protecting forest and grassland areas and planting trees;
- And 49,900 impoverished people began engaging in environmental management and protection work, an endeavor which has involved members of 31.2 percent of the households that were registered as impoverished in the province.
In 2019, the Qinghai government brought in just over 20 billion yuan (US$2.85 billion) of revenue. It decided to reduce all unnecessary expending and invest heavily in poverty alleviation. The province allocated 2.64 billion yuan (US$376.2 million) to its poverty reduction endeavors and also had access to about 3.6 billion yuan (US$513 million) of funding from the central government, for a total of approximately 6.24 billion yuan (US$889.2 million) dedicated to the pursuit for the year.
Poverty eradication officials demonstrate devotion
First Party secretaries working in all levels of government cite poverty elimination as one of their top priorities. The millions of staff members that are involved play an important role in the implementation of useful policies and also help impoverished people develop their abilities. They care about poverty-stricken citizens' various needs, whether leaky pipes need to be fixed or a veterinarian needs to be located to help a sick goat.
Accountability, admonition, appraisal, and inspection systems help guarantee that quality poverty alleviation outcomes occur in China. Staff investigate 78 poverty eradication indicators in a total of six categories and ensure that tasks associated with each are being properly executed and that sufficient progress is being made.
Many foreigners who have visited the country have shown admiration for Chinese poverty elimination officials and their thorough and resolute implementation of high-quality poverty reduction programs and policies.
An approach involving the full participation of the public
The phrase "when disaster struck, help came from all sides" represents one of China's longstanding traditional virtues. A core value of socialism with Chinese characteristics involves citizens who become prosperous earlier than others helping impoverished people live better lives.
The following additional investments into Qinghai's poverty reduction campaign were made in 2019. The cities of Beijing, Shanghai, Tianjin, Jiangsu, Zhejiang and Shandong provinces allocated a total of approximately 1.77 billion yuan (US$252.23 million) of poverty reduction funding for the province to use. Thirteen central government agencies dispatched 23 staff members and distributed 90 million yuan (US$12.83 million) to Qinghai. Two thousand nine hundred ninety enterprises owned by other provinces, counties and prefectures outside of Qinghai invested a total of 300 million yuan (US$42.75 million) and implemented more than 2,350 wellbeing projects. Seven hundred forty-seven chambers of commerce located in the provinces such as Shandong established partnership relationships with 1,822 villages, 952 of which are registered as impoverished, and invested a total of more than 1.02 billion yuan (US$145.35 million) into poverty alleviation endeavors. Individuals, police departments, the People's Liberation Army, and private enterprises have also contributed to Qinghai's battle against poverty.
Impoverished citizens express gratitude
Many poverty-stricken people express a lot of gratitude to poverty reduction officials when they move into new homes and begin living better lives. Their joy and happiness is the most meaningful reward for the staff that are involved with the undertaking. Impoverished citizens also tend to become more confident about their ability to escape from poverty as they develop new and better ideas, stronger capacities, and wider business channels.
I know that poverty alleviation has been a success when I see impoverished citizens returning funding associated with the endeavor to the government and asking if it can be used to help people who need it more than they do.
This article was originally published in Chinese and was translated into English by Jin Ling.
Opinion articles reflect the views of their authors, not necessarily those of China.org.cn and Chinagate.cn.