China's Tibetan residents escape from poverty by participating in wine industry
p.china.org.cn by Ye Kai,September 04, 2020

Adjust font size: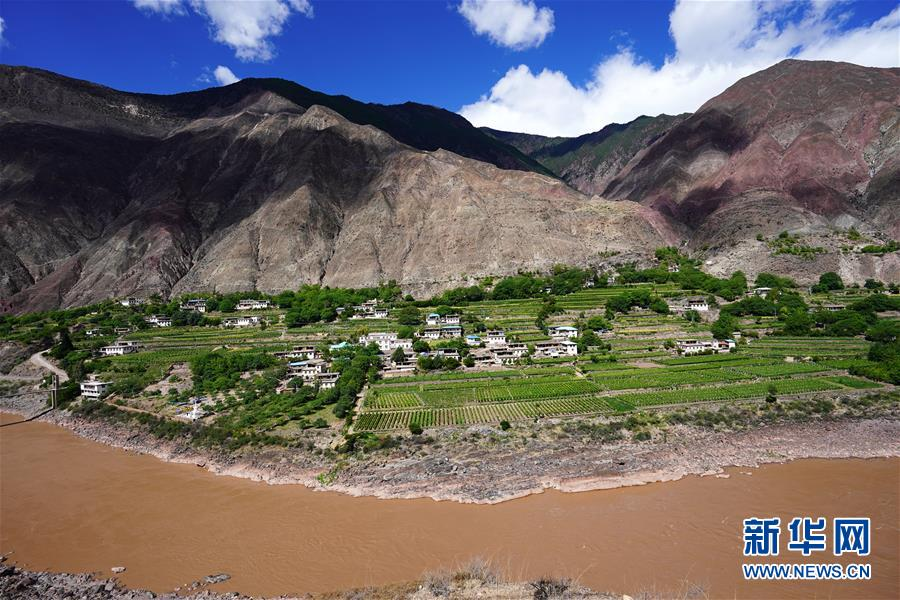 Adong village, Muxu township, Markam county, Qamdo city, Tibet Autonomous Region (Xinhua/Zhan Yan)
Located in eastern Tibet Autonomous Region, Qamdo city has a climate that is favorable for grape cultivation, and there is a long history of winemaking in its borders. The city's wine industry has been expanding in recent years, and grapes are currently grown on about 1,300 ha of land.
Qamdo has incubated five grape wine companies. They produce more than 600 tons of wine per year for over 64 million yuan (US$8.97 million) of output value and benefit more than 400 of its impoverished residents.
"You can produce more grapes if you take good care of them," 52-year-old farmer Yang Pei from Muxu township mentioned with a smile while working in a vineyard. He began growing the crop on 0.23 ha of land in 2019 and earned about 8,000 yuan (US$1,122) from the endeavor over the course of the year.
Yang's family used to grow highland barley and maize but made little profit and was identified as impoverished four years ago. The household escaped from poverty in 2019 as a result of Yang's grape cultivation efforts, income that his son-in-law earns as a migrant worker, and an environmental protection subsidy that its members are eligible for.
Two hundred eleven households currently grow grapes on a total of 132 ha of land in Muxu. The undertakings generate 1.77 million yuan (US$248,154) of income a year, or an average of about 8,400 yuan (US$1,178) per family, and have made it possible for many people to emerge from poverty.
Markam county encourages wine companies to establish vineyards and winemaking facilities in its villages in order to develop the industry and create more jobs. Zangdong Zhenbao Wine Co. Ltd. leases 33.33 ha of land at a rate of 22,500 yuan (US$3,155) per ha per year from Naxi township's residents for grape cultivation purposes. The company employs 28 long-term employees at a rate of approximately 3,600 yuan (US$505) a month per person and short-term laborers for tasks such as weeding, fertilizing, and picking at a rate of 150 yuan (US$21) a person per day. It also purchased 410 tons of grapes from growers in Muxu and neighboring areas for more than 2 million yuan (US$280,400) last year.
Zuogong county is located near Markam and has also been busy developing its grape industry. More than 467 ha of wasteland was recently transformed into a contiguous vineyard, 388.8 ha of which is currently being used for cultivation. The government distributed 75,000 grape seedlings to local citizens for free as well and encourages them to plant them on the land around their homes.
In 2019, Xiamen city's C&G Hong Group participated in a project that was designed to assist Tibet's citizens with the Zuogong county government, which led to the establishment of the Tianlu Winery at Zhonglinka township's grape cultivation base. C&G Hong Group has been developing the industry chain in the area and creating jobs related to grape cultivation, winemaking, sales, and other tasks.
"The winery is right by my home," a formerly impoverished Tianlu employee named Lajia stated. "I can get there in 10 minutes by motorcycle. It's a great job." The Zuogong native lives in Zhonglinka's Oba village and earns more than 3,000 yuan (US$421) a month at the facility.
The Tianlu Winery is expected to be able to process up to 6,000 tons of grapes a year and employ more than 100 impoverished people. It will also distribute dividends to members of the public, which will enhance poverty alleviation efforts.