Women shine in Liangshan Yi Autonomous Prefecture's poverty alleviation campaign
p.china.org.cn by Zhang Weilan,September 03, 2020

Adjust font size:

Intro: Women who are part of impoverished households are holding up half the sky for their families. Some stories about their journeys out of poverty are below.

China is concerned with helping ensure that all of its citizens have sufficient food and clothing, safe housing, and access to compulsory education and basic healthcare services as part of its poverty alleviation campaign. It is crucial that impoverished people are motivated and engaged in the undertaking and actively participate.

On a recent seven-day trip to Zhaojue county,Liangshan Yi Autonomous Prefecture, Sichuan province, I discovered that women who are or were part of impoverished households are holding up half the sky for their families. Some stories about their journeys out of poverty are below.

Women escape from poverty by embroidering at relocation sites in Zhaojue county

Thirty-one-year-old Ahai Mebaowei never thought that she would move into an early 100-sqm home with bedrooms, bathrooms, akitchen, and a living room in a central part of Liangshan. The Guozu village native had to leave her impoverished parents behind in the desolate mountainous area that they are from in order to work as a migrant laborer when she was only in her teens. She only had two outfits to take with her and a pair of gloves that her mother gave her.

"I worked at a factory in Guangdong, and my days were difficult," Ahai recalled. "I was an outsider and a nobody in the province's bustling cities. I never forgot who I am or where I came from though." She also mentioned that her dream was to live a decent life like some of the locals that she met while she was in Guangdong and that her dream has finally come true.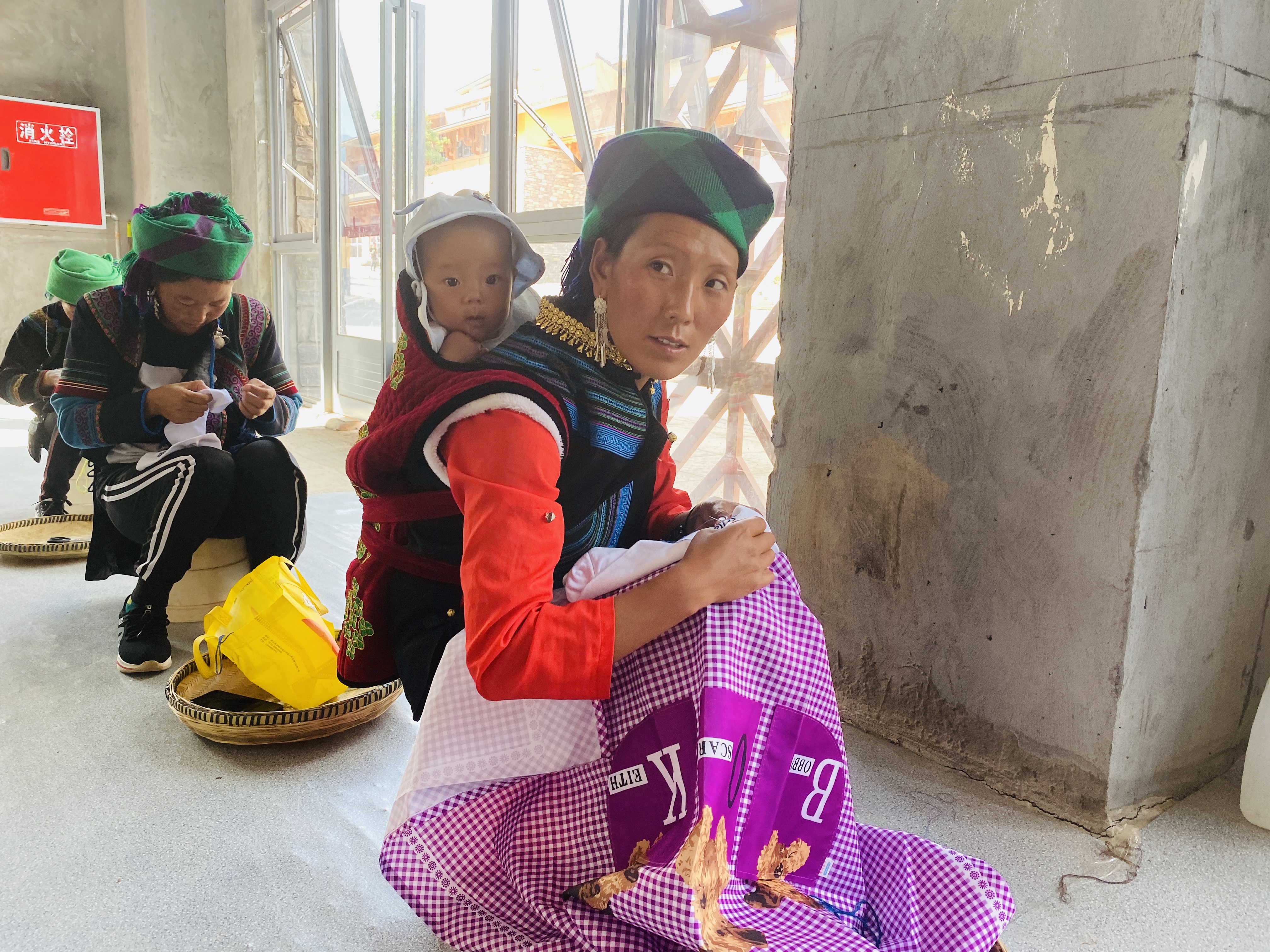 Ahai attends a special embroidery class after taking her three eldest sons to a nursery school in her community. The program was designed for women who want to be able to look after their children while they work.(Photo by ZhangWeilan/ China.org.cn)

Ahai eventually returned to Liangshan after her stint in Guangdong, got married and had children. Her husband had been working as a migrant laborer as well and continued to do so, but it was difficult for the family of six to live on the 3,000 yuan (US$439) that they brought in each month. The Ahais resided in a simple adobe home at the time and were eventually identified as impoverished.
Local authorities in Liangshan began helping people who lived in dilapidated residences in rural parts of the prefecture renovate their homes and those who had been living in inhospitable areas relocate to resettlement sites at the end of July in order to help them escape from poverty.
"Relocation makes it possible for peoplewho arefrom villages to livebetter lives," Jise Fangsen, deputy magistrate of Zhaojue, pointed out. "Womenwho residein resettlement sites have an opportunity to increase their incomes and support their families without having to leave their homes and do not need to depend on their sons or husbands to get out of poverty."
This May, Ahai moved into a new residence in are location community in Zhaojue with her husband and four children. The site is the largest of its kind in Liangshan and is currently home to 1,428 households that were impoverished when they moved in. The community features a maternal and child care center, a job training center, a supermarket, a service center that provides legal consultations and medical services, an activity center for the elderly, reading and leisure rooms and other amenities. A primary school and an outdoor produce market are also under construction at present.
Ahai began participating in a special embroidery program and gave birth to her fourth son soon after she moved into the community.
"I earn 160 yuan(US$23) per day embroidering socks at home," Ahai said."I feel happy and satisfied because I am able to make a living while I take care of my kids." The mother of four also mentioned that she earns additional income by leasing some of her land to local cooperatives.
Women teachers educate preschoolers in Zhaojue's impoverished Jieba Nada village
Luo Ying was teaching 36 preschool students about poetry with another female teacher in a residence that had been converted into a classroom in Zhaojue's impoverished Jieba Nada village when I met her.
"We call ourselves instructors rather than teachers," Luo explained. "We are responsible for teaching Mandarin to children who are part of the Yi ethnic group and helping them develop good habits."
The Liangshan government has been making efforts to support preschools in its jurisdiction and creating more opportunities for children from impoverished families since 2015. All Yi citizens who are between three and six years old became exempt from tuition requirements at preschools in rural parts of Liangshan in May 2018 in order to encourage them to attend and learn Mandarin. The Sichuan Daily has noted that approximately 120,000 children have enrolled in over 3,000 preschools in the prefecture since the program was launched, 112,800 of whom are from 11 counties that were deeply impoverished at the time, and that 400 more preschools willopen soon.
"Studentsen joy their time at the preschools, and lunch is provided for free," Luoexplained. "Children learn to speak Mandarin and become more outgoing, and parents don't need to worry about their kids while they work. Many students want to teach their parents how to speak China's official language."
Luo graduated from a college in Sichuan with a degree in Chinese language and literature and understands the importance of teaching Mandarin to Yi children.
"Mandarin is China's official language and is widely used around the country," Luo continued. "It is important that Yi children learn it so they have the ability to work and study in other areas."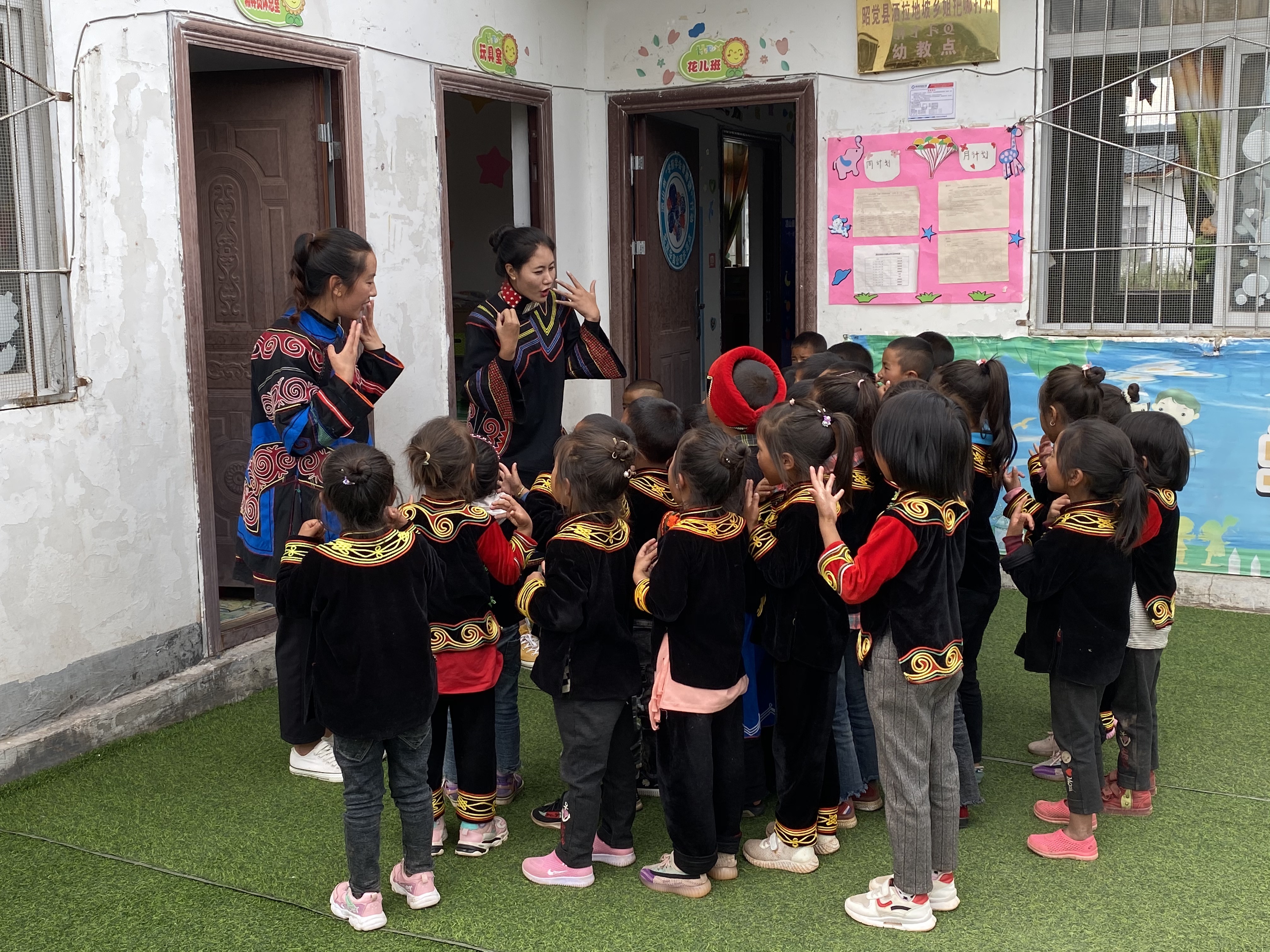 Luo Ying (right) plays a game with Yi students, many of whom are part of impoverished households. (Photo by ZhangWeilan/ China.org.cn)
"Preschool has become popular in Liangshan," Luo noted. "There is a nurgent need for more teachers for this age group." She also remarked that she thinks that local governments should provide more training courses for teachers in Liangshan and that they should increase their salaries so that more people become interested in the profession.
"Education plays an important role in discontinuing the intergenerational transmission of poverty," Jise stated. "Preschool empowers students who are part of Liangshan's impoverished households and makes them more competitive. Language shouldn't be a barrier that prevents them from engaging in contemporary society and striving for a better lives."
Women engage in poverty alleviation industries in Butuo county
Biqu Mlaza is a resident of Liangshan's Butuo county who was impoverished until recently. Her family lived on the approximately 2,900 yuan (US$424) a year that they made from selling corn, chicken and potatoes. Biqu wanted to help her family escape from poverty despite the fact that she is in her 70s, which is considered to be well in to retirement in most parts of China.
Biqu began working at the Plateau Blueberry Plantation in Butuo's Tuojue town about a year ago and currently earns 2,400 yuan (US$351) per month. She puts on work clothes with her husband every morning unlike most Yi women, who usually wear embroidered jackets and long, pleated skirts with multiple layers. The couple's two sons have passed away, so they also take care of their five grandchildren.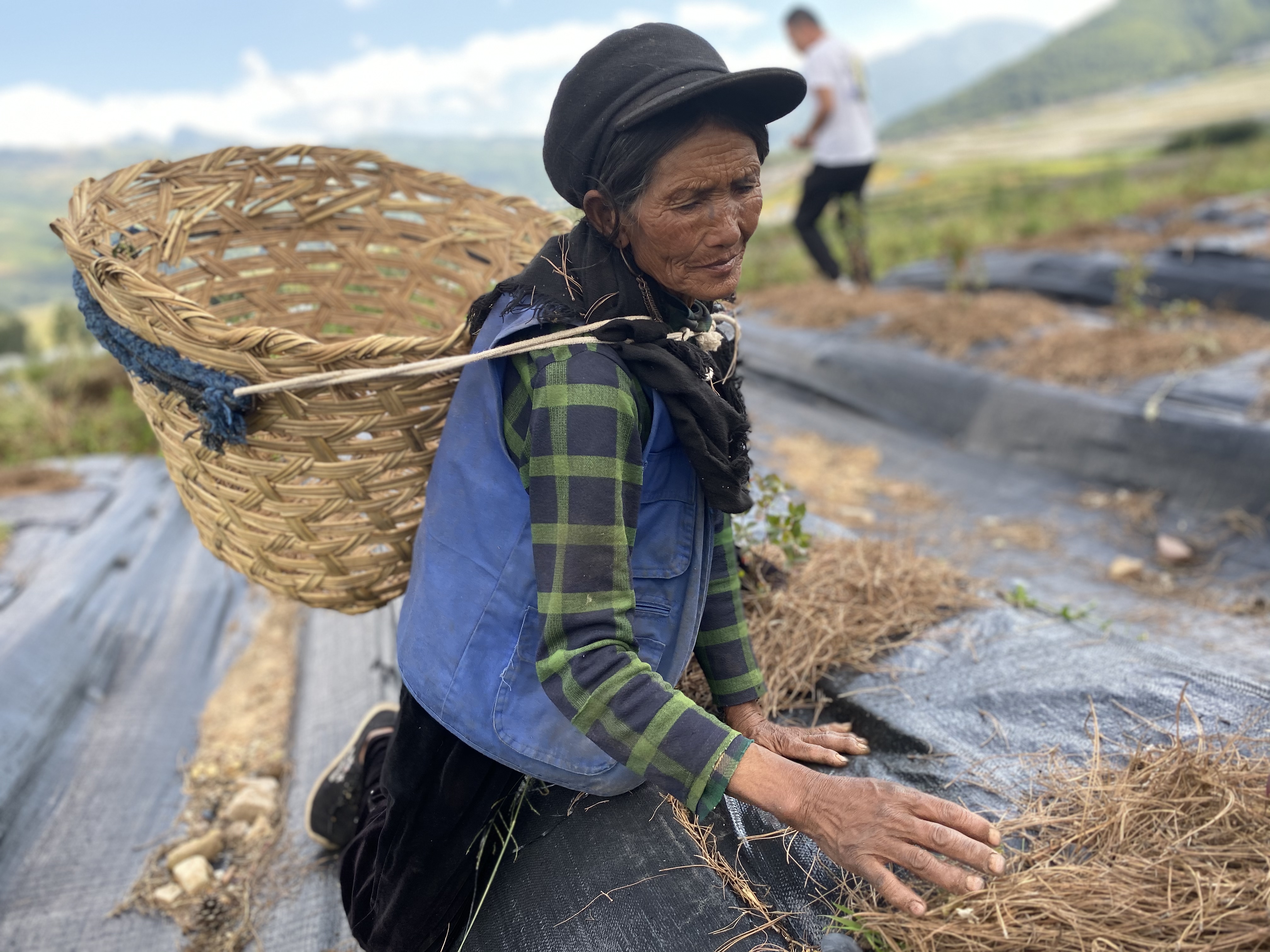 Biqu Mlaza works at the Plateau Blueberry Plantation. (Photo by ZhangWeilan/ China.org.cn)

Farmland is a lifeline for many Yi citizens. Biqu's family has always gotten as much use out of theirs as possible and is currently leasing 1.2 of their 1.4 ha to the local government.
"We had the opportunity to move into a new residence just a few kilometers away from our old one," Biqu stated with a smile."My husband herds sheep and cattle, while I work at a blueberry farm in the area, and we grow corn and potatoes on the 0.2 ha of land that we haven't leased to the government."
Employment is a crucial part of sustainable development and people's well-being and helps members of vulnerable groups, such as women, children, and the elderly, safeguard their human rights. Developing industries have resulted in the creation of many new jobs in Liangshan in recent years. The blueberry farming undertakings in Butuo help reduce extreme poverty, improve residents' lives, and empower women and contribute to environmental protection.
"Nine thousand people have worked at the farm since it was established, 60 percentof whom were part of households that were impoverished when they started," the manager of the Plateau Blueberry Plantation remarked.
Biqu's main desire at this point in her life is to ensure that her five grandchildren get a good education.
"I worked hard to survive in the past," Biqu recounted. "I hope that my grandchildren can thrive and have better lives than I did in the future."