Student team helps impoverished ethnic minority villages with e-commerce
p.china.org.cn by Liu Yizhou,August 25, 2020

Adjust font size:

"We have a big dream, namely that every village is prosperous, beautiful, and connected to the internet and that their residents are able to make good livings."

Five students from Journalism and Communication School of Minzu University of China (MUC)–Piao Donghe, Zhang Baoyu, Lin Minglun, Sun Minghong, and Tang Qiangwei–recently unveiled a project known as the Multi-channel Network on Agriculture via an announcement on its new WeChat official account. The goal of the undertaking is to help impoverished villagers who live in areas where ethnic minorities dwell coordinate resources and use livestreaming to sell the products they produce.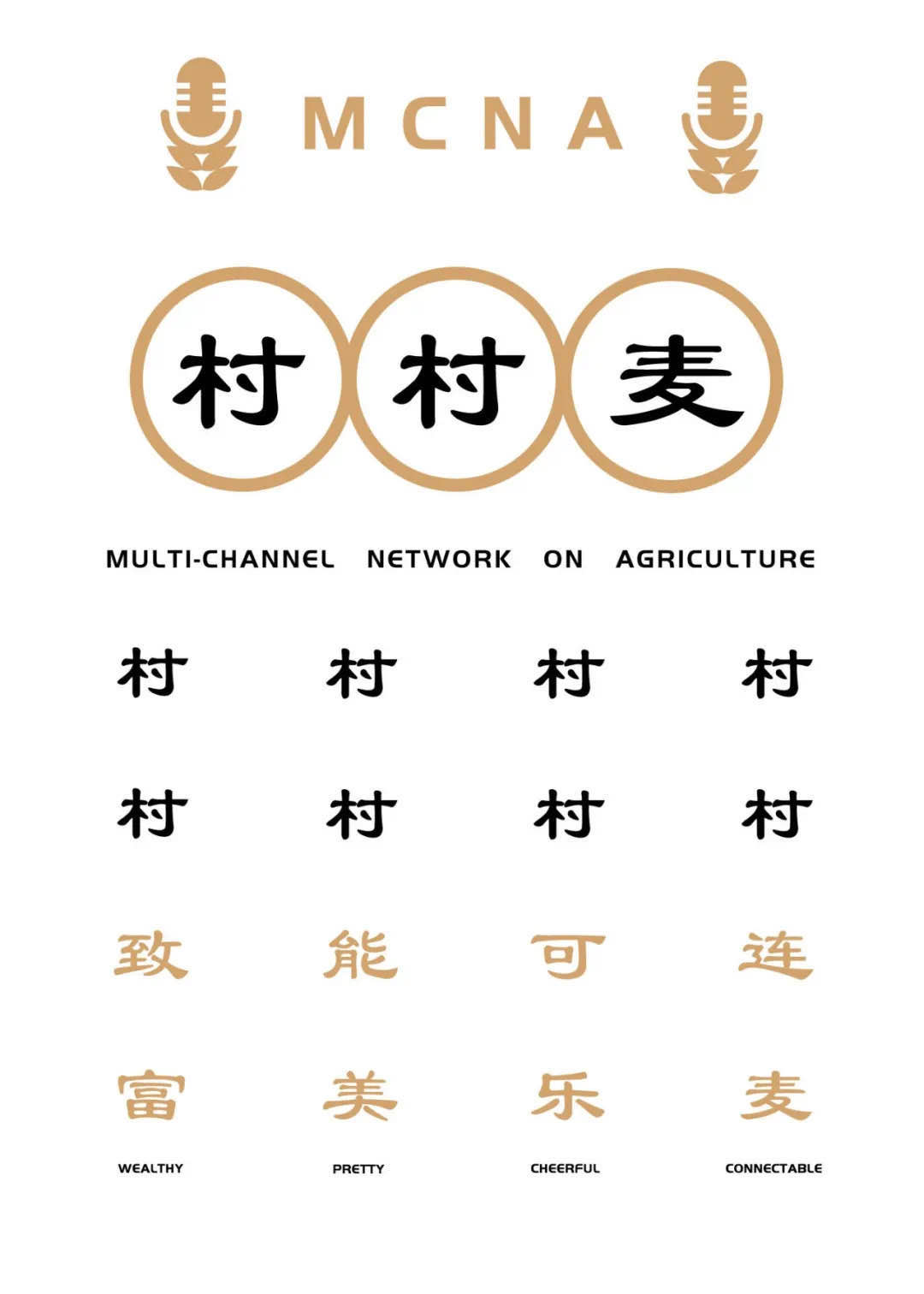 Poster from MCNA WeChat official account
"We want to use our expertise to help poverty-stricken ethnic minority farmers improve their access to the market by taking advantage of the opportunities that e-commerce provides," Piao Donghe mentioned. He designed a special logo that consists of a microphone that looks like a plump kernel extending from a piece of wheat to reflect his goal for the project.
"COVID-19 has had a huge impact on agriculture," Piao pointed out. The unexpected outbreak has disrupted students' classes and caused them to think about social problems more. "It has been more difficult for farmers to sell their agricultural products in recent months," the Multi-channel Network on Agriculture member continued. "We have been thinking about what we can do to provide assistance."
The team thought that livestreaming might have great potential in many regions where ethnic minority groups live since there have been related success stories during the pandemic period. Sun Minghong thinks that farmers can no longer adhere to conventional management and sales models and wait for buyers to come to them in the era of e-commerce.
"Some villagers aren't aware that livestreaming can be used to sell things, and others know the method but hesitate to take action," Piao stated. "We have all worked in student organizations, are efficient, and have good leadership abilities. We hope we can lend a helping hand to villagers who live in ethnic minority regions." The five likeminded people came together as a result of their common goals.
"We want to help ethnic minority groups share their cultures in addition to helping their members sell the products they produce," Tang Qiangwei said. The students' prior experiences have fueled their motivation and enthusiasm. Tang and Zhang Baoyu conducted media research in ethnic minority counties the summer after their first year of graduate school and perceived great and cohesive atmosphere in them, and Zhang and Lin Minglun have participated in poverty alleviation studies and training programs. Three of the students are from regions where ethnic minority groups reside as well. All five want to use the internet to assist people in impoverished areas.
The Multi-channel Network on Agriculture founders often consult with their professors and with industry leaders. Their enthusiasm moved MUC Advertising School Dean Yang Chao and Ucommune Senior Branding Manager Xiang Tiantian. MUC Dean of Journalism and Communication Zhao Lifang also joined their WeChat group in order to support the students.
The team discovered that they still have a lot to learn when they embarked on their journey to help reduce poverty via e-commerce. The scope of their project was fairly broad at first, for example, and touched on almost all aspects of business aside from the supply chain. They began holding two to three online meetings per week and gradually developed a comprehensive understanding of e-commerce. They have striven to find solutions, be cognizant of every detail, and communicate regularly with each other and their mentors.
"At the end of the day, we are students, so we cannot implement a large, comprehensive project, but we can focus on accurately addressing the needs of villagers in ethnic minority counties," Tang said. The Multi-channel Network on Agriculture team arrived at a manageable e-commerce livestreaming concept that is within the scope of what they can achieve after more than a month of continuous experimentation.
Piao explained that the team settled on a plan that involves two aspects of e-commerce livestreaming. They decided to provide free training for impoverished farmers in ethnic minorities regions in order to help them master the necessary technology so they can sell their products. In addition, they also wanted to establish an organization that assists with marketing and brand development and integrates the flow of resources.
"This project provides point-to-point aid," Yang Chao stated. "It also features a model that is replicable, logical, and practical; can be used to benefit more people; and whose implementation is very feasible."
The Multi-channel Network on Agriculture WeChat official account's post announcing the launch of its initiative received many comments the night it was posted. An MUC graduate wrote: "As an alumnus, I really want to participate, because I think it is very meaningful." A government employee noted: "I am on a temporary assignment and would like to assist with e-commerce promotion if there is an opportunity to do so. My contact information is below." Another commenter was also interested in participating and remarked: "I am a farmer and would like to take part in the project if possible."
"I now feel that I can really do something to make a difference after studying for so many years," Zhang shared after reading all the comments that the post received.
The team talked to more than 30 people who were interested in participating in their project the week after it was launched. The undertaking is more dynamic than what they are used to on campus, and they had to interact with a high volume of people while promoting it. The process was challenging, and a member of the team did not know how to answer some of the questions that were being asked at first.
"You don't actually need special techniques," the Multi-channel Network on Agriculture team mentioned after making efforts to improve and receiving useful advice from their instructors in order to prevent communication issues from happening again. "All you have to do is talk to people in a sincere manner and describe the project clearly," they continued.
"Everyone can fill in allocation tables and solve problems immediately if any questions arise and they are able to," the five students decided after continuously working on integrating various resources in the early stage of their project. "Otherwise, answers can be provided after discussing the issue within the team."
"Many areas can be explored, and many items can be sold, such as handcrafts and agricultural products," Piao explained. "Some people have also asked us to assist with tourism promotion as well." The Multi-channel Network on Agriculture team currently works with more than a dozen villages in Guizhou and Yunnan provinces and Xinjiang Uygur, Guangxi Zhuang and Inner Mongolia autonomous regions.
"We are prepared to endure hardships," Sun declared. Managing the project and taking classes online every day is challenging for the students. Zhang agrees with Sun and believes that human potential is like a spring though and that the more pressure is present, the greater the resulting outcome.
The Multi-channel Network on Agriculture team recently has been preparing to use livestreaming platforms to sell products themselves in order to gain more firsthand experience and the ability to teach villagers how to engage in the undertaking.
The students stated that they plan to conduct field research in poverty-stricken ethnic minority hamlets when they were asked about their goals for the rest of 2020 and noted that they want to "make a big impact in five villages in a practical manner."