Agricultural expert assists farmers out of poverty in Guizhou
p.china.org.cn by Ye Kai,August 19, 2020

Adjust font size:

Located in southwest Guizhou province, Ceheng county, Qianxinan Bouyei and Miao autonomous prefecture features high peaks, deep valleys, and various other kinds of landscapes, and 76 percent of its population is composed of people who are part of the Bouyei ethnic group. The mountainous terrain in the area tended to impede the county's economic development until recently. More than 82,000 of its 246,500 residents lived in extreme poverty in 2014.




A holistic poverty alleviation campaign was eventually implemented, and the situation began to improve. Ceheng's poverty rate fell from 33.69 percent in 2014 to 1.5 percent in 2019 , and 78,809 members of 18,361 households in 74 of the county's villages escaped from poverty in 2019. The administrative area was officially removed from Guizhou's registry of impoverished counties on March 3, 2020 as a result of the progress that has been made.




Hundreds of government officials and technical experts have played a pivotal role in Ceheng's poverty eradication undertaking. Fifty-six-year old official Li Zhifang is one of these people. He was recently assigned to work as an agricultural expert in the county's Biyou township and had previously served as its deputy mayor from 2018 to 2019.




Biyou's tea oil industry was harnessed to reduce poverty in the area. Locals tended to lack sophisticated cultivation techniques, however, which lead to inefficient production and low output.




Li analyzed the situation and began providing guidance to help Biyou's farmers improve their methods. Many factors can affect tea oil output, but limiting the amount of fruit that a tree produces is the most important. Li told the township's agriculturalists that excessive fruit can result in low quantities of tea, but they thought he was not trustworthy at first and did not want to listen to his advice.




Li was eventually able to persuade Biyou's residents to try his methods, however. He shuffled between the various villages that are under the administration of the township and provided farmers with timely guidance amidst extreme summer heat. The agricultural expert also applied for and received 400,000 yuan (US$57,200) of R&D funding and built a 3.33-ha demonstration base to promote enhanced, scientific cultivation techniques and has organized 12 training sessions that have involved a total of 1,000 participants thus far.




The methods that Li has introduced to the area have been implemented on more than 66.67 ha of land and have resulted in Biyou's tea oil output increasing by over 30 percent. The farmers that have been involved have doubled their annual income to an average of 3,000 yuan (US$429), which has made it possible for more than 100 people to escape from poverty. Li has also executed other types of poverty alleviation projects in Biyou.




"I didn't have many opportunities to increase my income before I received his assistance," Luojiang village resident Qin Niekun mentioned. He began leasing 1.47 ha of his land for tea oil tree cultivation purposes at the rate of 6,600 yuan (US$944) per year and gained additional profit by working at the demonstration base. Qin has been very appreciative of Li and the efforts that he has made in the area.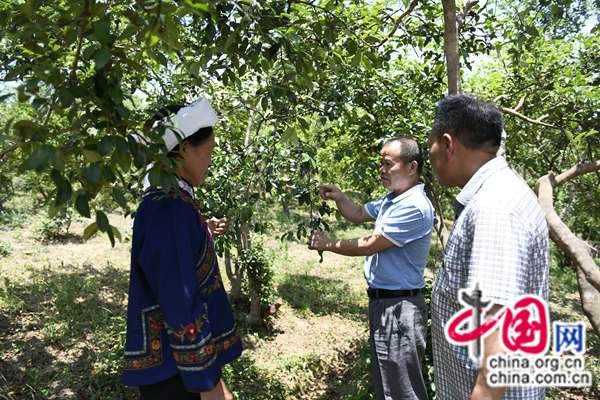 Li Zhifang (middle) teaches farmers about fruit thinning on a hot day. [Photo/China.org.cn]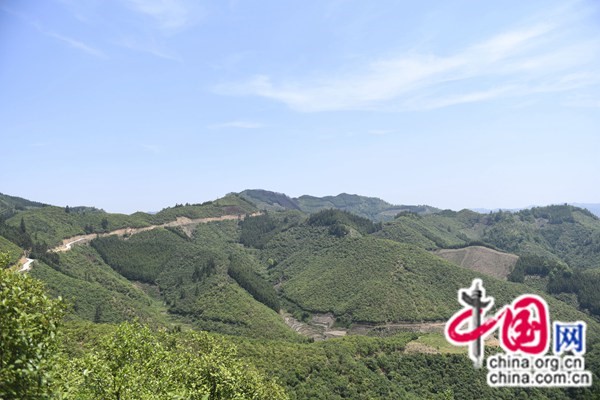 Hills covered by tea-oil trees in Biyou township [Photo/China.org.cn]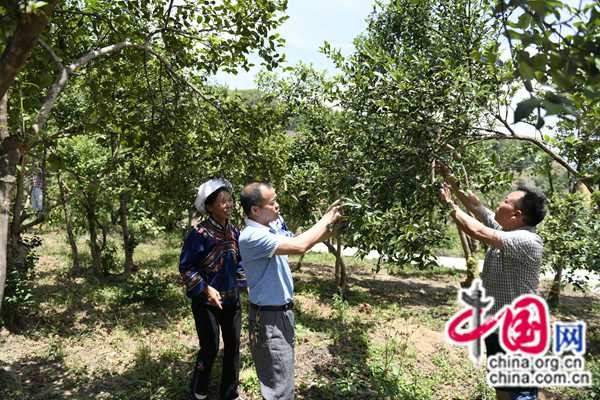 Li (middle) continues his fruit thinning training session. [Photo/China.org.cn]