Internet helps rural impoverished people out of poverty
p.china.org.cn by Zhao Binyu,August 13, 2020

Adjust font size:

With internet becoming more widely available in remote poverty-stricken areas, growing numbers of poor people in rural areas are taking advantage of convenient and diverse information services, and bettering themselves through sharing the fruits of the IT revolution.

Shuangmidi village of Lushui City in Yunnan Province is located in the deep Gaoligong Mountains. But optical fiber and high-definition televisions are now available to every home. A poor resident named Mi Yuezhong is one who has benefited from internet television. He has earned 4000 yuan more over the past year through learning about crop cultivation knowledge and techniques from streaming television. "It is easy for us now to look through news and find agricultural information as a result of access to the internet. Our lives are getting better," he noted.

Broadband internet plays a fundamental role in supporting poverty alleviation. It will effectively drive rural e-commerce, e-government, telemedicine and other applications, promote the equalization of public services in poor areas.

Available networks and information services

"Living in the mountains for decades, I could never have expected that one day I might live in city and have broadband internet available in my home -- it's just great!" said Mouse Zuoge in excitement when he moved into his new home on May 13, 2020. That day, his family, together with 83 other poor households in a village on the cliff in Sichuan's Liangshan Yi autonomous prefecture, bid farewell to the mountains and moved into a resettlement community in the county town.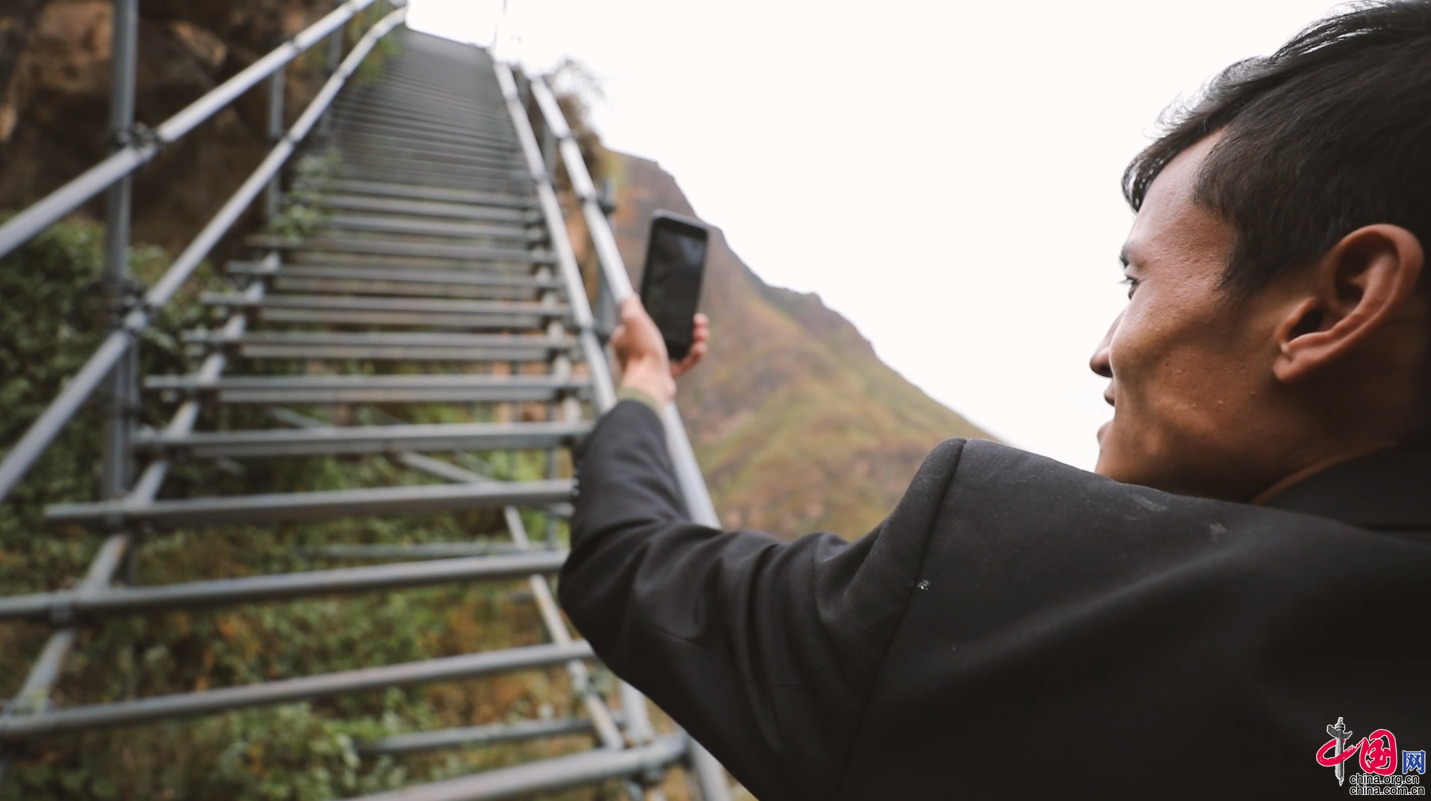 Standing on the newly-built steel ladder, a villager communicates with his fans on a live-streaming platform.
Liangshan is located in an extremely poor area and is one of the key regions to fight poverty. The Sichuan Liangshan branch of China Mobile set up an information network with the goal of achieving 100 percent network coverage in remote mountainous areas. By the end of April this year, 3,639 administrative villages in 17 counties and cities had installed or upgraded broadband optical fiber, the coverage being almost 97%.
Liangshan reflects how poor areas are accessing the internet. To compensate for the high construction cost in remote areas, a mechanism for universal telecommunication services was set up, funded by central government, supported by local governments, and driven by enterprises. This has accelerated telecommunication infrastructure construction in poor areas.
More than 130,000 administrative villages have been connected to optical fiber networks and 50,000 4G base stations have been built, of which about one-third are stationed in poor villages. Access to fiber-optic communication in poor villages in China has increased from less than 70% in 2017 to 98% now. Access to broadband communication in poor villages in deeply impoverished areas has increased from 25% to 98%, achieving the 13th Five Year Plan goal of providing broadband coverage to more than 90% of poor villages ahead of schedule.
How do we ensure effective management of the network when poverty-stricken villages are large in number and widely distributed, and the natural environment is complex? A representative in charge of the communications department of the Ministry of Industry and Information Technology provides the answer: "Through installing special equipment, the network operation and quality of internet connection in each pilot village can be monitored in real time." According to their data, the average download rate in these villages has exceeded 70Mbps, and the era of "equal network access and speed" in rural and urban areas is on its way.
Affordable costs
"In recent years, the network construction in my hometown has accelerated, and the 4G signal now covers the whole county," said Xiao Gang, a 24-year-old man from Dulongjiang township in Derung Nu Autonomous County, Yunnan Province. He recently graduated from university, and chose to return to his hometown and start his own business. "I learned about cultivating tsaoko amomum fruit and bee-keeping via online video. Now my online shop is doing well," Xiao noted.
Xiao Gang's decision to become an entrepreneur was influenced by the steady acceleration of network coverage in poor areas of China. Mobile 100M fiber optical broadband now covers 90% of the administrative villages in Yunnan.
After a huge effort in recent years, China's network speed has increased by a substantial margin. The proportion of 4G users has grown to 80%, far higher than the global average of 49.5%. According to the data from the China Broadband Development Alliance, the average download speed of fixed broadband and mobile network in China -- now 42.9Mbps and 27.6Mbps respectively -- is nearly 10 times higher than it was five years ago, and the users' online experience has significantly improved.
While the network speed has risen fast, the costs have continued to fall. Wu Yinggui, the Party chief of Shimajing village, Sanhe Town in Jianyang City, Sichuan Province, said, "In June, our village was given individual 4G access. Now even the elderly and the children in the village can enjoy a video chat. Not only is the network speed as fast as that in the town, but also the cost is low. People in the towns even envy us."
With speed going up and costs going down, people no longer need to constantly browse WiFi providers in search of lower fees. Since October 2018, China has been supporting telecommunication enterprises in offering large discounts to poor users. At present, preferential measures have benefited more than 12 million poor households, over 7 million of which enjoy discounts of at least 50%.
Diverse Application
Making maximum use of the internet in eliminating poverty requires diverse applications such as e-commerce, telemedicine, and online education.
"I didn't expect to be able to have my stomach checked by swallowing a capsule. It wasn't in the least uncomfortable," said Abdullah, a 39-year-old gastropathy patient in Lop County, Xinjiang Uygur Autonomous Region. He recently received a gastric magnetic-controlled capsule endoscopy at a local hospital. He was delighted to share his feelings with the people around him. What surprised him even more was that the doctor who examined him was not in a Xinjiang hospital, but in Beijing, 4000 kilometers away. The doctor operated the capsule endoscopy through a 5G mobile network.
According to the Ministry of Industry and Information Technology, telemedicine now covers all poverty-stricken counties, giving a great boost to the medical and health service capacity of poverty-stricken areas, and improving the health of poverty-stricken people.
Up to date 98% of primary and secondary schools across the country have been connected to broadband networks, and high-quality education is now available to schools in poor and remote areas through the network, offering better learning opportunities to poor students.
Since the novel coronavirus outbreak, more than 63,000 new 4G/5G base stations have been built by telecom operators, and about 5.11 million new optical fiber ports have been created. This has helped to cope with the upsurge in network traffic, and provided for the needs of 200 million teachers and students studying online.
As a next step, network coverage in rural and remote areas will be extended and expanded. In the drive to achieve more than 99% broadband access in poor villages by the end of this year, 15,000 new 4G base stations will be completed, and over 10,000 new 4G base stations will be planned. In addition, the full potential of new information and communication technology should be tapped in rural areas, making e-commerce platforms available to rural areas, and boosting the sales of more agricultural and sideline products through live streaming.