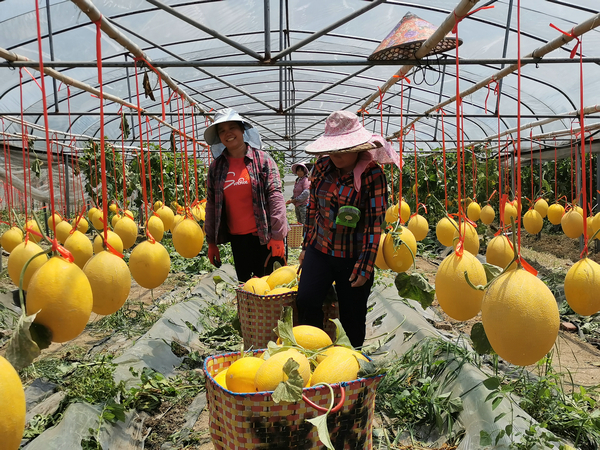 Cantaloupe-growing has become a way toward prosperity for locals in Helyu. WANG KAIHAO/CHINA DAILY
Nevertheless, one thing was certain-villagers were eager for a better life.
"We had to make full use of the environment here," Li says. "Once an industry was established, it was not even a question of if we could get rid of poverty, it was more a question of when."
To change the fate of the impoverished village, Li contacted technicians from other cities and helped introduce agricultural technology and new business models in Helyu. A soilless culturing technique using fermented pig manure and plant residue, like sugar cane and cassava, enabled cantaloupe to be grown and harvested twice a year, first during June and July, and then again between September and October.
Collectively owned farms were established in 2016, but such a change was not that easy to achieve in the beginning. While villagers were keen to become the shareholders of the new enterprise, many were reluctant to invest in the business of growing a fruit which they had never succeeded in cultivating in the past.
Barely more than one hectare of cantaloupe was grown that year. Wei Hengjiao was one of the first villagers to join.
Wei began to work in construction after graduating from junior high school and plied his trade on building sites in Guangxi, as well as nearby Guizhou and Guangdong provinces. Though his life was not easy, all those years of working in big cities had widened his horizons.
"Once I heard the cooperative was growing cantaloupes, I realized it was a great opportunity," he recalls.
The man applied for a 30,000 yuan loan and bought shares in the cantaloupe cooperative. He got a 5,800 yuan bonus at the end of that first year. Encouraged by his example, others began to follow, even those who were initially reluctant. More than 100 villagers invested in the cooperative and a larger plot of land was required to grow the fruit.
Now, there are four cooperatives growing cantaloupes.