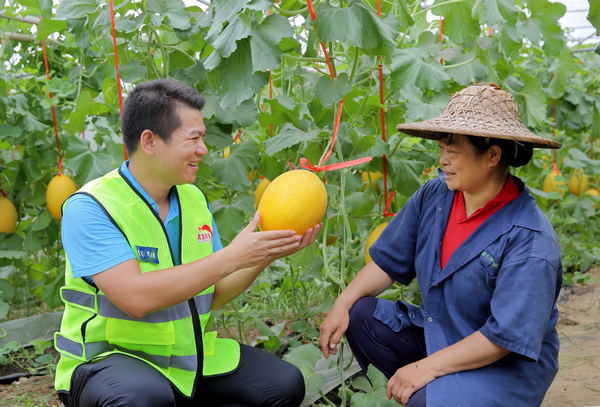 Li Yongkai (left), head of a poverty alleviation team in the village, talks to a rural resident.[Photo provided to China Daily]

For such a long time, the only interesting thing about Helyu village in Wuxuan county, Laibin, Guangxi Zhuang autonomous region, was that it sits on the Tropic of Cancer.
Other than that, it was difficult to discern any mentionable geographic feature. Without fertile land to produce lucrative crops or support an established industry, the village would hardly attract the attention of outsiders. Even for locals, it was a place they wanted to escape.
Bitterly, the village, where most residents are of the Zhuang ethnic group, was once nicknamed "an empty shell" by its inhabitants, not least because many residents left to work in factories in big towns, particularly in the more developed areas of Guangdong province.
When, in 2015, newly married Li Yongkai was assigned to the village to take charge of poverty alleviation efforts, he was stunned. About 18 percent of some 6,000 residents lived under the poverty line, which was defined in Guangxi at the time as drawing an annual income of 3,100 yuan ($445) or less.
"The number of collectively-owned businesses in the village was zero," Li, 36, recalls. "People were poorly organized, and there was no pillar industry."
The major crop was cassava, but the most that each hectare of cassava could earn was 30,000 yuan a year. Some villagers tried to grow cantaloupe, but despite the abundant sunshine, their crops failed due to the area's barren soil.