Livestreaming from ethnic Dong villages – 7 fairies popularize Liping county
p.china.org.cn by Liu Yizhou,August 07, 2020

Adjust font size: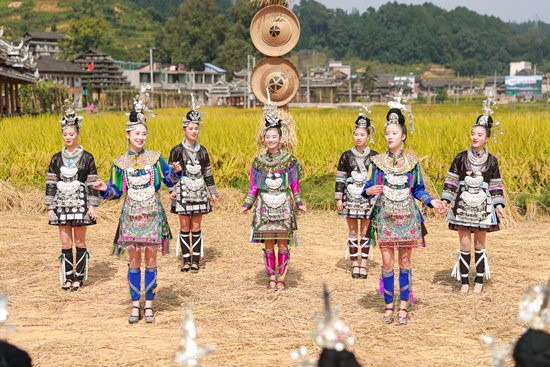 The Seven Fairies livestream a performance. [Photo courtesy of The Seven Fairies]
"Buy it, girls!" Seven beautiful hosts who livestream from Dong villages in Liping county, Guizhou province in order to promote their traditional ethnic culture and local produce have been gradually experiencing better and better sales, which is, of course, the goal of everyone who uses live broadcasting apps to sell something. The group is known as the Seven Fairies of the Dong ethnic group.
Liping's Dong villages are located in the remote mountains and has not been influenced much by fast-paced urban lifestyles. The seven young women registered an account on the Kuaishou short video app in the summer of 2018 and named it "The Romantic Seven Fairies of the Dong Ethnic Group." They began broadcasting while wearing traditional ethnic clothing and exquisite silver decorations. They introduce products from their hometown area, cook, fish, dance, sing Dong songs, and engage in other activities in front of their audience. The Seven Fairies gained more than 1.6 million followers in a year, and the handcrafts and other items that they promote have been selling very well.
The Seven Fairies later took idol boy band R1SE to Liping's Dong villages, and the time they spent in the area was documented on the recently concluded reality TV show "Autumn with 11 Youth." The Dong girls were just as captivating and full of confidence as their more well-known counterparts. R1SE's members praised the Seven Fairies for making their hometown a better place and sharing its characteristics with the rest of the world in new ways. Many accidents and coincidences made the remote mountainous production possible.
The eldest of the Seven Fairies, Zhang Guodan, used to work as a tour guide outside of her hometown. Her life changed in 2015 when her father died unexpectedly. He was enthusiastic about Dong opera and music and spent a lot of time teaching the art forms in mountainous villages.
"When I was in sixth grade, I travelled to another village with my father, and its residents treated me like a princess," Zhang recalled. "I later learned that he had been teaching them opera for several years and they respected him a lot."
"Dong music doesn't have lyrics, and the songs are passed from generation to generation," Zhang explained. "Many people who are part of our generation leave the area to work elsewhere, and increasingly fewer people are learning our traditional ethnic music. The songs will disappear if we don't record them and document them."
Zhang's father worked hard to preserve Dong opera and music, and she eventually bought him a video camera so he could shoot videos of senior Dong citizens singing traditional songs. Zhang discovered the videos that he recorded after he died and realized that many things that her father was working on must have been left unfinished. She decided to organize the material he left behind into a database and continued with his video project.
Zhang registered for a Kuaishou account and began uploading videos that were made in Sanlong Dong village. Gaibao village's first secretary, Wu Yusheng, had been working on helping people increase their incomes where he works. He happened to be looking for a Dong woman who could livestream and noticed Zhang's content. He contacted her and suggested that she join the Seven Fairies.
Yang Wanling is the second oldest of the Seven Fairies and was part of Qiandongnan Miao and Dong autonomous prefecture's song and dance ensemble before she joined her new group. Her parents left her behind when she was growing up, and she lived with her grandparents and other relatives throughout her childhood.
Yang began learning to sing and dance when she was four, and her hobby eventually became her career. She performed with Qiandongnan's song and dance ensemble in various areas and promoted ethnic minority groups' music and dances.
"I read a news article that had a compelling title about Mr. Wu shooting videos of some Dong girls," Yang explained when asked how she joined the Seven Fairies. "I am very interested in using video to help impoverished citizens and other people and to promote ethnic culture on larger platforms." Yang and her best friend and close colleague, Jiajia, ended up joining the Seven Fairies after they read the article.
Yang shared her story about being a left-behind child in a rural area on the "Autumn with 11 Youth" and hoped to help children who are growing up under similar conditions. She later founded the "Wanling Love Group" in 2019 with her family and her fans. The organization provides assistance to left-behind children and other people who are in need.
The Seven Fairies left jobs with good salaries in areas outside of their hometowns and returned to the countryside in order to embark on their new livestreaming project. They experienced some uncertainty at first due to their lack of experience with the medium and villagers' inability to understand their endeavor.
Zhang mentioned that she was often ridiculed when she started livestreaming and elaborated: "Villagers thought our project was a fantasy. Some would clap their hands and say 'let's watch the stars shooting.' People were constantly talking about me, and my mother couldn't accept the situation for a while. She even threw me and my suitcase out of the house and told to me leave."
"However, we sold all of the chili peppers in the village in a week at reasonable prices," Zhang recounted. "No peppers could be found in the area for seven days. We then began selling rice when rice is harvested, and were able to sell all the grain that wasn't needed for consumption." The visible success that the Seven Fairies began to achieve caused people to gradually change their minds about the performance group and their project.
Zhang and Yang were not very familiar with livestreaming when they began, but they did have unique skills and a distinctive approach. Zhang has high standards for their undertaking as well. She pays attention to popularity rankings and works harder if the Seven Fairies are losing ground.
"I sometimes livestream all day long if I haven't reached the target that I have set for myself," Zhang explained. "My record is 21 hours of continuous streaming. I sell things, capture the scenery in the area, sing, talk about Dong customs, tell stories and so on." She visits her fan pages so that she can learn more about them and their preferences and interests, which helps her come up with new material and have better interactions with them.
"If there is a sense of intimacy, they will stay," Yang noted. The lively character sings to cheer herself up if she feels embarrassed. She is good at communicating with her viewers in a humorous manner when they watch her.
The isolated Dong villages have gradually become more well-known as a result of the passion that the Seven Fairies have exhibited and the enchanting natural scenery that they have showcased. Fans enjoy watching how Dong clothing is made on their smartphones from locations far and wide. The Seven Fairies have documented traditional Dong activities like cotton planting in March and picking in August in their videos. They have demonstrated traditional processing techniques that make cotton softer and more delicate and the dying procedure at a stream in the area.
The Seven Fairies were eventually invited to perform on the well-known "Happy Camp" variety show produced by Hunan Broadcasting System. They wore traditional Dong clothing and sang a modified version of Grand Song.
Livestreaming has had an impact on Dong villages. Zhang believes that people who live in other areas are gradually becoming more familiar with and appreciating the beauty of the Dong people and their culture.
R1SE composed a song known as "Sheng Sheng Bu Xi" ("Endless Sound") after the variety show that they were part of ended. Its lyrics include a traditional Dong story about a waterfall and information about the natural environment that the Dong people live in, their animistic rituals, and their daily lives. The chorus features a re-edited sample of the Dong piece known as "Song of Cicada" as sung by the Seven Fairies.
Yang stated that when she listened to the song, she was very pleased that the young artists were able to express what they saw, heard, and felt when they were in Liping. R1SE member Zhang Yanqi noted that his group and the Seven Fairies function as bridges that connect the general population with Dong ethnic culture and spirit.
Livestreaming takes time and can be ephemeral. Many of Zhang's fans have helped her by spontaneously collecting information about Dong culture and writing articles in addition to watching her videos.
Zhang stated that people in other areas have been very supportive as the Seven Fairies have gotten more popular and have begun using additional platforms. She also mentioned that R1SE member Liu Ye met a set of fraternal twins while he was in Liping, and became their dance teacher. He also paid a special visit to the twins' home and sent gifts to them. Then his fans initiated a charity activity, donating about 100 school uniforms, hats, and even mobile phones to Guizhou's Sanlong Primary School.
"I am particularly moved to find that so many people have given us unconditional support," Zhang concluded. "They have become more familiar with the Dong ethnic group, like what they have seen, and have even come to love it."