Inspection tours ensure success of poverty reduction projects in Zhejiang
p.china.org.cn by Liu Yizhou,August 05, 2020

Adjust font size: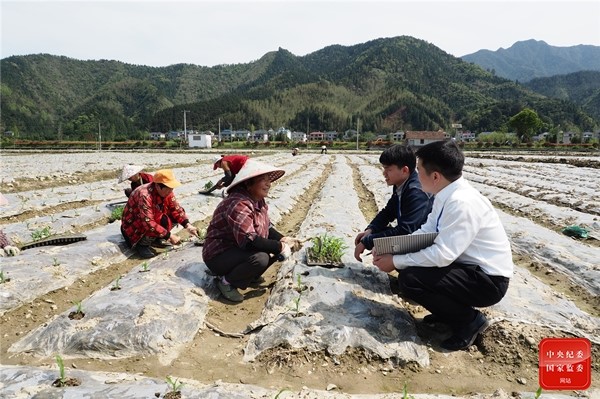 Lin Hua (R), secretary for discipline inspection of the Yanglin town, Kaihua county, Zhejiang province, asks Ying Guoxiu (L) about distribution and utilization of poverty alleviation funding at the Xiaoxian farm in Chuannan village. [Photo courtesy of Zhou Zhiwei]
On the afternoon of April 8, Lin Hua, secretary for discipline inspection of the Yanglin town, Kaihua county, Zhejiang province, visited various villages under the administration of the town with some of his colleagues to review poverty reduction results and evaluate the rectification of the problems that were found during the last inspection tour.
"Mr. Lin, nice to see you here again," greeted Xiaoxian farm staff member Ying Guoxiu while taking a break from planting corn when the group came to Chuannan village.
"Ying, did you receive your poverty alleviation subsidies?" Lin asked.
"Yes, we got the payment the other day," the 58-year-old, impoverished farmer replied. "We are trying to plant our corn as soon as possible." Ying's family has been under financial stress because her husband's poor health prevents him from engaging in manual labor and her daughter is attending university outside of the local area.
Lin discovered that some families in the area had not received poverty eradication funding that they need to buy seeds and fertilizer with during an inspection tour last month.
Ying told the official that about a dozen poverty-stricken households in Chuannan wanted to grow corn and other vegetables on 1.33 ha of land and applied for a poverty alleviation grant from the government. "We heard that the government would make a contribution, but we haven't received anything so far," she sighed.
"Don't be sad, Ying," Lin consoled her. "I will figure out what happened and find a solution."
Lin contacted Kaihua Agriculture and Rural Affairs Bureau Commission for Discipline Inspection leader, Fang Xiangdong, and stated: "Today I went to Chuannan village in Yanglin town, and a resident named Ying told me that funding was not disseminated for a poverty reduction project that she wanted to embark on with some other families who live in the village. Please help me find out what the problem is."
Fang and his colleagues began addressing the problem immediately. They discovered that the funding that Ying and some of her fellow villagers applied for was approved in January but the accounting documents that were submitted were incomplete and did not adhere to various requirements. The officials at the Kaihua Agriculture and Rural Affairs Bureau informed the discipline inspection officials that the COVID-19 pandemic prevented them from engaging in follow-up procedures in a timely manner.
Fang talked to the staff members that were involved and discussed the importance of their work. Some of them felt that the coronavirus was the reason that the funding issue was not resolved, rather than negligence, and thought that the visit by the discipline inspection team was not necessary.
"Distribution of poverty elimination funding is not a small matter," Fang said in a serious tone. "Delays can influence impoverished households' spring cultivation plans and demonstrate carelessness. They can also impact poverty alleviation outcomes and tarnish the image of our government. As the government officials in charge of this work, you must be dedicated and ensure that poverty eradication subsidies benefit people like they're supposed to."
"The funds will be appropriated as quickly as possible now that we understand the mistakes we made," Kaihua Agriculture and Rural Affairs Bureau officials promised. "We'll resolve the problems with the applicants, and the money is expected to arrive the day after tomorrow. We will take this opportunity to reflect on our errors, rectify them, and make sure that these kinds of problems do not happen again."
Two days later, Ying and the other impoverished households that applied for the poverty eradication grant received what they had requested. The group immediately purchased the seeds and fertilizer that they needed and began planting their crops.
"Corn is growing over there, and we just planted some other vegetables over here," Ying mentioned to Lin while pointing to different parts of the new Xiaoxian farm during his current visit. "We plan to plant all of our corn this week, weather permitting, and harvest it at the end of June. I think we will definitely have a big crop this year."
"That's good," Lin said while writing down his number on a piece of paper and giving it to the farmer. "Ying, you can call us at the commission for discipline inspection if these kinds of problems ever happen again."