Ganzi Tibetan autonomous prefecture bids farewell to poverty
p.china.org.cn by Zhao Binyu,July 22, 2020

Adjust font size:

As noon approaches, a young Tibetan man named Aci rides an electric scooter through the streets. He is busy delivering food in Litang county

town

,

in

Ganzi Tibetan autonomous prefecture

,

Sichuan province.

H

e was registered poor, but in March

this year

, with the help of a poverty alleviation team, he launched his delivery service. So far he has received 2,000 orders and earned 10,000 yuan.

Many other local residents in Ganzi prefecture have sought similar means to shake off poverty, applying their diligence to improve their lives. In February this year, all the poverty-stricken counties in Ganzi were removed from the poverty list. This was a historic moment on the plateau.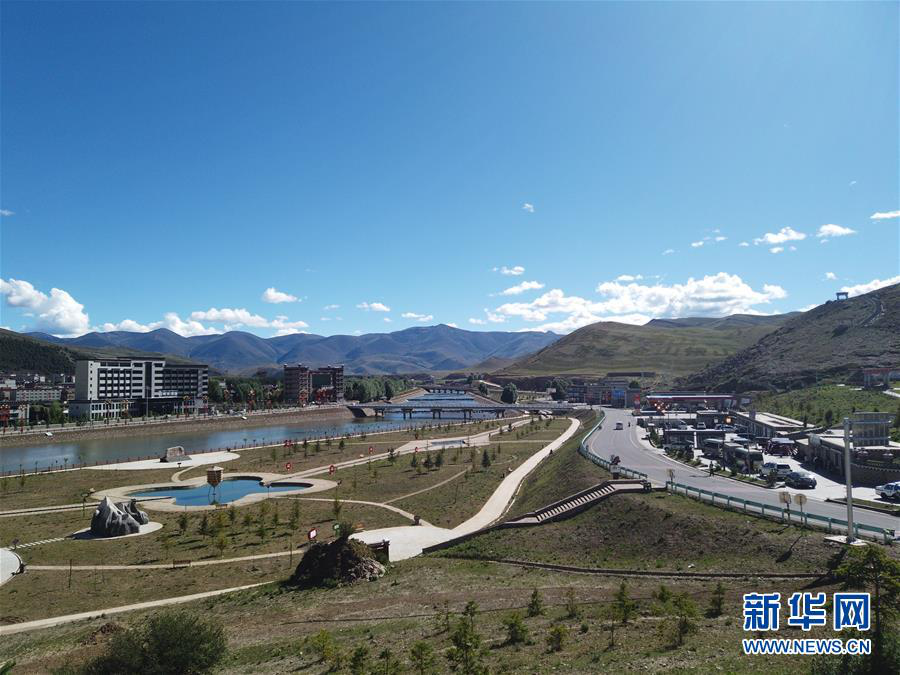 A wetland park in Daocheng county, Ganzi Tibetan autonomous prefecture, Sichuan province. (Xinhua/Yin Heng)

People's lives are changing fast
Zecuo, a native of Dege county, suffered from hydatid disease (a condition related to tapeworm infection). She had just been through surgery to remove part of her liver. But she was in good spirits as she waited for her discharge from hospital in a couple of days. She knew she only had to pay a very small proportion of the cost of her treatment – more than 40,000 yuan. The rest would be reimbursed by medicare insurance and various subsidies.
Farmers and herdsmen living on the grasslands are vulnerable to hydatid disease. Zecuo had suffered discomfort for months before she was diagnosed as having the disease through a medical screening test by the doctors visiting her village. She said that at first she was terrified, but her doctors always encouraged her not to worry .
To date, more than 98 percent of those vulnerable to hydatid disease in the prefecture have been screened, and over 10,000 patients are currently receiving free treatment.
In Ganzi there has been an enormous improvement in the infrastructure and living conditions of farmers and herdsmen in recent years.
Located in the alpine pastoral area, Kerizewa village was the last in Litang county to be given access to electricity. At the end of 2019, preparations were made for the arrival of electricity in the village. The supermarkets were equipped with new cash registers and newly built integrated rural service stations for e-commerce were given their final coat of paint. Now, with electricity available, the nights are spotted with lights in every corner of the village. Wang Jijiang, a local official, says that electricity has brightened the future for local villagers.
In recent years, Ganzi has built 3,700 kilometers of asphalt roads connecting its townships and 21,900 kilometers of tarmac and cement roads linking villages. It has also consolidated and upgraded safe drinking water projects in 985 poor villages, upgraded the power grid and communication network in 4,337 villages, and provided safe housing for 113,000 farmers and herdsmen.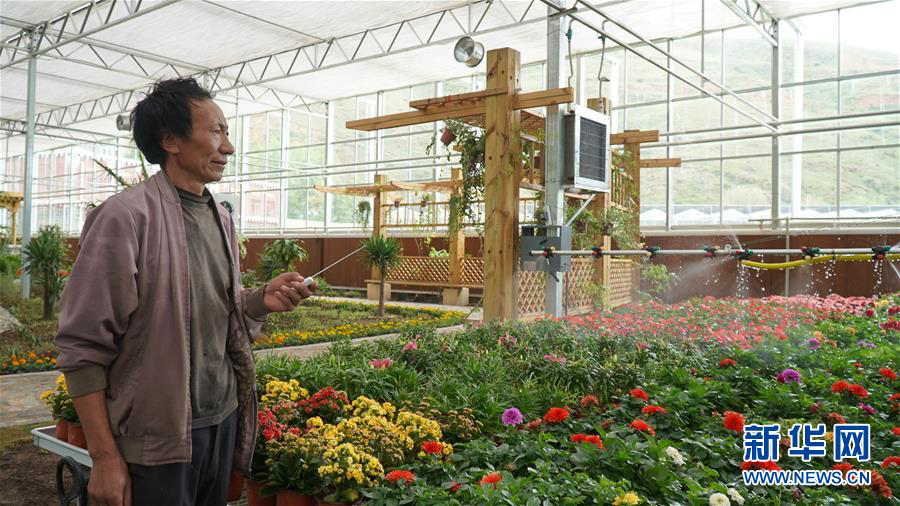 An employee of Kangba Plateau Botanical Garden operates automatic irrigation equipment in Daofu county. (Xinhua/Yin Heng)

New Business Leads to a Bright Future
A fleet of drones carrying freshly picked matsutake mushrooms takes off from the mountains in Yajiang county, Ganzi. The drones are guided remotely on their flights, and the fresh and precious matsutake will quickly be available in the markets of China's major cities.
Yajiang is renowned for the quality of its matsutake. There are potential markets overseas in places such as Japan, South Korea, and Europe. In the past, local farmers went to gather matsutake in the mountains before dawn and carried their harvest down the slopes in the afternoon. The process was dangerous and inefficient. A company took on the risk, and set up a cooperation project with the locals delivering the matsutake by drones.
Zeren Zhima, 35, was an impoverished farmer under a heavy financial burden. She had two young children and her husband was in poor health. "Working in the new business park, I mastered planting techniques. Now I am engaged in breeding in the lab and cultivating mushrooms under glass. My business brings me an income of 30,000 yuan a year." In her spare time she also went to pick matsutake to make some extra money. With all these sources of income, she lifted her family out of poverty last year.
Tourism plays a pillar role in economic development in Ganzi which, in recent years, has been implementing a regional tourism development strategy. Roads have been built to give access to all villages, setting poor villagers on a path toward prosperity. In 2019 about 33 million tourists visited the prefecture, and many local residents now make their living from tourism.
Zhang Xuefeng, 37, returned to his hometown in Luding county a few years ago. On his own initiative he built a family farm where he interplanted apple trees and traditional Chinese medicinal herbs. His potential earnings are now 30,000 yuan a year from one mu (one-fifteenth of a hectare) of land. "I plan to renovate my house and take advantage of it to develop tourism."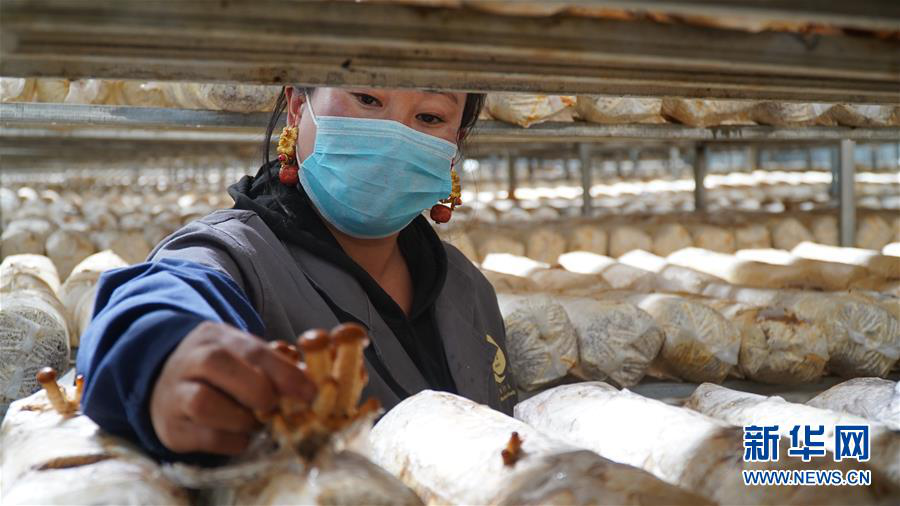 Zeren Zhima picks matsutake in a business park in Yajiang county. (Xinhua/Yin Heng)
Eco-environmental Protection Builds Beautiful Villages
Daocheng county used to have a poor environment, and its dry climate, desertification and strong winds made for harsh livelihoods, according to Sizi Retai, vice head of the county. "But over the past 30 years we have been planting trees, and now our hometown has been transformed into a garden city," he said.
Looking around, the county seat is surrounded by lush trees. On the western hillside, a line of spruce forms a sentence meaning that protecting clear water and lush mountains can boost economic development.
Along with the most underdeveloped villages, Yading village embarked on its path to prosperity through an innovative eco-environmental development model. Zhaxi Oumu, a resident of Xiayong community, rented out an unused four-storey house to entrepreneurs. They converted the property into a boutique hotel, which brings him 500,000 yuan a year in rental income.
In recent years Ganzi has focused on restoring its environment and ecosystem, and prioritized environmental projects. It has invested 8.4 billion yuan in planting trees on 9.67 million hectares of mountain slopes and flowering plants along 2,200 kilometers of roads, and in transforming rivers into 2,000 hectares of lakes and wetlands.
In Daofu county, the Kangba Plateau Botanic Garden came to the final stages of construction. It is expected to be completed and opened this year. "It is not yet open but many visitors can't wait to come sightseeing," says He Xingming, director of the botanical garden.
Weeding in the garden, Sola Wangmu has great hopes for the future. She is now saving money to convert her house into a family inn for tourists visiting the botanical garden.