Brothers help villagers in Hunan escape from poverty via lotus and fish farming project
p.china.org.cn by Wang Jinli ,July 17, 2020

Adjust font size:

Just as the COVID-19 situation was getting better in Jinxing village, Maoping township in Chengbu Miao autonomous county, Hunan province after prevention and control efforts had been in effect for a while, the local residents made an important decision to follow the lead of two brothers in the village and begin engaging in lotus and fish farming.

Tang Xiaokuan is the elder of the two brothers who led the project. He is currently 50 years old and serves as the secretary of Jinxing's Party committee. Forty-six-year-old Tang Xiaolian is the younger brother and has worked outside of Hunan for a long time. He was recently earning 300,000 yuan (US$42,300) a year as a department manager at a foreign-funded enterprise in Wuhan city, Hubei province – the Chinese city that was hit the hardest by the COVID-19 pandemic during the first couple of months this year. Tang Xiaokuan persuaded him to stay in Jinxing in order to help with poverty alleviation efforts in the village by pursuing lotus and fish farming after he returned to the village for the Spring Festival holiday in January.

Local dairy farmer Yang Huance sold all of the milk he had on hand in the county town 20 km away from Jinxing one morning and decided he wanted to participate in the undertaking. He found the Tang brothers that afternoon and gave them a black plastic bag filled with 50,000 yuan (US$7,050) so that he could become a shareholder in the new business.

Tang Xiaozhu who used to be impoverished as a result of his wife's poor health also invested 50,000 yuan (US$7,050). He earned the money by selling eggplants and watermelons last year.

More and more of Jinxing's residents became shareholders as the news spread. A disabled villager named Zhang Zhisong invested 5,000 yuan (US$706) at first and later decided to spend 15,000 yuan (US$2,117) more after returning home and thinking about the situation. A Jinxing native who is in his 70s also took his nest egg of 5,000 yuan (US$705) and gave it to the brothers as well.

Morale has increased in Jinxing in recent years as visible, tangible changes have been made. The village used to be impoverished, and its residents made their livings by engaging in various pursuits on scattered, mountainous farmland in the past decades. Some of the more adventurous people from the area chose to work as migrant laborers, but most of them were generally able to only cover their families' expenses throughout the year.

A lot has changed in Jinxing since a poverty alleviation team came to lead the campaign against poverty and began implementing new projects. More tea-oil camellia, kiwi, and vegetables now grow in the mountains, and chickens are being raised in the forests. More bullfrogs even hop through the area than before. A dike has been built to separate fields from standing water, and newly planted lotuses rise from the surface. Garbage has been removed from the river that runs through the village, and tourists will be able to use it for rafting in the future.

Jinxing's residents have gradually broadened their horizons, increased their incomes, and became more courageous.

The vision of prosperity that the two brothers outlined just a month ago is systematically becoming a reality.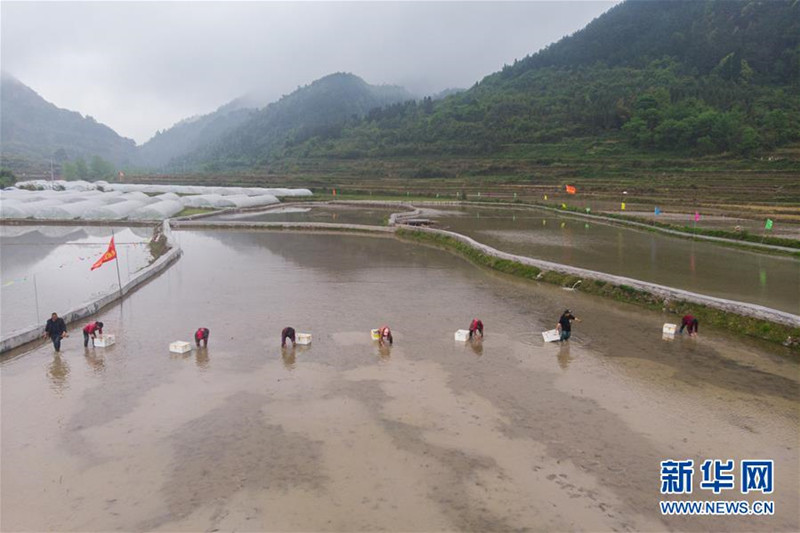 Farmers plant lotuses in Jinxing village, Maoping township, Chengbu Miao autonomous county, Hunan province. (Xinhua/Chen Sihan)
A group of local women recently finished planting lotus seeds in the 30 cm deep water at a new 13.3-ha lotus and fish farming base far from the river.
Tang Xiaolian stood on a small ridge near the base and provided useful help and guidance.
"The tip of the roots should extend outward a little more, and they should all be planted in the same direction," he explained.
Tang Xiaolian spends a lot of time discussing about how to eliminate poverty with Jinxing's residents. He stated: "Officials from other areas have come to help develop my hometown. I also want to make a contribution, so I decided to stay and work together with my brother and fellow villagers towards a prosperous future."
With the coordination of the poverty alleviation team, Tang Xiaolian and several village representatives visited Guangxi Zhuang autonomous region, Jiangxi province, and some other parts of China at their own expense in late March in order to conduct research about lotus and fish farming endeavors .
After the group returned to Jinxing and shared what they learned from the trip, more of the villagers became interested in pursuing the industry. Tang Xiaolian returned to Jiangxi with a resident of Jinxing, and the two learned about various techniques from a farmer who has ten years of experience in the industry.
Tang Xiaolian returned to Jinxing after he mastered what the farmer taught him and delivered a half-hour-long speech with his brother about developing rural leisure tourism based on lotus and fish farming. A total of 60 families invested in the undertaking and became shareholders.
Tang Xiaolian soon got down to business with Jinxing's residents. His fair skin became tan in less than a month, and he began to look like the other farmers.
Tang Xiaokuan has been Jinxing's Party secretary for three years. He explained: "One ha of land used for lotus and fish farming can yield more than 60,000 yuan (US$8,460) of net profit per year. Lotus roots, seeds, flowers, and leaves can all be sold, and leisure and sightseeing tourism will yield even more money as they develop."
Chengbu was removed from the list of impoverished counties at the beginning of 2020. Of Jinxing's 121 households that were registered as impoverished, 109 have emerged from poverty, and the remaining 12 are on their way.
"Jinxing's residents have expanded their vision. With more entrepreneurial individuals from the village returning home to engage in industrial undertakings, the village will develop in a sustainable manner," said He Youtao, head of the the poverty alleviation team from the Shaoyang Municipal Civil Air Defence Office.