COVID-19 prevention through the eyes of a volunteer hairdresser in Wuhan
p.china.org.cn by Jin Ling,July 10, 2020

Adjust font size: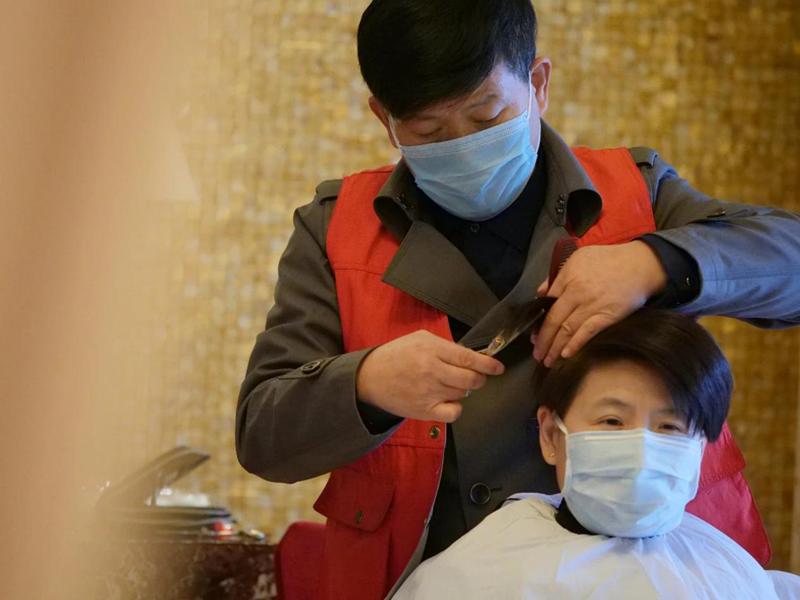 Wuhan hairdresser Song Zhongqiao gives a haircut to a medical worker who came to the city to help fight against the COVID-19 pandemic. [Hubei Disabled Persons' Federation]
On Jan. 23, just one day before Chinese New Year's Eve, a lockdown was implemented in Wuhan, the capital city of Hubei province as a COVID-19 containment measure, and medical teams began rushing to the area to help fight against the virus.
Good hygiene is an important part of pandemic prevention. Many healthcare workers have decided to keep their hair short or even have their heads shaved for this reason, but those in Wuhan initially had trouble finding hair salons that were open.
Song Zhongqiao is a 55-year-old resident of Wuhan and has worked as a hairdresser for more than 20 years. He currently owns five hair salons in the city and employs 46 people. Song closed all of his shops on Jan. 20 – four days before the start of Spring Festival – when he noticed that some customers began wearing face masks as a COVID-19 prevention measure. The period leading up to the holiday is usually the most lucrative season of the year for China's hairstylists.
Song lives 40 km away from the area he works in. He needed to clean his salons and eventually got stranded at one of his shops as a result of complications caused by COVID-19 and policies that were implemented.
The hairdresser read about the COVID-19 news and noticed that medical staff had been getting their hair cut as a prevention measure. He submitted an application for cutting healthcare workers' hair for free with his smartphone on the morning of Jan. 24, was accepted, and began working on Jan. 29. Song volunteered every day since and had given haircuts to a total of 1,536 medical workers on 12 teams as of March 17.
The hardworking volunteer usually heads to wherever medical teams are residing at 8:00 a.m. and returns to one of his shops around 9:00 p.m. He gives anywhere from a dozen to more than 30 to 40 haircuts per day, which is up to four times more than what he would do under normal circumstances.
The first medical team Song helped came from northwest China's Shaanxi province. He was deeply moved when the taxi driver who was taking him to the hotel that they were staying at refused his payment. "You are doing good things, so I can't accept your money," the driver said in a tone that conveyed the warmth of the city's citizens.
Song once asked a nearly-30-year-old nurse from Tianjin if her family supported her decision to come to Wuhan. She remained silent for a while and eventually stated while holding back tears, "Most of my family didn't disagree, but my child was crying and clamoring for me not to go."
"Very few hairdressers work during Spring Festival," Song calmly explained while serving a customer. "The medical staff who have come to Wuhan have risked their lives in order to help us. I would regret it if I turned a blind eye and didn't do my part."