Huanggang in Hubei fighting a two-front war against poverty, COVID-19
p.china.org.cn by Jin Ling,July 09, 2020

Adjust font size:

Huanggang has been affected by the COVID-19 pandemic more than almost any

other

city in Hubei province. It is located

south

of the Dabie mountains and has a population of 7.5 million people, which makes it the second most populous city in the province after its neighbor Wuhan. In 2014, 1.024 million people, six counties, and 892 villages in its borders were classified as impoverished. COVID-19 prevention and containment efforts have been particularly difficult in Huanggang as a result of factors such as the large number of people who have returned to the area from localities that they work in and the backward economy in the old revolutionary base region around the Dabie mountains.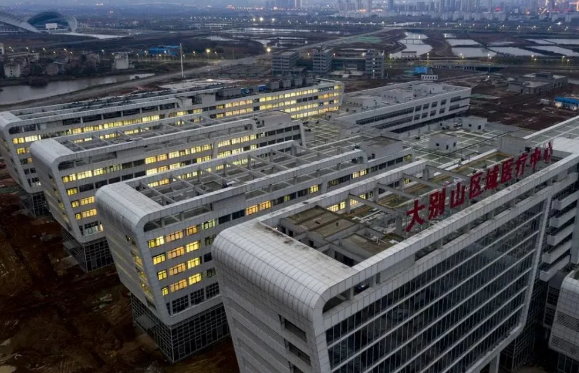 The newly built Dabie Mountains Medical Center, equipped with 1,000 beds, functions as the largest coronavirus hospital in Huanggang. [Photo courtesy of China Poverty Alleviation magazine]
Huanggang speed
In light of problems such as the increasing number of feverish people and the growing shortage of observation beds in Huanggang, the municipal authorities announced on the evening of Jan. 25 that the recently completed Dabie Mountains Medical Center should come online as quickly as possible and be used solely to treat confirmed COVID-19 patients for the time being. The site was originally intended to function as the new facility of the Huanggang Central Hospital and was scheduled to open in May. Construction workers, utility companies, medical staff, and volunteers began working around the clock to furnish the facility with beds and medical equipment after the announcement was made, and it was connected to the water and electric grids and the internet. The empty buildings were transformed into a fully functioning, 1,000-bed facility in just three days, and it began receiving patients around 11:00 p.m. on Jan. 28. The modifications that were made to the hospital and its launch date made it possible for Huanggang's COVID-19 patients to receive treatment in a timely manner.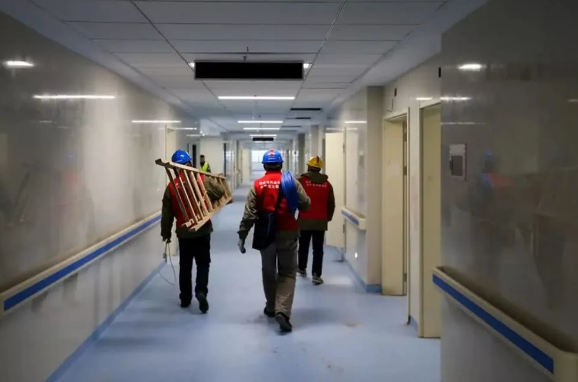 Huanggang Secondary Vocational School staff and volunteers transform part of the educational institution's campus into a quarantine site for people who have had close contact with those who are suspected of being infected with COVID-19 or are confirmed to have it. [Photo courtesy of China Poverty Alleviation magazine]
Huanggang Secondary Vocational School staff and volunteers also rapidly transformed part of the educational institution's campus into a quarantine site for observing people who have had close contact with those who were suspected of being infected with COVID-19 or were confirmed to have it. They worked day and night to disinfect the premises; create isolation zones; furnish isolation rooms; form medical, security, and logistics teams; and complete other tasks so that people could be isolated at the site as quickly as possible. Ten tons of alcohol, disinfectant, masks, protective clothing, and other medical supplies were delivered to the campus, and it was fully equipped with medical, security, and logistics services. A bed, bedding, and daily necessities were moved into each of 800 rooms, and cable TV, broadband internet, and other features were installed. The entire project was completed in less than two days, and the school quickly began accepting citizens who needed to be quarantined.
Party members lead the way on the frontline
The Huanggang Municipal Party Committee called for all levels of Party members to take initiative in the battle against COVID-19 soon after it emerged, and 572 temporary Party branches were established to strengthen prevention and control endeavors. Party members' frontline work in the battle against the virus has inspired great confidence. The Qichun county public security bureau established 32 temporary Party branches and began measuring people's temperatures and conducting other inspection work at 24-hour traffic checkpoints. The efforts that the bureau's staff have made are examples of some of the many undertakings that the Party has made to contain the outbreak in the city.
"I'm a doctor and a Party member," Zheng Qin, secretary of the Tuanfeng County People's Hospital infection ward's temporary Party branch, said resolutely. "I must rise to the occasion during times like these." The medical professional made himself available to help infected COVID-19 patients along with other members of the temporary Party branches and worked continuously for more than half a month beginning on Feb. 6.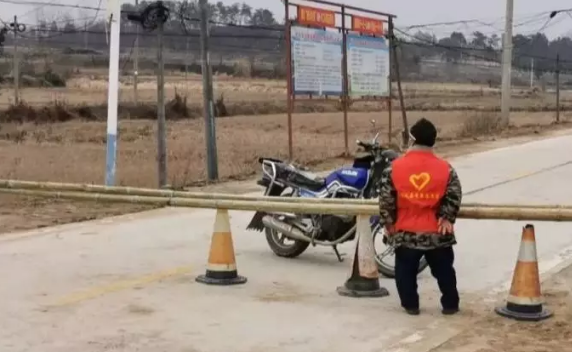 He Kai, a resident of a village under the administration of Huanggang's Macaomiao township who escaped from poverty in 2017, works at a traffic control checkpoint.

People from all walks of life actively took part in the battle against the COVID-19 outbreak in Huanggang. He Kai, a formerly impoverished resident of the city's Macaomiao township who escaped from poverty in 2017 after he launched his own e-business, immediately applied to volunteer for the town when he learned that it was looking for help and began distributing masks, taking people's temperatures, and disseminating COVID-19 prevention information. Founder of Yingshan county's environmentally friendly Shenfeng Mountain Farm Wen Binjun provided free lunches and dinners for medical staff in the area; and impoverished Zhangdongwan village resident Cheng Zhixiong in Xiaochi town of Huangmei county donated more than 500 kg of vegetables for similar purposes. Countless stories of selflessness can be found throughout the city as people came together to battle the pandemic.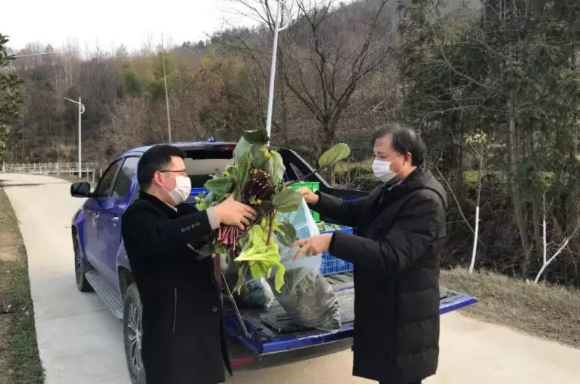 Volunteers unload vegetables that will be used to feed staff engaged in COVID-19 prevention and control efforts.
Taking measures to fight the pandemic and eliminate poverty
Huanggang is currently in the middle of the decisive final year of its three-year poverty alleviation campaign and is working on helping the 160,900 people, two counties, and 129 villages that are currently impoverished in its borders escape from poverty.
"I've been looking forward to going back to work and relieving some of the financial pressure on my family," impoverished Tuanfeng county villager Qin Chunli stated. She lives near the Chengnan Industrial Park and works at a Hubei Crown Nonwovens Co. Ltd factory. The facility produces protective clothing and was able to reopen on Feb. 7, shortly after Chinese New Year. Qin and her coworkers worked tirelessly to support COVID-19 prevention and control efforts.
Xiong Bolun, director of Tuanfeng's Science, Technology and Information Bureau, mentioned that the county established a working group to help resolve problems facing local enterprises while attempting to resume operations amidst the pandemic, such as insufficient staff and issues with transportation and logistics. Companies that recommenced their business and production activities were required to check their employees' temperatures and disinfect their facilities at least three times a day. Nine enterprises that produce animal feed, protective clothing, and disinfection materials in Tuanfeng county restarted their operations by March.
"Helping enterprises resume business in a timely manner supports prevention efforts and has made it possible for many impoverished people to continue to earn stable incomes," Huanggang Party Secretary Liu Xuerong noted.
The Huanggang Market Supervision Bureau indicated that 36 of the factories in the city came back online as of March 4 and that they engaged in manufacturing urgently needed supplies.
"We actively provided guidance to businesses that wanted to resume operations and helped them implement good protection and control measures," vice mayor of Huanggang Yu Youbin stated. "We are also doing our best to consolidate the poverty alleviation progress that has been made in the city."