Consumption-oriented poverty alleviation benefits Hainan residents
p.china.org.cn by Zhao Binyu,June 04, 2020

Adjust font size:

Mo Qiqing is a poverty-stricken resident of Lugujing village, Dingyuan county in Hainan province. He never thought that the peanuts he grows would sell so well online. He was able to move all of the stock that he had on hand in just a few days via the Hainan poverty alleviation website in October 2019, which resulted in more than 3,000 yuan (US$429) of earnings, China Poverty Alleviation magazine reported.




The Hainan government has comprehensively promoted consumption-oriented approach to poverty reduction since October 2018 and provides efficient online and offline services. Various social forces have been cooperating and helping to get all of the impoverished households in the province involved. As a result of these endeavors, the sales of farm and specialty products from poor families in the province have amounted to 70.132 million yuan (US$10.03 million) thus far, benefiting 82,400 families.

Going to market

On Oct. 18, 2019, Fu Zhiqi, a resident of Zhaoming village, Baisha Li autonomous county, and his wife woke up at 2 a.m. They need to do various preparation work before taking fresh mutton to a poverty relief fair in the town that administers their village. The fair opened at 9 a.m.

Fu is the head of the Chunsheng Farming Cooperative. He sells mutton at every fair that he is able to attend and has taught three impoverished families how to raise sheep. "I brought in 1,800 yuan (US$257) at a county fair yesterday morning and about 2,000 yuan (US$286) today," Fu stated in the fall of 2019. He felt secured when he was counting his earnings and mentioned that his fresh mutton trade was brisk.

A resident of Hekouzuxia village, Baoting Li and Miao autonomous county named Lin Chengxiang sold homemade rice wine at the fair the same day that Fu made 2,000 yuan. She never thought that Wang Yuzheng, secretary of the county Party committee, would be her first customer of the day. The official appreciated a sample of her wine that he tried and bought a bottle.

It was not the first time that Lin participated in a poverty relief fair. She sold her wine at a special poverty reduction market in Baoting county every month since the start of 2019 and had earned 8,000 yuan (US$1,144) by the year end.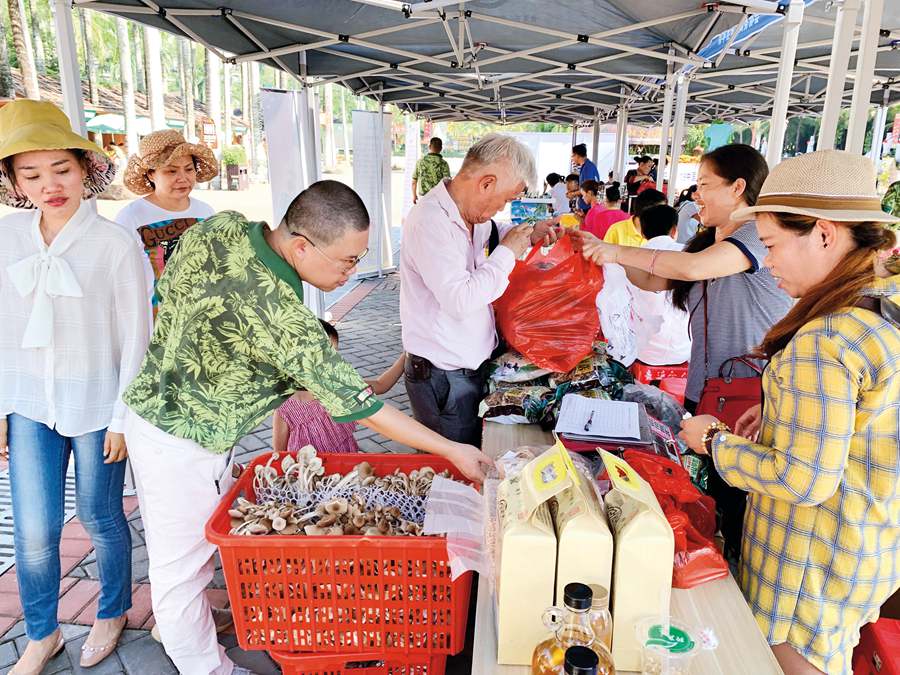 During the International Museum Day and China Tourism Day from May 18 to 19, 2019, Baoting county holds a poverty relief fair in a 5A scenic area where 26 cooperatives and enterprises that impoverished residents participated in provide 80 varieties of products, attracting tourists and staff of the scenic area to buy. [Photo courtesy of China Poverty Alleviation magazine]
Ji Lixia is from an impoverished household in Duojian village, Huangliu township. At the end of 2019, she sold two goats and all of the 10 pigs she had raised at a poverty alleviation fair shortly after it opened. These kinds of fairs have the added benefit of stimulating impoverished people's intrinsic motivation to improve their conditions.
The first half of 2019 witnessed 881 poverty alleviation fairs held in Hainan's counties with the transaction volume totaling 30.24 million yuan (US$4.32 million). The fairs make it possible for all sectors of society to be involved in the fight against poverty, raise awareness of the issue, and encourage greater participation.
Internet opens a door for poverty relief
The Hainan poverty alleviation website was officially launched on Oct. 16, 2018. The platform makes it possible for consumers to purchase products that are produced by impoverished people all over the province and is supported by a comprehensive logistics system. More than 100,000 people visited the site in less than nine hours following the launching of the website, which resulted in more than 100,000 yuan (US$14,300) worth of sales.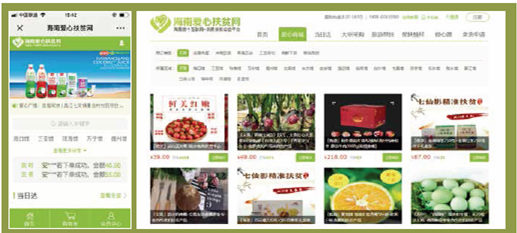 A page of Hainan poverty alleviation website showcases Hainan agricultural specialties. Left page: a screenshot from mobile phone; right page: a screenshot from PC. [Photo courtesy of China Poverty Alleviation magazine]
Wu Kunshen is a resident of Leihu village, Yongxing township in Haikou city. He made good profit from the homemade dried wampee fruits that he sold on the website. In Yongxing, almost every household grows wampee trees, and they usually take large loads of fresh wampee fruits to the town fairs to sell them every July and August. Last summer, Wu Kunshen tried a new approach though. He dried his fruits, and packed them into 180-g jars with QR codes printed on them.
Poverty alleviation officials helped Wu Kunshen become part of the first group of farmers to sell their products on the Hainan poverty alleviation website. Wu sold 1,662 jars in two months, which resulted in more than 40,000 yuan (US$5,720) of income, a considerable improvement over the 10,000-20,000 yuan (US$1,430) of income that he made over the course of the entire year before he became involved with the e-commerce.
Wu Dejin, first Party secretary of Lugujing village, Lingkou town of Ding'an county, recalled that the impoverished residents of the village he works used to take their products to markets in the area on their shoulders or by motorcycles and three-wheeled vehicles. He mentioned that they put in a lot of effort but were often disappointed by the low demand and low prices.
Wu Dejin has witnessed the impact that e-commerce has had on poverty alleviation in Lugujing. Agricultural products such as black beans, peanuts, rice, and Berkshire pork are now sold on Hainan poverty alleviation website and other platforms. He helps impoverished people participate and list their products online.
"Villagers become more motivated when they begin to experience the tangible benefits that result from selling their products online," Wu Dejin stated. He said that many impoverished people now proactively ask him for help with this process.
Six companies made a 79,699-yuan (US$11,397) bulk purchase order on the Hainan poverty alleviation website on July 15, 2019. The popular products on the website include beef, rambutan, partridge tea, honey, dried cuttlefish, Chinese chestnuts, sweet potatoes, and organic rice.
By the end of November 2019, a total of 205,900 customers had purchased 26.65 million yuan (US$3.81 million) worth of goods from the platform. The figure includes 9.2 million yuan (US$1.32 million) worth of online sales and 17.45 million yuan (US$2.5 million) of offline sales. More and more customers are taking the opportunity to purchase goods and participate in poverty alleviation at the same time. The process involves a few easy steps, such as selecting what one wants, filling in shipping information, and paying for one's purchase. More and more of Hainan's cities and counties have been participating as well.
Ji Shuying is a resident of Hekou village, Xiangshui town, Baoting county who is registered as impoverished. She and her sister now each earn 400 yuan (US$57) a day selling homemade soap. A brick-and-mortar store in Baoting county carries their goods and other specialty products, such as jujube ginger sugar, coconut oil and honey. The soap produced by the sisters sells for up to 30 yuan (US$4.29) per bar. The shop achieved more than 3 million yuan (US$429,000) in sales from January to October in 2019.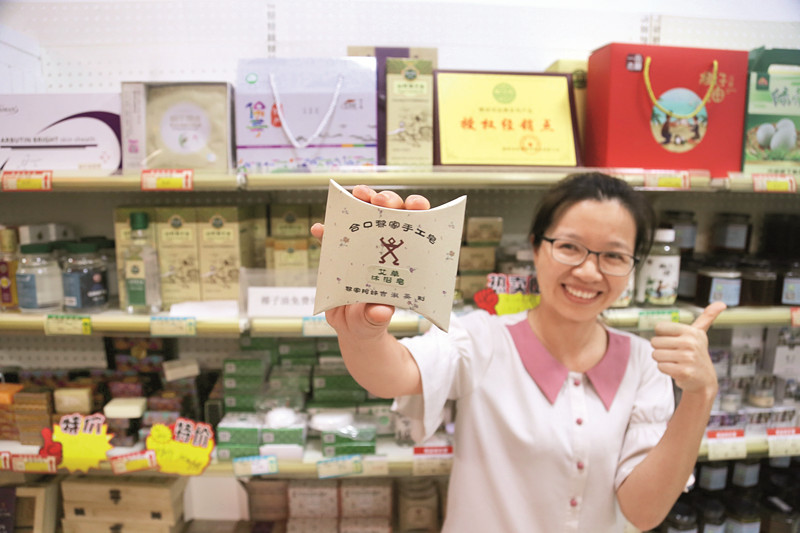 Song Haiman, head of a store that sells Baoting special products, displays a handmade soap by an impoverished resident named Ji Shuying in Hekou village, Xiangshui town on Nov. 11, 2019. [photo by Gao Yongwei/China Poverty Alleviation magazine]
All 22 poverty-stricken villages in Baisha county have their own QR codes that bring up information about them and make it possible to order the specialties that their citizens produce. The county participates in Alibaba's Cainiao Logistics program, which connects the "last kilometer" to villages so that agricultural products grown in remote areas can be sold to buyers all over China.
New method of poverty relief
Lin Shaohui, general manager of the logistics department of China Construction Bank's (CCB) Hainan Branch, once drove for more than three hours to pick up giant clitocybe mushrooms from Maolu, a village that his bank is supporting. The mushrooms were grown by a cooperative that was established with the help of CCB, and a third of Maolu's low-income villagers are its members. The bank is also a customer of the cooperative. Lin feels happy when he sees his coworkers enjoying the mushrooms at their dining hall.
It was not the first time that a CCB dining hall has sourced products from impoverished households. The Hainan divisions of the bank have bought 102,000 yuan (US$14,586) worth of goods from villages they are assigned to support in the province. Wang Yingmei is part of an impoverished household that grows sweet potatoes in Maoyang village. Her organic crops have become very popular with CCB employees. CCB Hainan Branch helped the villagers sell more than 10,000 kg of sweet potatoes in 2019.
The remaining 45,000 poverty-stricken people in the province, most in Wuzhishan, Lingao, and Baisha counties, are expected to lift themselves out of poverty by the end of this year. Hainan government leaders have been thinking about how to consolidate and enhance the poverty alleviation achievements that have been made.
Poverty reduction can be a difficult, drawn out endeavor. The government helps people escape from poverty according to an established schedule and also attempts to make sure that people who are no longer impoverished do not fall back into poverty so that stable poverty eradication can occur and steady increases in incomes can be achieved.
The Hainan government realized that pursuing poverty reduction through industry would be unsustainable without consumption-oriented poverty alleviation endeavors. Various flexible models have also been created for individuals and organizations to participate in Hainan's consumption-based poverty alleviation undertaking. They include regular subscription packages for organizations, occasional group purchase discounts for organizations, customized subscription services based on demand, subscription packages for individuals, "farm sharing" projects in impoverished areas, assistance with sourcing to match retailers with producers, and various tourism promotions. All these efforts have helped to create a situation in which "everyone supports, participates in, and promotes consumption-oriented poverty alleviation" in the province.
The social poverty eradication department of Hainan's Poverty Alleviation Office was awarded the national poverty reduction award on Oct. 17, 2019 as a result of its consumption-oriented efforts.