Women in Ningxia sew their way out of poverty
chinadaily.com.cn ,May 21, 2020

Adjust font size: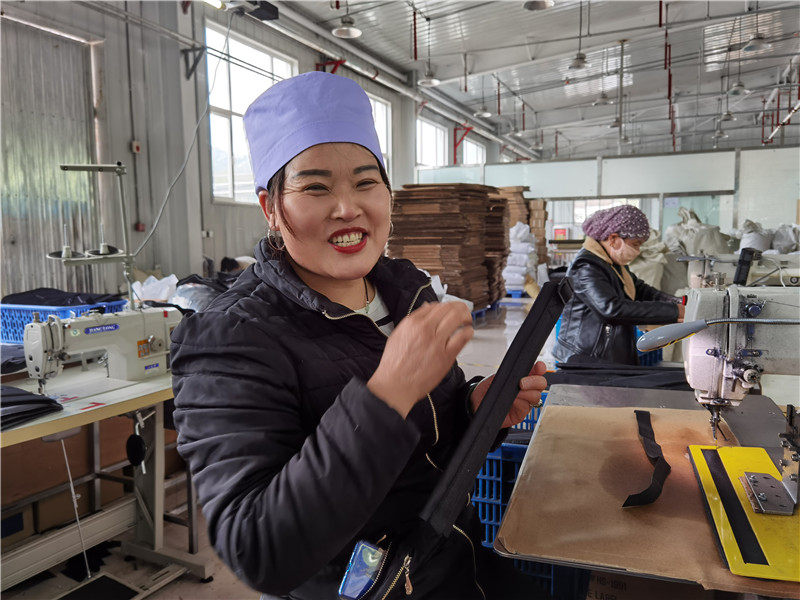 Qin Maixiang learns sewing techniques at a factory in Xihaigu, a poverty-stricken area in the Ningxia Hui autonomous region. [Photo provided to chinadaily.com.cn]
Women in Xihaigu, a poverty-stricken area of the Ningxia Hui autonomous region, are now living a better life thanks to local factories.
With its dry climate, high mountains and harsh environment, Xihaigu was recognized in 1972 as one of the world's most uninhabitable places by the United Nations World Food Programme. In the past, women here took care of their children at home and relied on their husbands' incomes.
China launched its poverty alleviation campaign in 2015, with this year set as the target for eradicating absolute poverty. To achieve the goal, Ningxia has advanced poverty alleviation efforts in recent years, including offering jobs to women with children.
At a factory in Ningxia's Jingyuan county, 99 percent of the total 310 workers are local women, 110 of whom had been identified as impoverished.
Yu Hongqin, a mother of four children, is one of them. Her left leg was badly injured in an accident 20 years ago, depriving her of the ability to do heavier work. For 19 years, she was unable to find a job. She could only stay at home to care for her children. Unfortunately, her husband's income was meager, and it was difficult to sustain the family.
In July, Yu heard about a factory offering sewing jobs to assemble bags. It was an opportunity for her to rise out of poverty, and she applied along with five other women.
In the first three months, they received training, learning how to operate the sewing machines. Now Yu is able to earn nearly 3,000 yuan ($423) a month.
"I have two daughters who are college students. If I work harder, my children will have a brighter future," she said.
The eldest daughter of Qin Maixiang, 42, a mother of three, didn't have a chance to go to school because of poverty. She married at a young age.
Qin began working at the factory in July and is now able to earn 100 to 150 yuan a day — about the same as Yu.
"Now I can take care of the family," she said.
In the future, Qin said, she plans to buy an apartment in the urban area: "I think it won't take too many years."