Operations resume at factory in poverty alleviation relocation site in Hubei
p.china.org.cn by Ye Kai ,May 21, 2020

Adjust font size: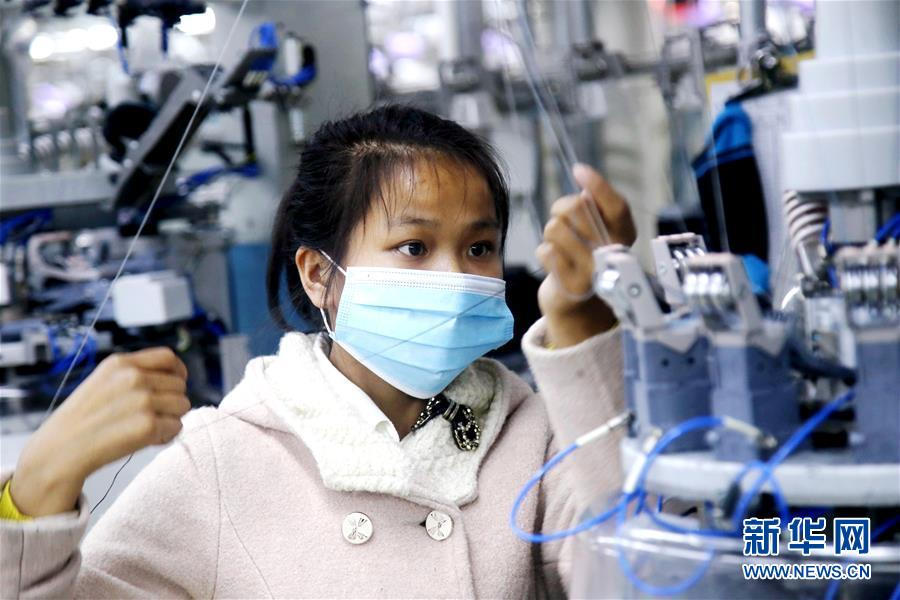 An employee of a factory that was established for poverty alleviation purposes in Qinglongquan community, Yunyang district, Shiyan city, Hubei province threads on an automated hosiery machine. (Xinhua/Cao Zhonghong)
In recent years, the government of Yunyang district, Shiyan city, Hubei province has encouraged hosiery manufacturing companies from Zhejiang province to establish factories in local densely populated poverty alleviation relocation sites and provided those that did with various incentives, which has resulted in 17 new workshops being constructed to date.
Operations have recently resumed at a factory in Yunyang's Qinglongquan community after they were temporarily suspended as a result of the COVID-19 outbreak. Strict pandemic prevention and control measures have been implemented, and 191 employees have returned to work. Two hundred thirty-four new staff members have also onboarded recently. Many Yunyang natives work as migrant laborers but were not able to return to their posts after coming home for the Spring Festival holiday in January as a result of complications caused by the COVID-19 pandemic, so they have sought positions in and around the county.