Wuhan-based company donates 50,000 face masks to Brazilian partner
p.china.org.cn,April 29, 2020

Adjust font size: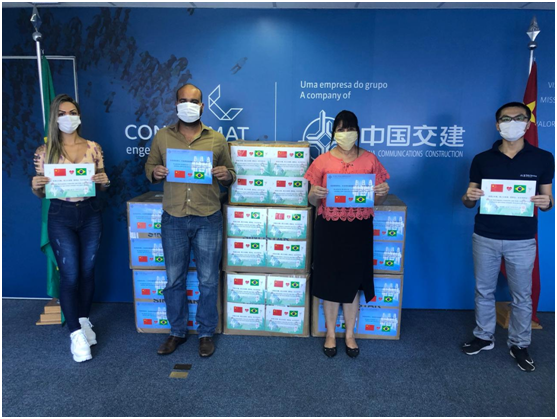 CCCC Second Harbor Engineering Company Ltd. staff donate 50,000 masks to Brazilian partner Concremat on April 27. [Photo provided by CCCC Second Harbor Engineering Company Ltd.]

On April 27, the 50,000 face masks donated by Second Harbor Engineering Company Ltd. (SHEC), a subsidiary of China Communications Construction Company Ltd. (CCCC), reached Brazilian partner Concremat, which is the largest engineering consultancy firm in the country. The companies held a brief donation ceremony at their shared office building in São Paulo.
The shipment was an expression of gratitude for Concremat's generous donation of 10,450 face masks to China in early February. It took more than a month to arrive as a result of adjustments that have been made to customs procedures regarding the export of medical supplies during the COVID-19 pandemic period and the constricted transit routes that are currently available. The masks will be distributed to Concremat staff.