Silverwork industry helps villagers create new lives free of poverty
p.china.org.cn by Sun Fang,April 28, 2020

Adjust font size: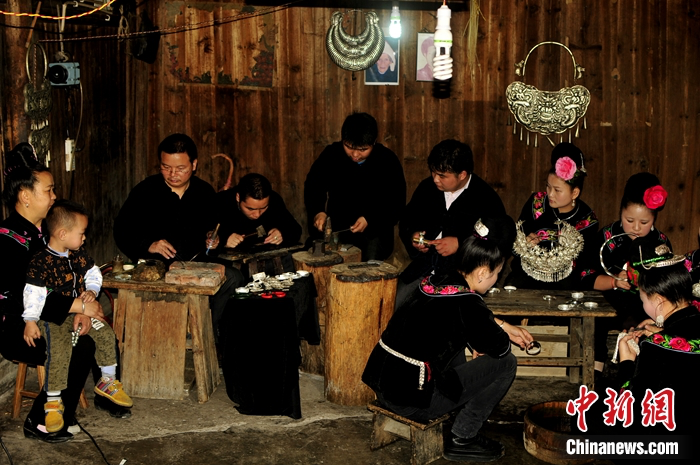 Li Guangxiong and his family make silverworks. (Photo by Li Xue)

Maliao is a traditional minority village located in Leishan county, Qiandongnan Miao and Dong autonomous prefecture, Guizhou province. It has a population of 746 people, 99 percent of which are part of the Miao ethnic group, and there are 180 total households.
The China Arts and Crafts Association has recognized Maliao as "the home of Chinese silverworks." There is a strong culture of silverwork fabrication in the village, and its residents have sold their creations for generations. Miao silver craftsmanship was included in China's first list of national intangible cultural heritage items.
In recent years, the rapid development of tourism in Guizhou and the local government's support of intangible cultural heritage have resulted in Leishan becoming well-known for its silverworks. Many tourists from China and abroad travel to the village to enjoy themselves and shop for these products.
A Maliao native who had been living away from the village by the name of Pan Shixue returned to his hometown in 2008. He thought that the silverwork industry would be a good way for himself and others to reduce poverty. "At first I was unsure what would happen, but when I learned that there was a lot of demand, I decided to give it a try," Pan explained.
The craftsman continued: "Innovation is the key to success. We need to keep up with market demands and create new styles to attract customers." Pan combines traditional skills and techniques with elements of modern fashion. He also engages in e-commerce and uses an app that allows people to share short videos known as Douyin to promote his products. His channel has many followers and has generated a lot of sales.
Pan hopes that Maliao's traditional arts and crafts and tourism industries will continue to develop. He encourages natives of the village who are living elsewhere to return and establish silverwork businesses like he did and he helps impoverished villagers start their own operations so that they can escape from poverty and increase their incomes.