An indolent man finds a new path to shake off poverty
p.china.org.cn by Sun Fang,April 23, 2020

Adjust font size:

Sun Yunqing has been working on poverty reduction for several years first as a member of China Tower's Sichuan branch's poverty alleviation team in Xiagu village and later as the team leader. He often visited local impoverished residentXiang Ajun every few days until recently in order to explain poverty alleviation policies to him and encourage him to establish a small business.On Feb. 4, 2018, Sun and some of Xiagu's residents chipped in and bought four calves for the poverty-stricken man so he could engage in cattle farming. However, to Sun's great disappointment, Xiang persisted in his old ways as a loafer with the mindset that the government would eventually provide some relief to his family. The calves were found to have been strangled to death by rope less than a month later, which frustrated and discouraged the people who wanted to help Xiang. Sun did not give up, however, and developed a special, targeted plan to assist him.

Idleness impedes success

Xiang has lived his entire life in Xiagu, which is located in southwest China and administered by Housuo township of Muli Tibetan autonomous county in Liangshan Yi autonomous prefecture, Sichuan province. Until recently he would often drink alcohol, bask in the sun, and do nothing all day. He used to live with his family of five in a dilapidated 30-square-meter house and relied on a subsistence allowance in order to scrape by.

Xiang would often try to get loans from his friends and relatives when he was getting low on funds, which caused people to avoid him as if the words "I want to borrow money" were written on his forehead. He would pester the local village committee and tell the people who are part of it that they would be responsible if his family starved to death.

Xiang was not motivated to get out of poverty and did not mind relying on the government for help. He felt content muddling along and took his subsistence allowance and other relief measures for granted. The repeated encouragement that the lackadaisical man received from village officials and his friends and relatives was of no avail.

Targeted measures help to alter Xiang's attitude toward poverty reduction

Sun Yunqing believes that poverty alleviation involves helping people become confident and motivated to improve their situations through hard work and does not want to enable people to be lethargic and reliant. He wanted to correct Xiang's misunderstandings about the concept.

The Xiagu village committee identified the Xiang family as impoverished when China began engaging in targeted poverty reduction. Special policies were implemented and promoted in the village, which helped the local produce and animal farming industries develop. Residents who were involved in these undertakings were able to increase their incomes and improve their lives.

Xiang's neighbors gradually began to move into new houses and escape from poverty with the help of the local authorities.

Sun's team and the local village officials held a number of special meetings at the end of March 2018 to discuss how to change Xiang's attitude toward poverty reduction. The group unanimously decided to take him to visit local residents who were no longer impoverished during the day, so he could listen to their thoughts and learn more about their experiences. At night, the officials sat with him around a fire and chatted with him about daily life, poverty alleviation policies, and the importance of hard work.

The efforts that the officials made panned out, and Xiang's attitude began to change over the course of a month. He felt motivated when he saw the improvements that people who used to be as impoverished as he currently was had been able to make something of their lives.

Sun eventually told Xiang: "You need to take your wife and children into consideration. They can't live in such a small and shabby house with you forever!"

No longer indifferent, Xiang replied excitedly: "I want to live a better life in a new house, but I don't have any money, and we don't have enough manpower in my family. I also want to do business, but I don't have any capital, and I need to learn some new skills."

Sun immediately answered, "Village officials will apply for funding that has been set aside for the purpose of creating new housing in areas where Tibetan people live and will assist you with construction of a home and arrange for some other residents of Xiagu to help. We will also lend you startup funds so you can establish a small business, and we can invite agricultural technicians to the village to offer on-site help and guidance."

Xiang finally became willing to put in more effort and improve his situation with the help of poverty alleviation staff.

The formerly languid man finds a path to prosperity

Village officials obtained the funding that they sought, and 13 young and middle-aged Party members in the village helped Xiang build a new house that includes a living room, bedrooms, kitchen, and other functional areas. The family was also provided with furniture, kitchenware, a Tibetan stove, solar panels, and other useful items. The sight of his family living in their new home and the improved quality of life that they were now enjoying brought his long-lost smile back to his face.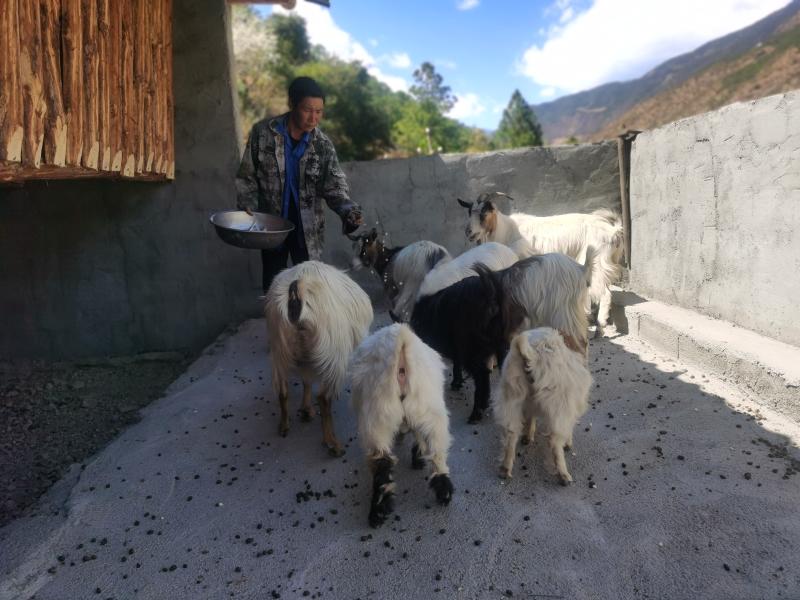 Xiang Ajun feeds his goats
Xiang has two children that he needs to take to and from school and also has elderly family members to look after, so he could not work too far away from his home. Xiagu's poverty alleviation team also found a job for his wife at a company near the village in July 2018.
In the meantime, the team applied for 7,600 yuan (US$1,075) of small business support funding for Xiang, which made it possible for him to purchase 40 black goats and 300 pepper seedlings.
Poverty alleviation staff and agricultural technicians showed the new farmer how to fertilize pepper seedlings with goat manure to promote their growth, which is an efficient way to make use of his resources.
Goats are particularly susceptible to illness, so poverty reduction officials often visited the new farm in order to provide information about the prevention and treatment of diseases and distribute medicine.
Xiang began to taste the sweetness of his new life as his goats became larger and his peppers began to thrive. He gradually changed his habits and transformed into a more reliable and less negligent person. The farmer eventually felt refreshed and grew more energetic and confident about his ability to escape from poverty and become more prosperous.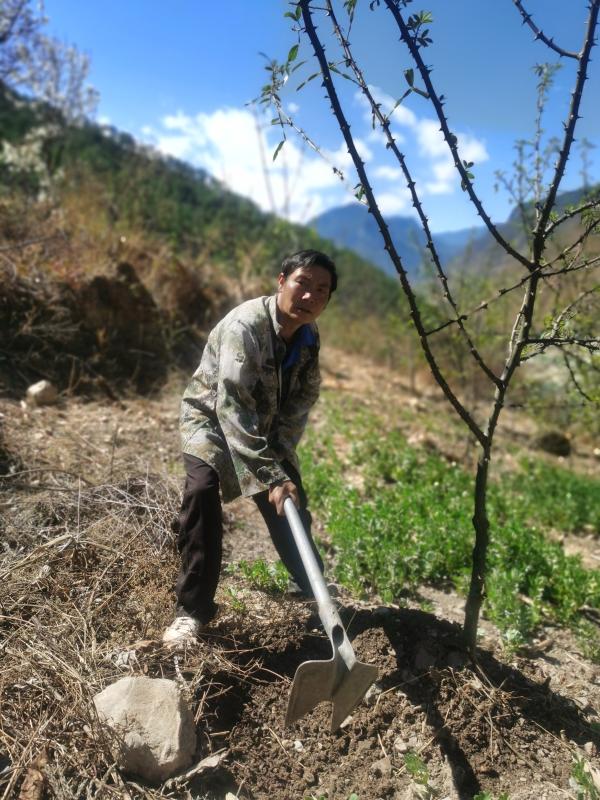 Xiang tills the soil around a pepper tree.
Xiang summarized, "I lived a difficult life for many years, and my family suffered with me. Secretary Sun and the other poverty alleviation officials in Xiagu made it possible for us to have a better future. With good policies in place, we've benefited from them."
The industrious farmer had 234 head of black goats in 2019 and sold 40 of them, which resulted in 48,000 yuan (US$6,792) of income. He also made 6,200 yuan (US$877) from his peppers.
Xiagu's residents still talk about Xiang's life, but few people avoid him nowadays. Instead, they tend to greet him and give him their blessings.