Grenada values China's anti-pandemic experience
p.china.org.cn,April 17, 2020

Adjust font size:

On behalf of the Chinese government, Chinese Ambassador to Grenada Zhao Yongchen handed over a batch of medical supplies such as N95 masks, medical gowns and forehead thermometers to the government of Grenada, according to China International Development Cooperation Agency official website.


The handover ceremony was held on April 10 in St. George's, capital of Grenada.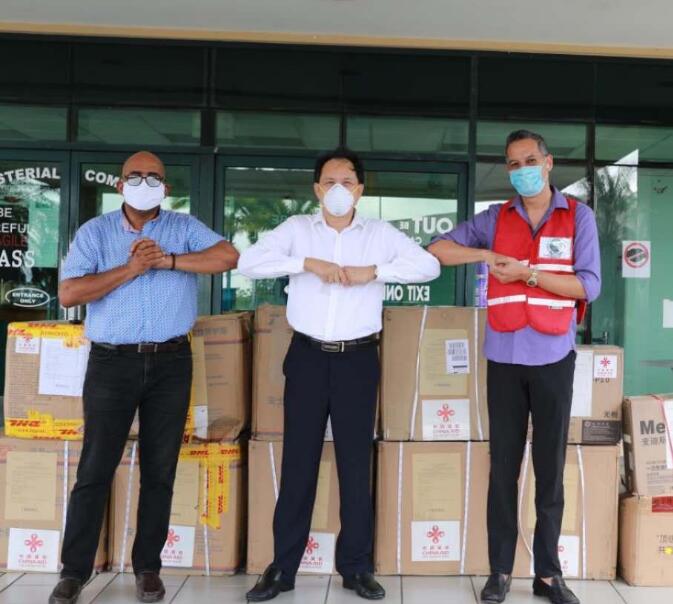 Chinese Ambassador to Grenada Zhao Yongchen (M) attends the handover ceremony of Chinese medical supplies to Grenada on April 10 in St. George's, capital of Grenada. [Photo/fmprc.gov.cn]

Zhao said that China adopts the vision of a community with a shared future for mankind, shares its anti-pandemic experience with the world and carries out international cooperation. Currently, Grenada is making all-out efforts to contain the spread of the pandemic. He said he firmly believed that under the leadership of Grenadian Prime Minister Keith Mitchell the people of Grenada will eventually win the battle against COVID-19.

On behalf of Grenadian prime minister, Grenadian Minister for Foreign Affairs Peter David expressed gratitude to China for sharing the anti-pandemic experience and providing assistance in various ways. With the lockdown in Wuhan lifted, it demonstrated that China has achieved phased success in its fight against the pandemic, and Grenada will learn from China's experience, he said.

As of April 10, Grenada had reported 14 confirmed cases of infections. The Grenadian government announced prolonging of a curfew already in place to stem the spread of the virus.