UNDP procures urgent medical supplies for developing countries from China
p.china.org.cn by Liu Yizhou and Ye Kai,April 15, 2020

Adjust font size:

UNDP Resident Representative in China Beate Trankmann recently announced that various medical supplies and personal protective equipment (PPE) made in China are being sent to developing countries to support healthcare personnel working on the frontlines of the COVID-19 pandemic.
UNDP Representative to Nigeria Mo Yahya expresses his gratitude for a consignment of protective materials from UNDP China. [Photo courtesy of UNDP China Office]
Trankmann stated that her office has been supporting China's response to the disease ever since late January this year. The UN donated more than 7,000 pieces of PPE and medical supplies to the country in February and March, which were worth a total of approximately US$500,000.
China has ramped up its production of medical supplies in recent months and is also one of the few nations not currently banning exports, which has allowed the country's UNDP office to help its international counterparts procure supplies. Most are being shipped to developing countries, in line with the organization's mission.
"A total of 250,000 masks have been sent to UNDP offices in Iran, Mongolia, and Vietnam so far, and 1,000 ventilators will be shipped abroad shortly," Trankmann elaborated.
The resident representative also commented on quality assurance and explained:" We are following a process governed by UNDP corporate procurement guidelines. It ensures that we are sourcing very high-quality products.The suppliers that we have been working with are certified by national health authorities, including China's National Drug Association."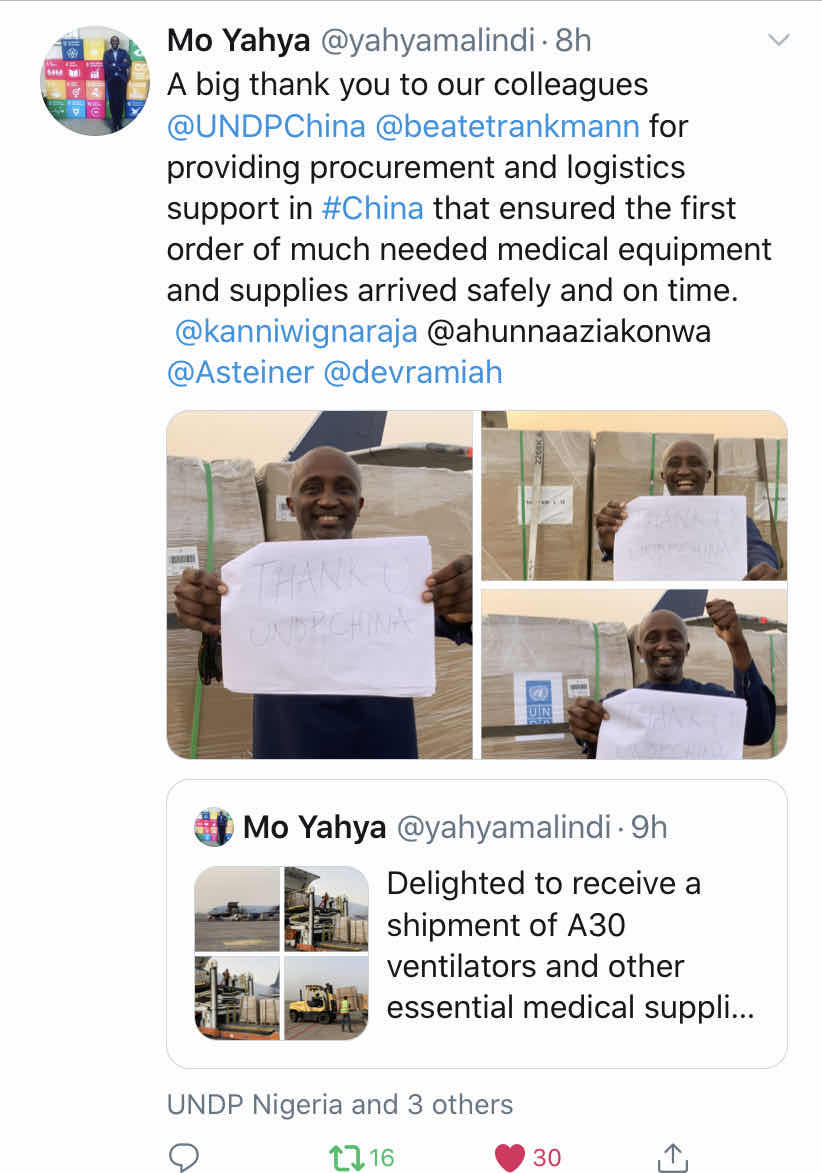 UNDP Representative to Nigeria Mo Yahya expresses his appreciation on Twitter for the medical supplies procured from China which are delivered to Nigeria to fight against COVID-19 pandemic. [Photo courtesy of UNDP China Office]