Liangshan Yi autonomous prefecture prepares to eradicate poverty in 2020
p.china.org.cn by Zhao Binyu ,April 14, 2020

Adjust font size:

An autonomous prefecture in Sichuan province, Liangshan Yi covers 60,400 sq km in southwest China. The Dadu River lies to the north, the Jinsha River flows to the south, the Sichuan Basin is situated to the east, and the Hengduan Mountain range runs through the region to the west of the jurisdiction. Liangshan is the source of Yi culture, and more people who are part of this ethnic group live there than anywhere else in China. The prefecture is also full of many diverse landscapes and other remarkable scenery. The prefecture's residents have had to endure the shadow of poverty that has hung over the area as a result of the harsh conditions that they live in, however.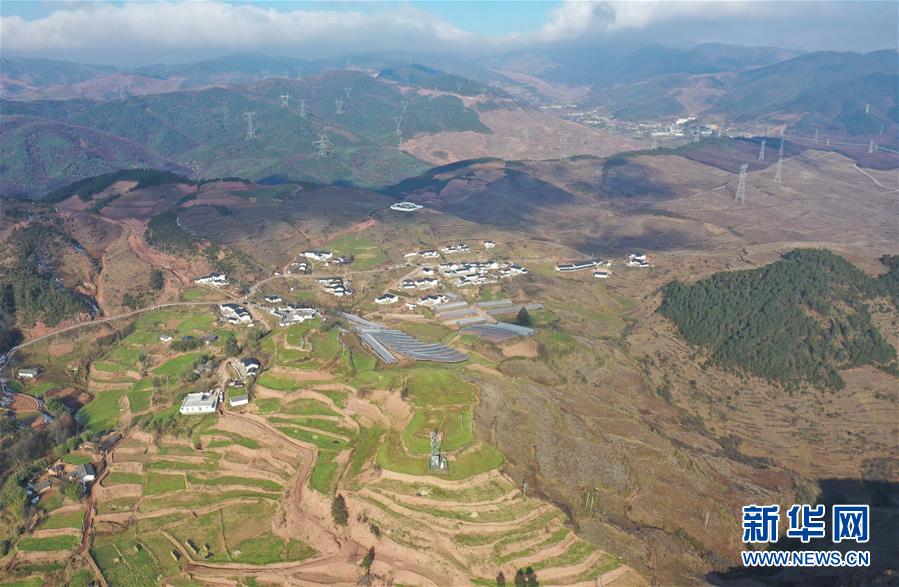 A bird's eye view of Huopu village, Jiefang township, Liangshan Yi autonomous prefecture, Sichuan province. (Xinhua/Xue Yubin)
There were 2,072 impoverished villages and 11 deeply impoverished counties in Liangshan when the central government ramped up poverty alleviation efforts in 2015. A total of 801,000 people and 1,772 of the villages were lifted out of poverty after five painstaking years of targeted poverty alleviation work. Efforts are being made to fully eliminate poverty by the end of 2020, which means that 300 more villages, seven remaining counties, and 178,000 people will no longer be impoverished.
Focusing on shortcomings and clearing obstacles
"Although the COVID-19 outbreak introduces new difficulties into the poverty alleviation process, we must continue to be committed to following through with our plans and also ending the epidemic," stated Liangshan Party Secretary Lin Shucheng. "The first round of inspections began on Jan. 31 this year."
The Sichuan government will supervise poverty alleviation work in the seven remaining impoverished counties and 300 poverty-stricken villages in Liangshan. Officials will ensure that the people who live in these areas have access to food and clothing, compulsory education, housing, and basic medical care. The province will help guarantee responsible implementation, successful execution of policies, and a comprehensive conclusion of the tasks that are involved. Efforts are being made to identify residents who are in need, provide them with assistance, and maintain accurate information about citizens who escape from poverty.
Lin is in charge of inspecting poverty alleviation work in Liangshan's Meigu county. He began visiting residents of Hougumo, which is a township that is located within its borders, on Feb. 4 of this year. Lin mentioned: "There is still a lot of work to be done in the prefecture. Eighty-three villages and 32,000 people are supposed to emerge from poverty in Meigu before the end of the year. The results that we achieved last year make us feel confident that we can achieve this goal, however."
Poverty alleviation is directly related to the quality of the projects that are implemented and people's sense of access. In 2019, Liangshan launched a campaign that was designed to address inadequate management, noncompliance with implementation procedures, retention of funds that were meant to be used and distributed, and substandard outcomes. It has included a continued deepening of anticorruption efforts related to poverty reduction endeavors and a promotion of a comprehensive review of the undertakings that have been executed in the prefecture since 2016.
Nine hundred eighty-three investigations have been conducted and 1,038 people have been examined, 24,541 poverty alleviation projects involving 53.15 billion yuan (US$7.6 billion) have been inspected, 755 people have been disciplined by the Communist Party of China and government bodies, 50 people have been transferred to judicial organs, and 10 county-level officials have received serious punishments as a result of their dishonesty and negligence since the campaign began. These kinds of efforts make it possible for poverty alleviation to proceed more efficiently and in an uninhibited manner.
Promoting poverty alleviation and overcoming difficulties
On Dec. 2019, residents of Liangshan's Abuluoha village celebrated the launch of their new cable car system and performed an ethnic Yi dance known as Dati to express their joy. Its inauguration marks the tail end of the period in which Sichuan's villages were isolated from the outside world.
Located deep in the Jinsha river canyon, Abuluoha means "a remote place where people rarely venture" in the Yi language. A more-than-three-hour-long hike through steep, mountainous paths was required to get to the nearest road before the village's aerial lift system came online.
The cable car covers 420 m in 20 minutes, and can carry one metric ton of passengers as well as motorbikes, grain, vegetables, and other cargo.
A 3.8-km road that connects Abuluoha to other villages in the region is being built by Sichuan Road and Bridge Co. Ltd. as well.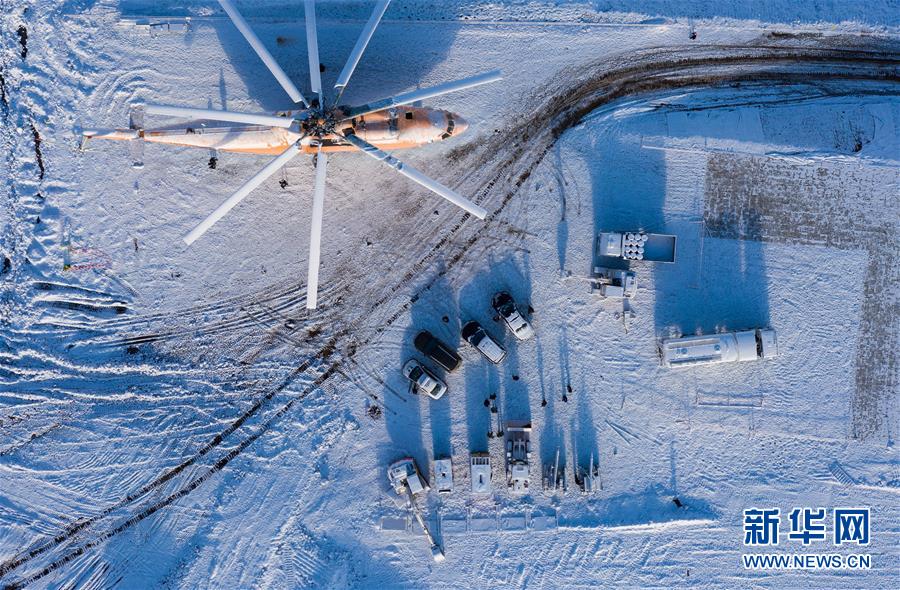 A Mi-26 heavy transport helicopter transfers an excavator to Abuluoha village in Butuo county of Liangshan Yi autonomous prefecture, Sichuan province. (Xinhua/Wang Xi)
China's Ministry of Emergency Management and the Sichuan Department of Emergency Management helped arrange for the firm to rent a Mil Mi-26 helicopter in order to transport excavators, loaders, drilling rigs, and other heavy machinery and equipment from the central Butuo area as a result of the geographical restrictions that affect Abuluoha. The level-4 village road is expected to be completed by April of this year.
Determination leads to poverty eradication
An official working at the Jianyang Commission for Discipline Inspection named Qiu Ting has shown great commitment to poverty alleviation. She issued an order that stated that people must be willing to "climb the highest mountains, take the most difficult roads, and chew from the hardest bones" in order to finish the work that needs to be done. Qiu became the deputy secretary of the Daping township, Puge county Party committee in July 2018 and has worked hard and connected with local residents ever since.
In 2018, the Sichuan government dispatched a poverty alleviation team to Liangshan that was composed of 5,700 outstanding members. It included talented people from all walks of life, such as leading university researchers, a lawyer who used to make 500,000 yuan (US$71,345) a year, and young people who have recently gotten married.
A young woman named Yang drolma who was born in Sichuan's Garze Tibetan autonomous prefecture in the 1990s recently became first secretary of Wayi, which is administered by Wagu township and is the most remote village in Meigu. She learned how to speak the Yi language within a year. Locals began to refer to her as "A Xiamo," which means "best wishes."
A woman named Liu Ji is first secretary of Tehe village, Hongmo town, Xide county. Her mother has suffered from diabetes for more than 10 years, and her mother-in-law was diagnosed with lumbar tuberculosis shortly after she started her job in Tehe. At first, Liu's husband tried to take care of both of their mothers on his own. The first secretary eventually invited her mom to come and live with her so that life would be easier for her husband. Liu's mother got along with Tehe's residents and became known as an "off-staff poverty alleviation team member."
Escaping from poverty is not the end but rather a beginning
Southwest Medical University associate professor Xia Jiyi has been working as deputy secretary of the Longgou township Party committee in Zhaojue county in recent years. He thought that it would be a good idea to grow huangqi – a flowering plant that is one of the 50 most important herbs in traditional Chinese medicine and he is an expert of – in the area and that people who have escaped from poverty could participate in the industry in order to ensure that they stay out of it. About 13.3 ha's worth of the herb were eventually planted in three villages in Gulilada canyon. The November 2019 harvest resulted in 75,000 yuan of output value per ha. Xia plans to farm huangqi on a total of more than 66.6 ha of land in the region this year in order to help Longgou's villages increase their incomes.
"It is worth going where we are needed and devoting ourselves to improving people's happiness and well-being," a member of the Meigu poverty alleviation team working in the Chengdu Public Security Bureau named Peng Yang expressed. He gestured to the foggy Liuhong canyon in front of him and concluded, "I believe that poverty will be eliminated soon in the future as long as everyone works hard just as the mist eventually dissipates in the gorge and beautiful scenery emerges."