Credit Availability in Rural Areas: Targeted Poverty Alleviation in Sichuan
UNDP,April 13, 2020

Adjust font size: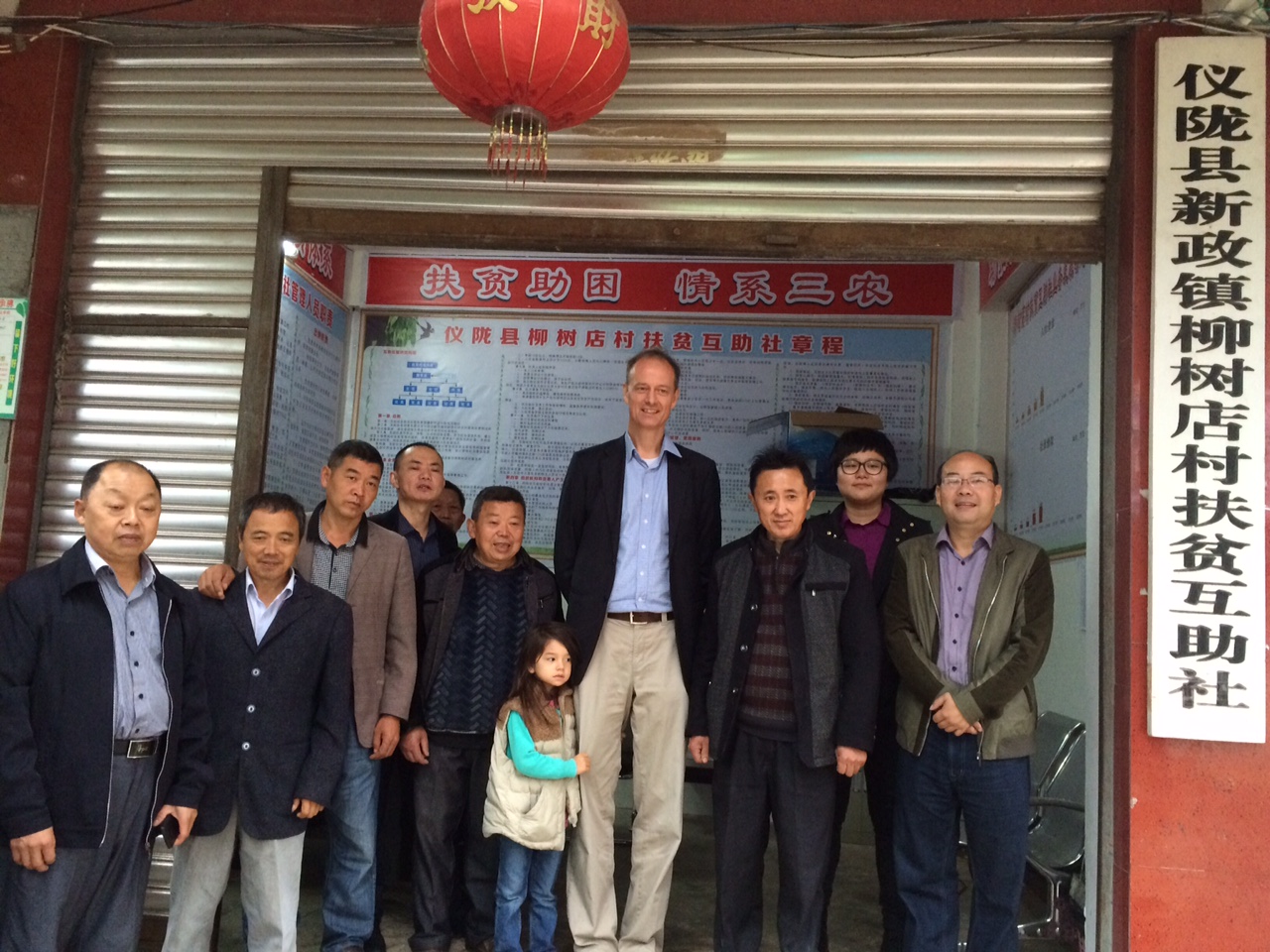 Patrick Haverman, Deputy Country Director for UNDP China, visited a UNDP pilot project on rural financial innovation on 25th October, some three hours travel to Yilong County from the capital Chengdu in Sichuan. The project has proven to successfully improve the efficiency and effectiveness of the cooperative finance with an ultimate goal to lift people out of poverty.

UNDP's work on inclusive finance for development has been long-standing. As the first international organization that introduced microfinance to China in 1994, UNDP piloted the Grameen microfinance model in 48 counties across 17 provinces, a model that has proven successful worldwide, particularly in its neighboring country Bangladesh. Since then, UNDP has been leading innumerous initiatives offering capacity building, research and policy studies on inclusive finance. All these efforts are to eliminate financial exclusion and increase development opportunities for the poor and vulnerable people in China, with an ultimate target of attaining the primary goal of poverty alleviation.
Although banks and microfinance companies have established their microfinance business rapidly, financial exclusion still exists in rural areas, particularly in impoverished areas in mid and west China. The cost and risk of microfinance operations in rural areas are significantly higher due to the lack of a good transportation infrastructure, the high risk and low return of agriculture production, as well as the asymmetric information among households. Pro-poor microfinance programmes have successfully reached impoverished individuals, but the high operation cost of non-collateral loans, and ineffective group lending in China, have made these organizations struggle to realize their sustainability and serve impoverished segments of the population on a large scale.
In order to address these shortcomings, UNDP China, together with the China International Center for Economic and Technical Exchanges (CICETE), has launched a pilot project on rural financial innovation in Yilong County. The pilot aims at improving the efficiency and effectiveness of the cooperative finance. These are self-managing mechanisms within which villagers themselves manage mutual funds – raised through government assistance, external donations or from villagers, and lend to members based on their needs. Currently, existing rural credit cooperatives display a severe lack of proper loan and fund management. UNDP's financial inclusion project helped to create the Rural Sustainable Development Center (the Center) with local government offices, which was registered as a non-profit rural social service provider in January 2014.
This plays four roles: First, as an incubator to prepare the compliance and effectiveness of existing pro-poor rural credit cooperatives and rural cooperatives; second, as a manager to improve the efficient operation of credit business within cooperatives; third as a coordinator to help cooperatives achieve the economy of scale; and fourth as a platform to access external resources, markets and funds for rural cooperatives.
The Center was the first in China of its sort to transform and standardize existing cooperatives in impoverished villages. It has assisted them in developing a set of management models with top-level design and a package of operation systems with strict standards, and unifying a number of cooperatives to mitigate liquidity risk, possibly raise wholesale funds and attract external resources. Implemented by the Poverty Alleviation and Migration Department of Yilong County, the Center has integrated a total of 42 rural cooperatives, benefiting over 8,500 households and 25,000 individuals. Under the center's assistance, the rural cooperatives in Yilong County have issued over 3,100 loans from 2014 to 2015, worth a total of 25 million RMB.
The cooperative, visited by Patrick Haverman, was managed by three people and is opened a few days a month. Villagers indicate the level of credit needed, the people from the cooperative go to the city withdraw from the bank, and distribute cash to the people requesting loans. The biggest advantage of this system is that poor people without collateral are getting the loans coming to the household. Interest paid is between 9.5 and 15%, which is costly but more competitive then the rates at the Postal Saving Bank in Yilong. Furthermore, no collateral is needed as borrowing is on a basis of trust with the neighbors and it is close to home.
However, there are still some roadblocks. The ageing of the villages is very apparent. Villages are mostly populated by elderly men and women, and very few young people, as the county has recently been experiencing a significant out-migration by its young population into more promising urban areas, taking with them the villages cash flow.
Micro credit organizations in China also face the issue of legalization that other countries do not. Micro finance nonprofits operate business in a grey area as you cannot register as an NGO. Others choose to move towards commercialization and register as a company, shifting the focus to profit which raises the interest rates and lowers the access to the poor. This creates a complicated and almost vicious circle leaving the elderly poor behind without credit. Pilots with cooperatives need to show if it can help solve these problems.
In October 2014, the People's Bank of China already initiated a two-year study on UNDP's rural financial innovation pilots and will assess the feasibility of scaling up on the national level. With Chinese government's commitment of eradicating poverty by 2020, such pilot projects are expected to contribute more to China's poverty reduction efforts.