Livestreaming promotes specialty products and helps people out of poverty
p.china.org.cn by Zhao Binyu,April 09, 2020

Adjust font size: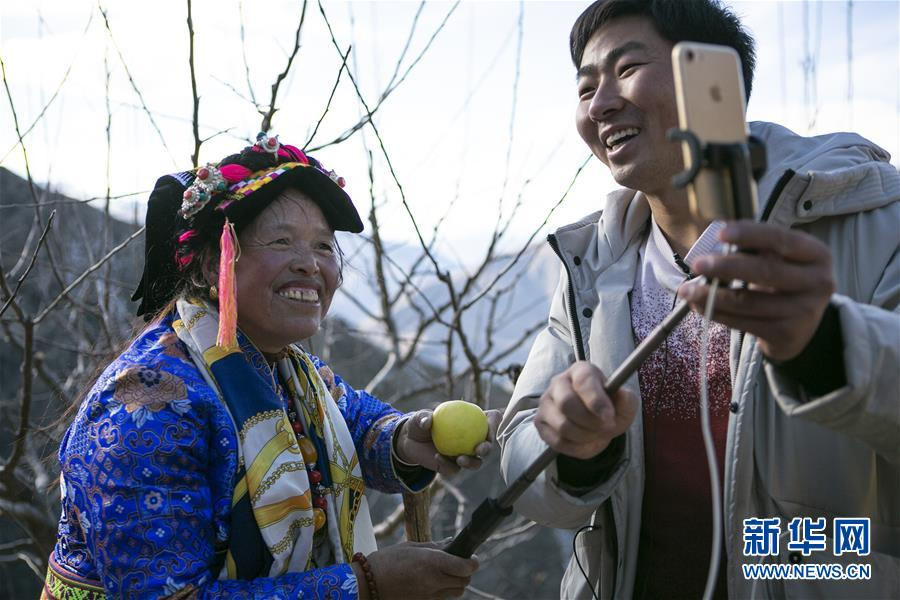 Zhang Fei (right) helps a resident of Ganjiagou village, Xiaojin county, Aba Tibetan and Qiang autonomous prefecture, Sichuan province promote her apples on a livestreaming platform. (Xinhua/Li Mengxin)
Zhang Fei is a 34-year-old who works as a poverty alleviation official in Ganjiagou village, Meixing town, Xiaojin county, Aba Tibetan and Qiang autonomous prefecture, Sichuan province. The village is located deep in the mountains and has an average elevation of 3,300 m. Poverty reduction tends to be difficult in the area as a result of its remoteness and inconvenient transportation situation.
At the beginning of 2017, Zhang thought that livestreaming would be a good way to promote Ganjiagou and several neighboring villages. In July 2019, Zhang recorded a video of his family having a meal at a farm-to-table restaurant known as Wangyouyunting in Xiamachang village, Meixing town in front of a sea of clouds floating in the background and posted it online. The video ultimately garnered more than 10 million views, and the "village on the cloud" quickly became popular. Zhang currently has 825,000 followers on the Kuaishou video platform, and the restaurant and the village have attracted many tourists.
Zhang also promotes Xiamachang's local specialties with his short videos in addition to the magnificent natural scenery in the area. Products such as sausages and other types of cured meat, apples, honey, and yak jerky from Ganjiagou and several other villages in the region have been sold to people all over China, which has improved the lives of their producers.
Zhang is confident about the future. He plans to establish charming homestay businesses in the area in order to improve its tourism carrying capacity and help locals increase their incomes. The poverty alleviation official plans to establish a "cloud" yoga studio as well. He has indicated that he wants to continue helping villagers improve their lives and hopes to stay in Ganjiagou for a long period of time.