Poverty alleviation staff help revitalize rural Nanchang
p.china.org.cn by Jin Ling,April 07, 2020

Adjust font size:

The capital of Jiangxi province, Nanchang is located in southeastern China. In 2015, 51,402 people, 19,097 households, and 80 villages in the city were classified as impoverished. The citizens in this group were living below Nanchang's 2015 rural monthly minimum standard of living, which was US$40 (RMB 279) per person. The city then dispatched a total of 943 poverty alleviation teams to its impoverished villages. A total of 2,871 staff members were involved as well as a team leader for every group. The poverty rate in Nanchang dropped from 2 percent in 2015 to 0.44 percent at the end of July 2019; more than 38,000 people were no longer impoverished.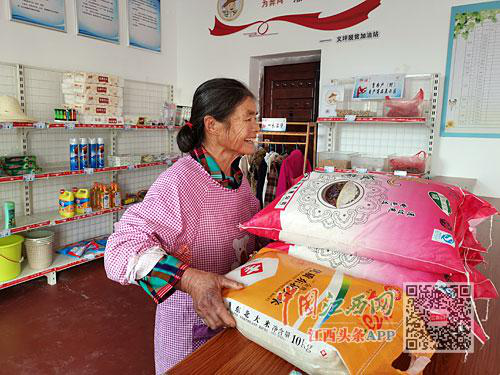 A salesperson at the poverty alleviation supermarket in Yiping village handles oil and rice.The products at the store can only be purchased by using credits that can be earned by engaging in good conduct. [Photo by Zhong Shanshan/Jiangxi Daily]
Motivation boosted
Yiping is a remote mountainous village in Nanchang. In 2015, it was recognized as impoverished as a result of its small supply of resources, poor infrastructure, and low education rate.
Yang Meirong began working as the second poverty alleviation team leader in Yiping in September 2017. She discovered that many impoverished villagers would wait outside their homes for poverty alleviation staff to give them money and presents during festivals. They would discuss what they received and gossip about any discrepancies that they found.
Yang was disappointed with the behavior that she encountered. She decided to make Yiping's residents aware of the importance of being more proactive if they want to get out of poverty.
Yang thought that it would be a good idea to open a poverty alleviation supermarket that only accepts credits that can be earned by engaging in good conduct. She discussed the idea with village officials and they agreed. A policy was developed that makes it possible for impoverished villagers to earn special credits by making positive contributions to the community in areas such as environmental protection, work performance, ethics, harmonious conduct, and other voluntary activities.
Credits are distributed to households once a month. A bag of salt costs two credits, a bar of soap costs five, a bottle of oil is 60, and so on. Impoverished villagers can also sell products that they grow and make to the supermarket, such as beans, peanuts and oil.
An impoverished villager named Zhu Dewang exchanged 253 credits for four bottles of oil and one bag of rice on Jan. 8, 2020.
"In the past, we could only receive what poverty alleviation staff gave us, but now we can buy what we want," an impoverished resident named Wang Caiwang explained. "We can also write down the names of products that we want the store to carry on the wish wall."
"I hope the supermarket helps villagers escape from poverty," said Yang.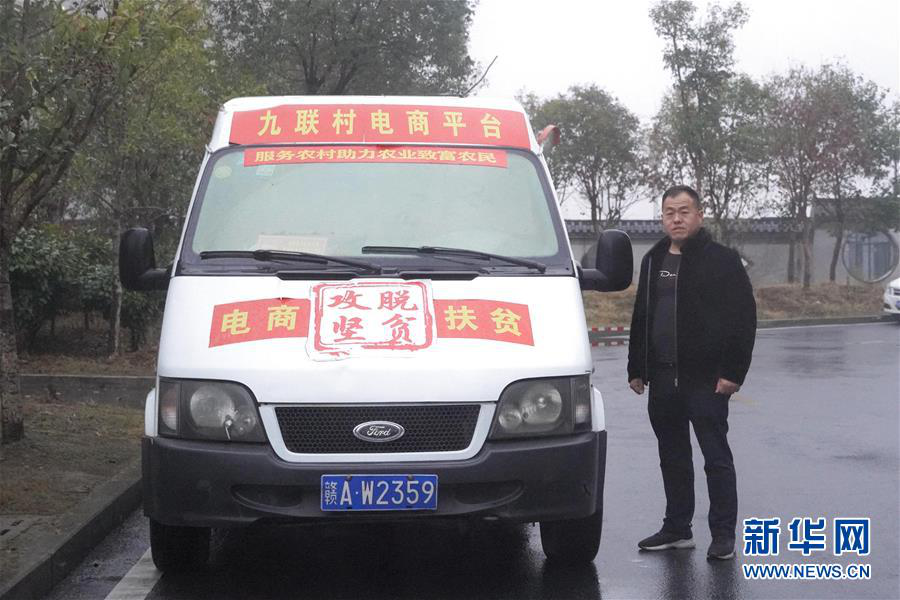 Ying Wenwei, the poverty alleviation team leader in Jiulian Village, and his poverty alleviation van. [Photo by Guo Qiang/Xinhua]
A special poverty alleviationvan
Jiulian is another impoverished village in Nanchang. Located on Poyang lake, which is the largest freshwater lake in China, it is hundreds of kilometers away from the center of the county. Jiulian's residents mostly plant rice and raise ducks for a living. More than half of the current adults who were born there have since become migrant workers in order to pursue higher incomes.
A staff member from the Bureau of Agriculture and Rural Affairs of Nanchang County named Ying Wenwei began working as Jiulian's poverty alleviation team leader in October 2018.
Ying met a duck farmer named Yang Shaochun who wanted help selling his free range duck eggs shortly after arriving in the village. Ying was able to sell all of the duck eggs that Yang had on hand in just a few days using WeChat and other internet platforms, which resulted in more than 2,000 yuan (US$287) of profit for the farmer.
Ying recommended that the village form a cooperative and discussed the idea with village officials. They agreed and the Nanchang County Nanxin Hongying Agriculture and Husbandry Professional Cooperative was founded in January 2019. A corresponding trademark was also registered.
The cooperative purchases products, such as rice, ducks, eggs, and rapeseed, from local farmers. They are then transported to Nanxin township, which administers the village, so that they can be processed into products like oil and pressed salted ducks and put into gift boxes.
Ying acted as a salesperson and a deliveryman. He removed the backseat of his car, painted advertisements on both sides of its exterior, and attached posters of duck eggs on the windows.
The cooperative now works with 21 large duck farmers in villages near Jiulian. In 2019, it achieved a sales volume of 600,000 yuan (US$85,920) and net profit of 160,000 yuan (US$22,912).
Aerial photo of Luotian, an ancient village in Anyi county, Nanchang city [Photo courtesy of the Anyi Bureau of Culture, Broadcasting, Television, Press, Publication and Tourism]
Ancient village revitalized
Luotian is an ancient village in Nanchang. It looked depressed and withered after years of neglect before it began its journey out of poverty. Most of Luotian's residents are farmers. They had relatively low incomes and standards of living until recently. Thirty-three people in 16 households were recognized as impoverished.
A man named Luo Yong was the poverty alleviation team leader in Luotian. He noticed that many impoverished villagers were not able to work as a result of illness or disability. Luo helped them lease buildings and land that they were not actively using to tourism companies in order to broaden their income sources.
Huang Mingzhao is a 79-year-old Luotian native who was impoverished until recently. His son died from an illness and left his home to his father. Luo helped arrange for Huang to sign a 20-year lease with a tourism company, which resulted in the villager receiving more than 4,300 yuan (US$616) every year.
Luotian also created a poverty alleviation picking farm that features lotuses and another where grapes and other fruits are grown. The farms have resulted in three new income streams in the village. Luotian's residents can lease their land to the farms, work at them, and receive dividends if they become shareholders in farming cooperatives.
In 2019, the lotus farm achieved about 380,000 yuan (US$54,416)of output value. A 3,000-yuan (US$430) dividend was paid to every shareholder who joined the cooperative at the beginning, and a 1,100-yuan (US$158) dividend was paid to those who joined later. The fruit farm reached more than 600,000 yuan (US$85,920) of output value during the same period. Its first-round shareholders received a 1,000-yuan (US$144) dividend, and those who joined later received 400yuan (US$57).
The lotus farm became very popular. Fresh lotuses became scarce, so an additional 1.53 ha's worth of the flower were planted in 2019.
"I feel happy that all of Luotian's residents were able to escape from poverty in 2019," said Luo, who is reaching the end of his two-year poverty alleviation assignment in Luotian. "I hope they can continue to find more sources of income in the future."