China committed to ensuring dilapidated homes owned by impoverished people are renovated
p.china.org.cn by Zhao Binyu,April 02, 2020

Adjust font size:

China's Ministry of Housing and Urban-Rural Development and the State Council Leading Group Office of Poverty Alleviation recently issued a notice pertaining to poverty alleviation amidst COVID-19 prevention and control efforts that reiterates that renovation work on dilapidated homes occupied by impoverished people should be completed by the end of June this year.

The document states that Housing and Urban-Rural Development departments at all levels should further strengthen cooperation and information sharing with poverty alleviation departments. It goes on to say that accountability should be established for unfinished renovation tasks, such as those determined in 2019 and those that became apparent after review. Appropriations allocated by the central governments for rural housing renovation in 2020 should be utilized. The notice mentions that efforts should be made to allocate responsibilities and make the most of the rest of the coming months in order to ensure that all dilapidated homes owned by impoverished households are renovated by the end of June 2020.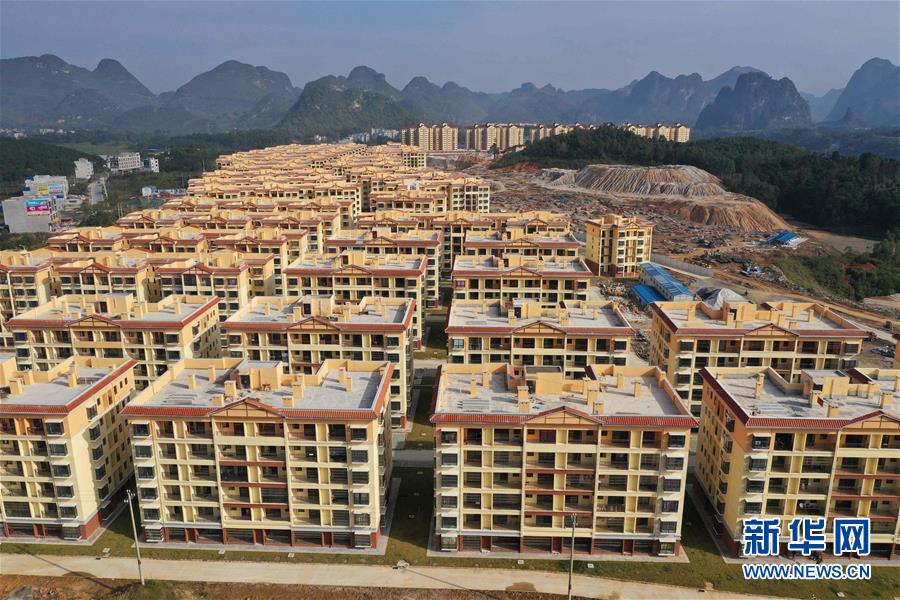 A relocation site renovated for the purpose of poverty alleviation in Dahua Yao autonomous county, Guangxi Zhuang autonomous region. (Xinhua/Huang Xiaobang)
The release stresses that various COVID-19 prevention and control measures should be carried out according to tailored procedures regarding the resumption of operations and the requirements of different regions. It also states that information related to epidemic prevention and self-protection should be disseminated to construction personnel involved with renovating dilapidated houses in rural areas.
The document notes that materials and other supplies should be prepared, personnel should gradually return to work in areas that have been seriously affected by the epidemic, and strict prevention and control procedures should be adhered to. It explains that resumption of renovation projects should be accelerated in areas that have not been affected by the epidemic or have only been mildly affected. The notice also states that provinces that are home to deeply impoverished districts and prefectures and regions that have been strongly affected by the epidemic should provide additional support and guidance, and funding should increase and regular supervision and investigations should be conducted.
Finally, the release stresses that it is necessary to carry out a general survey of poverty alleviation acceptance and improve the management of information archives. It mentions that supervision and inspection should be strengthened, and work styles should be improved; on-site visitations, secret investigations, random inspections, and other methods can be implemented in order to enhance observation and ensure that problems are thoroughly rectified; problems related to fulfillment of duties, supervision and administration, implementation of procedures and regulations, and other aspects of renovation should also be analyzed in depth; relevant policies and working mechanisms should be improved; and the establishment of long-term systems should be promoted. The notice declares that dynamic monitoring of housing safety and security, detection and resolution of new problems that are discovered, and establishment of systems that prevents people who have escaped from poverty from slipping back into it based on local conditions should occur as well.