Poverty alleviation workshops allow labor-intensive enterprises to resume operations in Hekou
p.china.org.cn by Zhao Binyu,March 26, 2020

Adjust font size:

"I have to take care of my children and elderly members of my family, so I wasn't able to look for work outside of my local area," a 30-year-old Hekou Yao autonomous county resident named Li Hong mentioned. She recently got a job at a factory that was established near her home in the aftermath of the COVID-19 outbreak.

Part of Honghe Hani and Yi autonomous prefecture, Yunnan province, Hekou is located in southwestern China and borders Vietnam. The COVID-19 outbreak resulted in a shortage of employees at labor-intensive factories in the county and made it difficult for enterprises that have a presence in the area to resume operations after they were temporarily shut down as a result of the pandemic. New workshops have been established in other parts of Hekou in order to promote poverty alleviation, help people increase their incomes, and address the situation.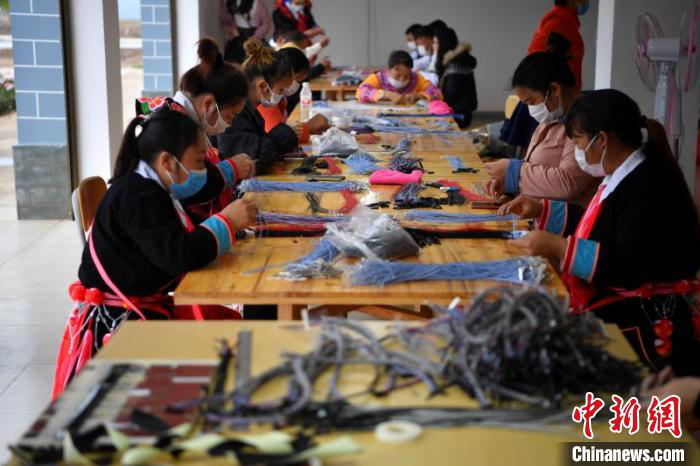 Ethnic Yao women assemble wires at a factory that promotes poverty alleviation in Hekou county, Yunnan province. (Chinanews/Liu Ranyang)
The China (Yunnan) Pilot Free Trade Zone's Honghe Area opened in Hekou in 2019, which caused various enterprises to become more interested in the county and its geographical advantages. Many companies that run labor-intensive factories and businesses engaged in foreign trade have since established a presence in the region. Chairman of the National People's Congress of Hekou's Yaoshan Township Huang Shunmei stated: "Enterprises that build factories in our county are able to employ large numbers of Vietnamese laborers, which lowers labor costs compared to other parts of China. They represent about half of the laborers in the area."
Transportation between China and Vietnam has decreased substantially so far this year as a result of complications caused by the COVID-19 pandemic, which has greatly impacted the ability of factories in Hekou to come back online after operations were temporarily suspended when the outbreak emerged, especially labor-intensive businesses in the local free trade area that require large numbers of staff to function properly. The China (Yunnan) Pilot Free Trade Zone's Honghe Area Administrative Committee helped these kinds of businesses establish factories in Yaoshan, which is located an hour away from the free trade zone by car, in order to proactively respond to the rapidly changing circumstances and help people escape from poverty.
The workshops are located at a special site that impoverished people have relocated to in Panwanggu town, Yaoshan township. Forty laborers dressed in traditional ethnic Yao clothing assemble wires that will be used in TV components at one of the factories.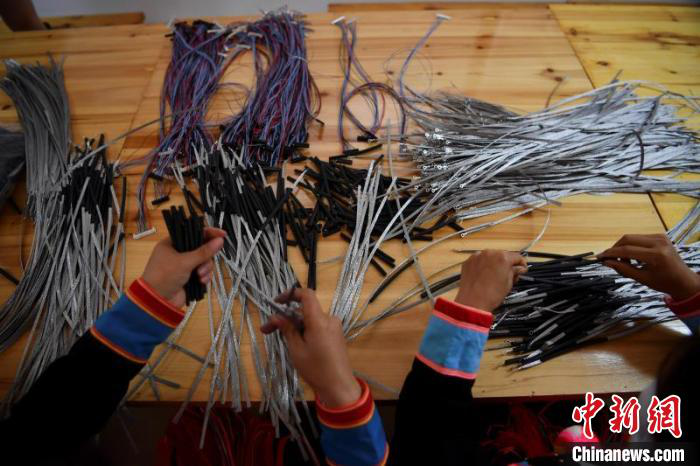 Ethnic Yao women work at the new wire workshop in Hekou. (Chinanews/Liu Ranyang)
Huang explained: "Wire assembly is relatively easy. Laborers can start working soon after they are trained. They are paid on a daily basis and can set their own hours, which allows them to engage in other forms of work and take care of other responsibilities."
Li Hong mentioned her family situation and explained: "My husband and I have two children who are in school, one child who is disabled, and two seniors in our family who are unable to work. They depend on the income that we bring in from our farming endeavors."
Li recently completed a short training program outside Yaoshan and began working at the wire factory in her area shortly after. She stated: "The location of the workshop is very convenient. It is situated near my home, and we are allowed to work whenever we have extra time. This arrangement makes it possible for me to also engage in farm work and take care of my family."
Li is now an experienced assembler. She is currently able to put 50 bundles of wires together per hour and can make up to almost 80 yuan (US$11.32) a day. The diligent laborer can now choose to work at home when she wants to, which is an option that becomes available to employees who become proficient with their work.
More than 98 percent of the wiring that the 40 people who currently work at the Panwanggu workshop assemble is usable. Plans are in the works for the factory to expand, and two more training programs will be provided soon.