Remote classes help bring students together
China Daily,March 25, 2020

Adjust font size: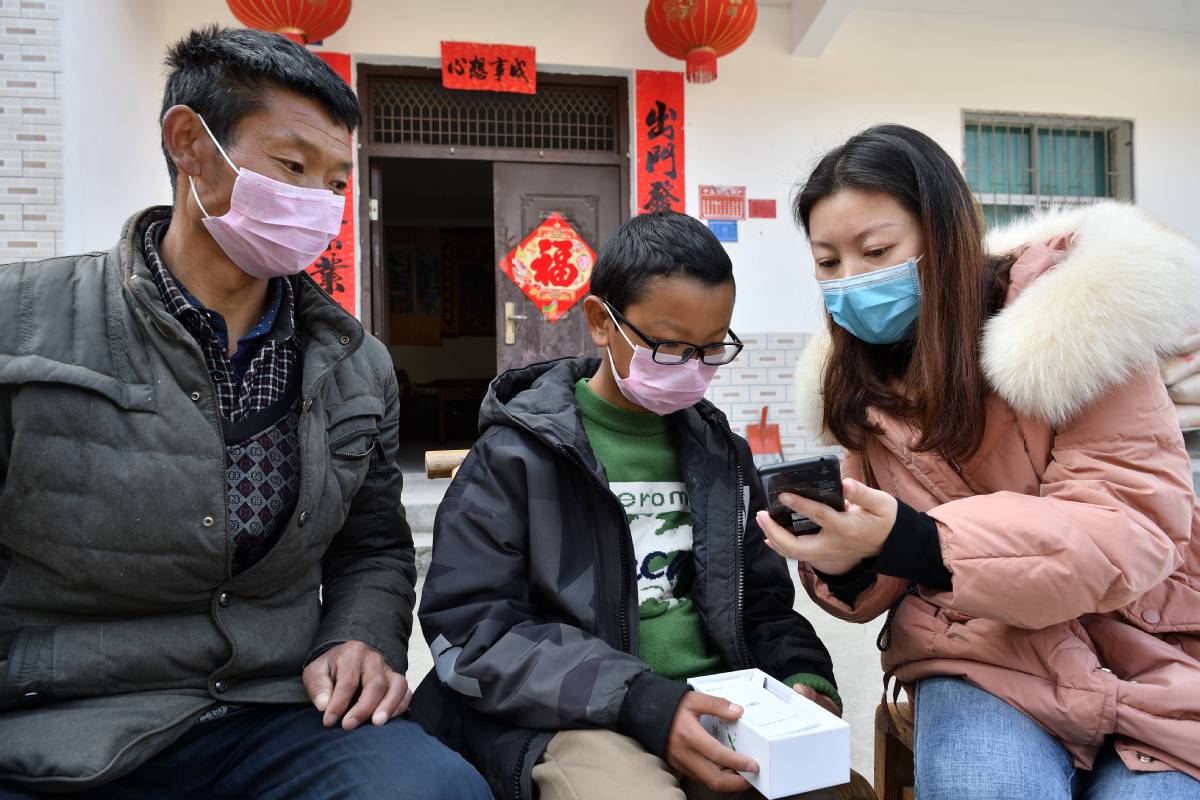 A primary school teacher shows a boy from an impoverished family how to use a mobile phone to study online in a remote area in Hubei province in March, 2020. [Photo by Yang Tao/For China Daily]

Safe study
A mother in Changyang county, Hubei province, has built an anti-coronavirus tent for her daughter from bamboo strips and plastic sheeting so the girl can study outdoors safely during the epidemic, according to a video posted on the People's Daily's Sina Weibo account.
Bi Mengqi, the woman's 7-year-old daughter, has to attend online classes every day from their rural village.
Because the internet connection in their house is poor, the mother decided to erect the temporary classroom as protection for the girl when she takes lessons outside.
Bi's mother took the girl's mobile phone and went around the village to test the speed of the internet. Eventually, she discovered a spot near the entrance of the village where her daughter could study effectively, and decided to erect the temporary shelter.
She accompanies her daughter when she studies in the tent every day, and they always wear face masks throughout the process to prevent cross-infection.
Further afield, Slang Bazhen, a 22-year-old college student in Changdu, Tibet autonomous region, used to walk for 30 minutes up a snow-covered mountain to find a signal and access her online lessons amid the outbreak.
She used a rock as a seat and balanced her notebook on her lap.
Her school, Jiangsu Food and Pharmaceutical Science College, started online classes on Feb 17, so Slang sometimes stayed at the summit of the snow-capped mountain for four hours at a time.
"The temperature is about 3 C at noon, and it's colder in the morning and at sunset, but I am used to the cold," she said.
"It is good to see the teachers and my classmates. Although it was not easy to take the classes, I did not want to fall behind with my studies."
Slang's sister filmed a video of her studying, which attracted widespread praise on social media platforms.
When the local telecommunication administration learned about the situation, engineers were sent to Slang's village to check and repair the internet on Feb 25.
Now, she can access the lessons at home.
The three major telecommunication companies in Jiangsu province also pledged to offer free data packages to all impoverished students at the school.
Slang wrote a WeChat message to express her thanks to the people who helped her obtain internet access at home.