Poverty-stricken inhabitants of Tongren county find a future in the art of thangka
p.china.org.cn by Sun Fang,March 24, 2020

Adjust font size:




Tongren county is situated in Qinghai province and is known as the "home of Chinese thangka art." In recent years, the local government has intensified efforts to develop the intangible culture industry in the area in order to reduce poverty and increase people's incomes. These endeavors led to extreme poverty being eliminated in the county at the end of 2019.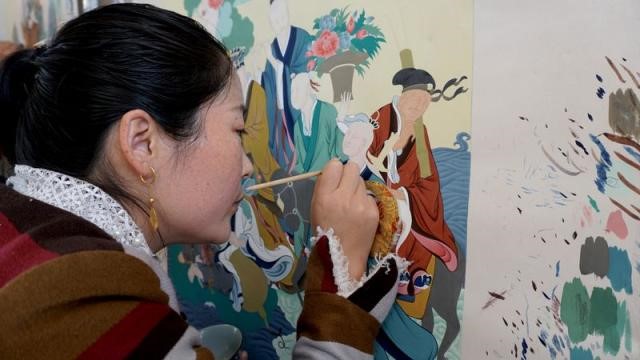 Xiawu Zhuoma works on a thangka painting. (Xinhua/Baima Yangcuo)
Xiawu Zhuoma is a villager from the town of Maba, which is part of Tongren county. She began helping her family with farm work when she graduated from elementary school and continued to do so until five years ago. The Xiawus earned about 7,000 yuan a year during this period.
Zhuoma is currently 27 years old and has been learning how to make thangka paintings at a local institute known as the Longshu Painting Center since she was 22.
The enterprising student mentioned: "I wanted to create delicate thangka art and help support my family. My dream has come true."
Wande Jiancuo, general manager of the Longshu Painting Center, stated that students who commit to studying at the center for five years, such as Zhuoma, receive subsidies of more than 5,000 yuan per month. He explained that the institute's students are able to create quality, semi-finished products that are sold in China and abroad after their teachers put the finishing touches on them.
"Our students generally earn more than 40,000 yuan a year," Wande concluded.