Handmade potato soap paves the way to prosperity for town in Sichuan
p.china.org.cn by Teng Jingyan,March 23, 2020

Adjust font size:

Located at an altitude of 2,340 m, Wagu township, Liangshan Yi autonomous prefecture, Sichuan province is full of complex, barren topography.

The villagers who live in the area have grown potatoes and buckwheat for generations; it is difficult to develop other industries in the region.

By chance, a member of Wagu's poverty alleviation team named Peng Yang came upon an educational video that explains how to make soap from plant material. He felt inspired and thought that the potatoes that are grown in the villages in the area would be perfect as the starch that they contain is a natural detergent. Peng began to experiment, and his creations became very popular online.

The poverty reduction official mentioned: "It is not difficult to find sales channels as long as I maintain consistent quality and steady supply."

Peng encouraged left behind women to produce handmade potato soap with him after he implemented COVID-19 prevention and control measures. He plans to establish a cooperative within a year in order to scale up production and help people in the area escape from poverty and become more prosperous.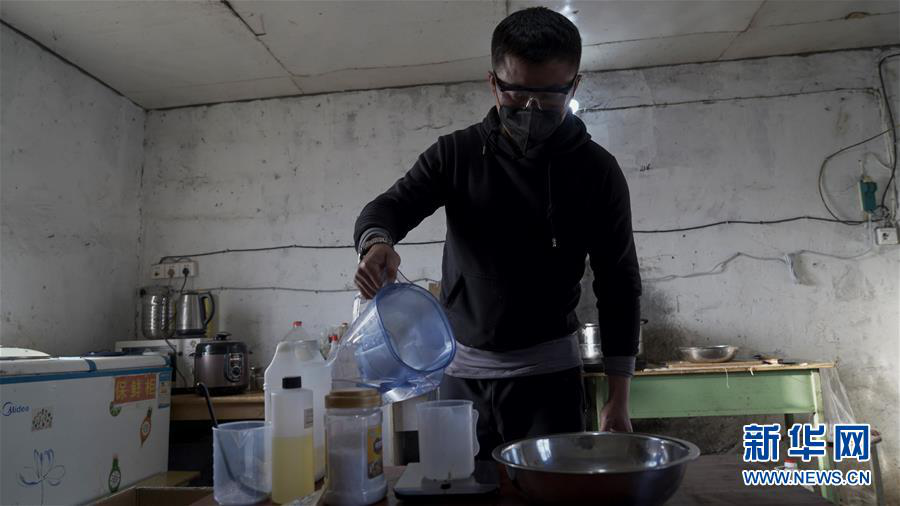 Peng Yang makes soap in a kitchen in Wagu township, Meigu county, Liangshan Yi autonomous prefecture, Sichuan province. (Xinhua/Li Like)