First secretaries return to Guangxi's villages to tackle poverty, COVID-19 outbreak
p.china.org.cn by Zhao Binyu,March 19, 2020

Adjust font size: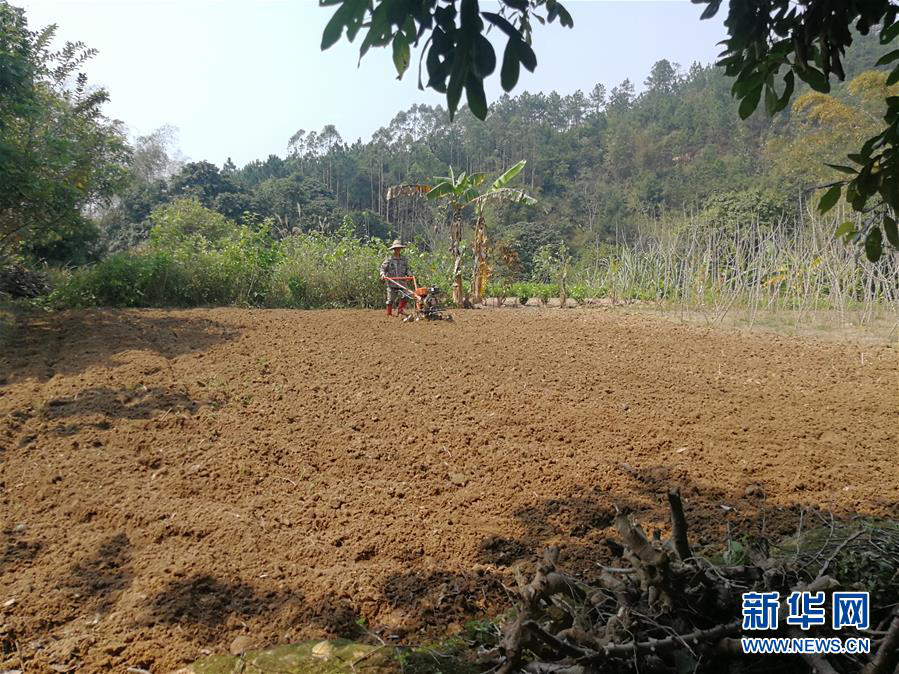 A resident of Nanjian village, Dasi town, Qinbei district, Qinzhou city tills soil in preparation for the spring planting season. (Xinhua/He Wei)
More than 5,300 first secretaries of villages in the Guangxi Zhuang autonomous region ended their Spring Festival holidays early when they became aware of the COVID-19 outbreak and returned to work. They have exhibited great devotion to combating both poverty and the virus.
First Secretary of Badu Kang Yong cancelled his Spring Festival plans and headed back to work in the village, which is administered by Xiyan town, Shanglin county. He immediately began working with its two local committees. They inspected every household in the area together, distributed information about epidemic prevention and control and related supplies, and used loudspeakers to make announcements about containment efforts. Badu's 216 impoverished residents were also enlisted to help with preventive efforts and receive a subsidy of 30 yuan (US$4.32) per day.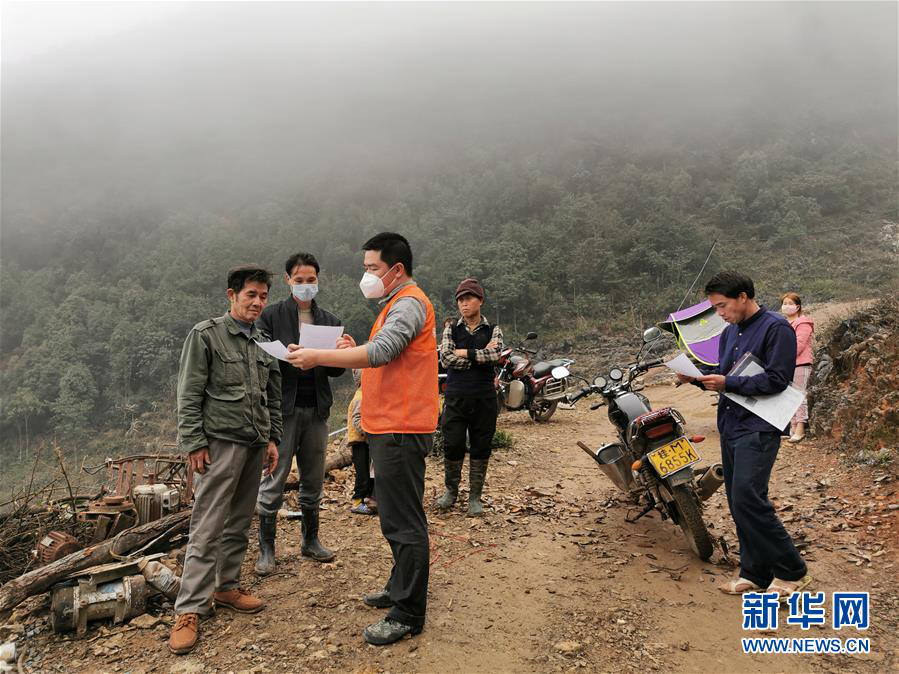 Qin Yunzhou, first secretary of Hongri village, Yalong township, Dahua Yao autonomous county, disseminates information about epidemic prevention and control. (Xinhua)
Many of the residents of Hongri village, Yalong township, Dahua Yao autonomous county are migrant workers. More than 280 young and middle-aged laborers returned to the area in January for Spring Festival. First Secretary Qin Yunzhou quickly ended his holiday when he became aware of the COVID-19 outbreak, returned to Hongri, and immediately devoted himself to prevention and control efforts. He established a grid management system that entailed dividing the village into quadrants and began broadcasting information about containment endeavors via radio and WeChat and responding to people's concerns as soon as possible. No suspected or confirmed COVID-19 infections have emerged in Hongri so far.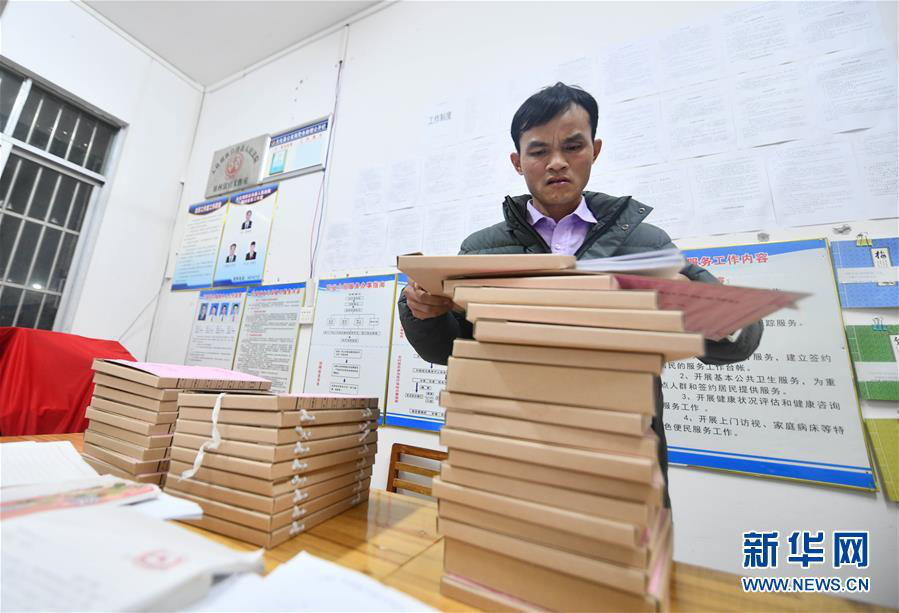 Wei Dewang, first secretary of Bahao village, Bansheng township, Dahua Yao autonomous county, sorts poverty alleviation materials in its committee office. (Xinhua/Huang Xiaobang)
The first secretaries of Guangxi's villages have been learning more about the details of the COVID-19 outbreak and the current poverty alleviation landscape. Wei Dewang is the first secretary of Bahao, which is a village that is located in a steep, mountainous region. He has had to change his car's tires many times when driving from his office to remote parts of the village as a result of its long stretches of unimproved roads.
Wei hurried back to Bahao on Jan. 27 after a short Spring Festival holiday and began distributing information about epidemic prevention and control. He has been doing his best to minimize the impact of the epidemic. Wei also contacted construction workers involved with urgent poverty alleviation projects in the village and asked them to resume their work as soon as possible. Water infrastructure improvements, housing renovation, and other undertakings recommenced on Feb. 1.
Bahao is inhabited by people who are part of the ethnic Yao minority group and is extremely impoverished. Three hundred and seventy-six of the village's 438 households were impoverished, or more than 90 percent of its population, until Wei began engaging in his poverty alleviation work. Eight hundred and ninety-eight people living in 150 households were able to escape from poverty in the last two years. A lot of improvements are scheduled to be completed over the next few months as well, such as the renovation of 120 impoverished families' dilapidated homes, installation of 127 water tanks, and development of characteristic industries that help people escape from poverty, including a breed of chicken known as "qibainong" and a local variety of sweet potatoes.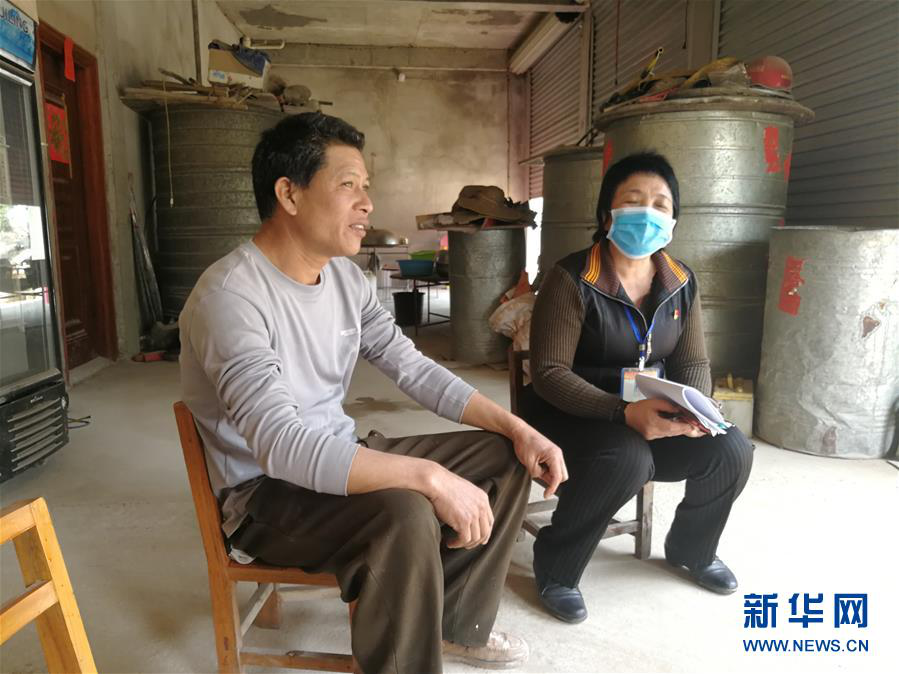 Huang Jinghong, first secretary of Nanjian village, Dasi town, Qinbei district, Qinzhou city, visits an impoverished woman named Huang Xiujia. (Xinhua/He Wei)
Combating poverty requires a lot of effort. Huang Jinghong, first secretary of Nanjian village, Dasi town, Qinbei district, Qinzhou city, returned to work ahead of schedule after a brief Spring Festival holiday. She immediately implemented COVID-19 prevention and control measures and helped local farmers resume their work. Huang also contacted merchants who may want to buy some of the 12,000 chickens that were raised by impoverished people who are members of a local cooperative and are ready to be sold in order to try to minimize losses caused by the epidemic and was able to close some deals. She also led efforts to prepare agricultural materials and engage in seasonally appropriate farming work and introduced selenium-rich rice to the village.
Many of Nanjian's residents now participate in its collective economy as a result of Huang's guidance. People from 25 impoverished households have begun working at Emeiwan, which is a modern agricultural demonstration zone run by its cooperative. "My husband and I both work for the farm, and we earn a total of more than 5,000 yuan a month," a formerly impoverished villager named Lu Yanlan mentioned recently while weeding a pitaya field.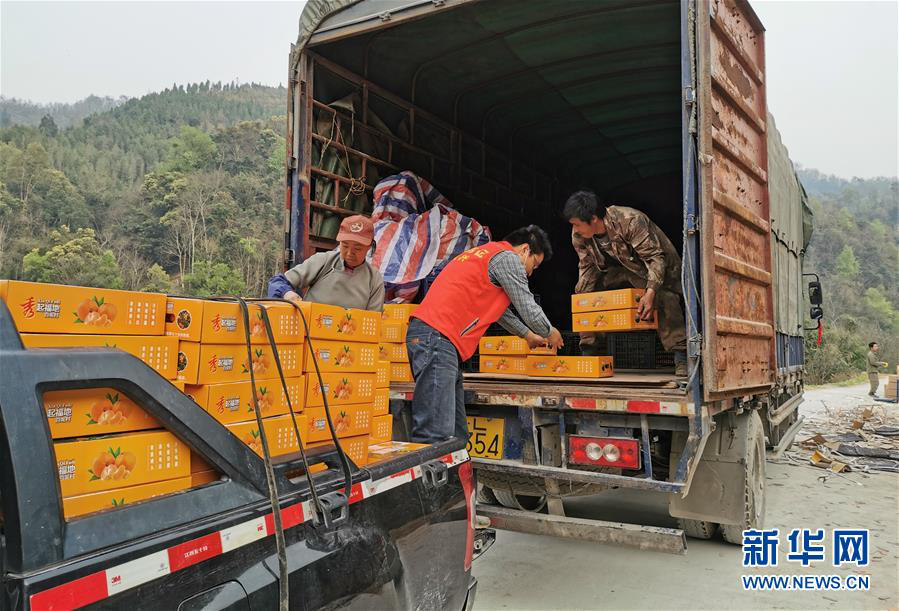 Yang Jiexing (middle), first secretary of Baini village, Leye county, helps unload agricultural products. (Xinua/Wang Nian)Poverty eradication requires unwavering confidence and commitment. A woman named Huang Wenxiu used to serve as first secretary of Baini village, Leye county. She devoted her life to poverty alleviation work, became known as a role model, and inspired her successor, Yang Jiexing. He spearheaded the spring cultivation work in Baini when he returned from his short Spring Festival holiday and has also been helping to develop poverty alleviation industries. Local farmers planted 67 ha of tea trees and 16 ha of tobacco that will later be flue cured in 20 days. Yang also helped sweet orange growers sell more than 150 tons of the fruit that were previously unsalable as a result of the COVID-19 outbreak.
"The sacrifices that Huang Wenxiu has made and her devotion to poverty alleviation remind us to stay committed to our poverty alleviation work," Yang mentioned. There are currently 37 impoverished people living in nine households in Baini.
Deng Jinyu is the executive deputy secretary of the working committee under the direct authority of Guangxi and has always paid special attention to the first secretaries of villages. She summarized: "Villages' first secretaries have been inspired by Huang Wenxiu and have devoted themselves to combating poverty while engaging in COVID-19 control and prevention efforts. They are a powerful force that helps us win the two battles."