State-owned enterprises combat poverty amidst COVID-19 outbreak
p.china.org.cn by Sun Fang,March 17, 2020

Adjust font size:

2020 is a decisive year in poverty elimination and the development of a moderately and comprehensively prosperous society in China. The sudden COVID-19 outbreak has posed new challenges to these endeavors, however. The State Council Leading Group Office of Poverty Alleviation and Development has stated that epidemic prevention and control and poverty reduction are both major undertakings that deserve special emphasis and that poverty eradication should be achieved as scheduled. State-owned enterprises have been setting positive examples in the battles against poverty and the COVID-19 epidemic.

Material support for epidemic prevention in impoverished regions

Face masks, protective suits, infrared thermometers, and other epidemic prevention supplies and equipment have become sought-after items amidst the COVID-19 outbreak. Masks currently have limited availability in many areas. Young people sometimes set seven or eight reminders a day on major e-commerce platforms so that they can snatch up protective masks that are sold at predetermined times. It can be harder for people to get necessary materials in poverty-stricken regions that are less well-informed and have poor logistics and underdeveloped e-commerce coverage. Rising prices can also be problematic for impoverished people even if availability is not an issue. State-owned enterprises have taken steps to address these kinds of problems and have been providing assistance to poverty-stricken areas.

On Feb. 7, the China National Nuclear Corporation donated one million yuan (US$144,123) respectively to four counties that have been designated as impoverished, namely Shizhu, Chongqing municipality; Tongxin, Ningxia Hui autonomous region; and Xunyang and Baihe, Shaanxi province, so that they can purchase protective items and subsidize people who are working on the front lines of epidemic control and prevention.

The China Tourism Group has helped four administrative areas that have been designated as poverty-stricken in Yunnan province, namely Ximeng county, Menglian county, Deqin county, and the county-level city of Shangri-La. The company has also deployed staff to Guizhou province's Liping county and Leibo and Mabian counties in Sichuan province, all of which are also impoverished. Thirty-two thousands facial masks had been purchased for these locales as of Feb. 1 as well as goggles, disinfectant, and protective suits.

Increasing impoverished people's incomes by supplying agricultural products to urban areas

The temporary suspension of business operations across the country due to the epidemic and inefficient logistics caused by limitations that have been imposed on traffic have made it more difficult for farmers to sell their products recently. The problem has especially impacted impoverished households.

The General Office of the Ministry of Agriculture and Rural Affairs issued a notice on Feb. 11, requesting rural and agricultural departments at all levels to make efforts to promote the sale of crops and livestock products from impoverished areas while implementing effective epidemic prevention and control measures. Poverty-stricken locations have become important sources of agricultural products during the epidemic. Relevant departments have been tasked with coordinating supply and demand and prioritizing sales of items from these locations.

Increasing incomes in poverty-stricken areas and guaranteeing the supply of agricultural products in urban areas is a major undertaking, and state-owned enterprises have led the way in this area. They have implemented special measures and helped integrate supply and demand.

On Feb. 6, an official working with the Health Commission of Heilongjiang Province in Fada village, Qikeshu Township, Qiqihar city, Heilongjiang province named Liang Minlin and the leader of the local poverty alleviation team sought help from a radio program known as "Poverty Alleviation Team Leaders Face to Face." Farmers in Fada were unable to ship the vegetables that they grow in greenhouses to the city of Harbin as a result of transportation restrictions that were implemented in order to contain the COVID-19 epidemic. The crops would soon spoil, and their growers would lose their profits.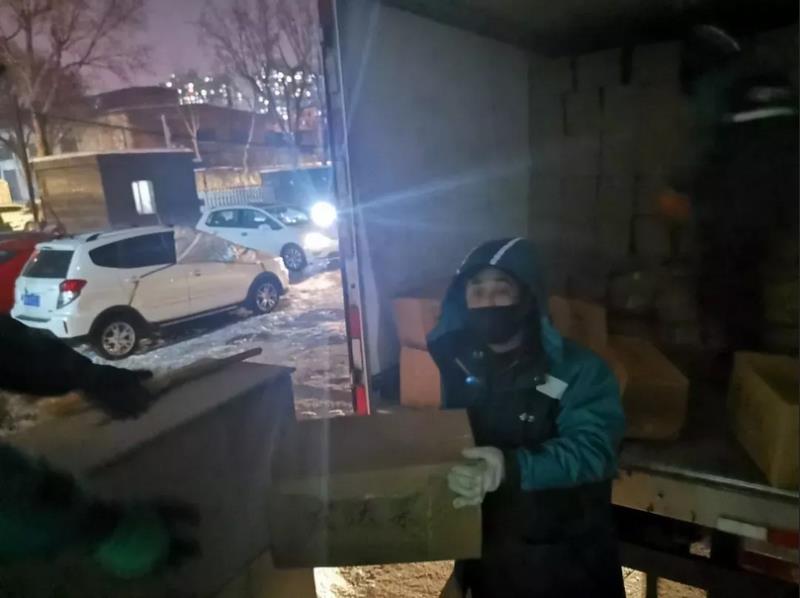 On February8, two mail trucks from the Harbin branch of China post set off before dawn. After nearly16 hours painstakingly drive, they arrived in Harbin and delivered the vegetables to the poor people.
The Harbin China Post office immediately contacted Heilongjiang News Radio and the province's poverty alleviation team after its staff became aware of the difficulties that the village was facing. The efforts of the various parties that were involved led to transportation departments opening up a special green channel to Harbin on Lantern Festival, which fell on Feb. 8 this year. Two of the Harbin China Post office's delivery vehicles departed at 4:00 a.m. and picked up the vegetables. They made the more-than-720-km trip to Harbin in less than 16 hours. The crops were transported the same day they were picked, which is the best practice.
Poverty alleviation officials combat epidemic
Successfully containing the COVID-19 epidemic requires everyone's participation. The public needs to be aware of how the virus is transmitted and prevention and control measures that they can take and form good health habits. It is necessary for people to disseminate information about epidemic prevention in impoverished areas that have underdeveloped media industries and limited access to news. State-owned enterprises have deployed some of their poverty alleviation staff to help control the epidemic in impoverished regions. Poverty alleviation officials have provided daily necessities for the villages they work in and supplies to people working at the front lines of epidemic prevention and control in order to help ensure that residents of these areas are healthy and safe and that their needs are met.
An employee of Baoding Tianwei Baobian Electric Co., Ltd, named Miao Qingxiang is also the first secretary of poverty alleviation in Caichi village, Xiazhuang township, Baoding City, Hebei province. He has continued with his duties in the village amidst the COVID-19 outbreak alongside the other officials working there. The group checks people's temperatures every day and keeps track of people who enter Caichi.
Tan Xiaojiao is employed by China Southern Power Grid's Yangjiang Hailing Island Power Supply Bureau and also works as a poverty alleviation official in a village. He voluntarily gave up his Spring Festival holiday in order to engage in epidemic prevention work with other officials. At the start of the outbreak, some of the residents of the village did not properly understand the nature and severity of the epidemic or even did not have face masks. The China Southern Power Grid employee immediately drove 50 km and bought 200 facial masks from nine drug stores for them. Tan also mobilized local residents and officials so they could help him distribute leaflets about epidemic prevention information to people in the area and check the temperatures of passing drivers and pedestrians.
Making poverty alleviation plans amidst epidemic outbreak in 2020
The strong leadership of the Central Committee of the Communist Party of China and the State Council and the efforts of people across the country will make it possible for China to contain the COVID-19 outbreak and defeat the virus. Attempts are also being made to overcome the impact of the epidemic on the poverty alleviation goals that have been established for 2020. It is important to make poverty reduction plans that factor in the outbreak for the rest of the year.
On Feb. 19, Sinopec Group Chairman Zhang Yuzhuo and General Manager Ma Yongsheng held a meeting that covered the enterprise's 2020 poverty alleviation work and how it is affected by the COVID-19 epidemic. Zhang stated that the company will assist regions that are deeply impoverished in a targeted manner and develop assistance projects that are tailored to local conditions so that results can be enhanced and people can benefit quickly. He also mentioned that it is necessary to tap the consumption potential of the organization and encouraged employees to buy agricultural products from impoverished areas. Zhang declared that Sinopec should help poverty-stricken regions develop brands for the products that are helping them become more prosperous and provide them with assistance across entire industry chains. The chairman talked about the importance of employment as well and the fact that it is necessary for the group to create jobs and provide employment services for impoverished people based on their needs. He concluded by reminding the assembly that poverty alleviation funds and projects should be carefully managed and supervised and that every penny should be spent where it counts the most in order to solve problems that bottleneck targeted efforts.