Charter buses take impoverished migrant workers from Guangxi to Guangdong
p.china.org.cn by Bai Yunzhi,March 13, 2020

Adjust font size: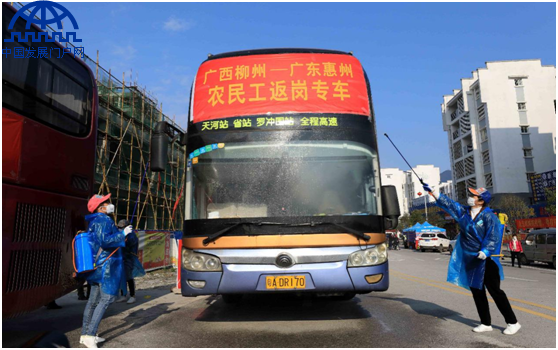 Laborers disinfect a chartered bus. [Photo/Chinagate.cn]
The government of Liuzhou city, Guangxi Zhuang autonomous region has recently been helping impoverished migrant workers from the area return to work in Guangdong province after Chinese New Year and the outbreak of the COVID-19 virus. Strict prevention and control measures have been implemented, and various other preparations have been made.
On Feb. 18, two chartered buses carrying a total of 57 laborers departed from Rongkang community, Rong'an county, Liuzhou and headed to an electronics company in Huizhou city, Guangdong.
More than 800 people from Rong'an have applied to work in Guangdong so far, 80 percent of which are registered as impoverished.
The Liuzhou government is expected to arrange for four to five more groups of chartered buses to take poverty-stricken migrant workers to Huizhou.
Director of Rong'an's Human Resources and Social Security Bureau Employment Service Center Zhou Yaojun stated: "We have chartered buses from Guangdong to pick up laborers in our county and ensured people's safety by engaging in precautionary actions, such as disinfecting the vehicles and checking temperatures."
Government bodies in Guangxi have been collecting information about migrant workers' abilities, demands for training, and goals and intentions and have been helping them become employed at enterprises in Guangdong that have resumed their business activities after temporarily suspending operations due to the COVID-19 outbreak. The offices have made transportation arrangements for the laborers and implemented strict COVID-19 prevention and control procedures.