Poverty alleviation factories lead to prosperity in Yi autonomous county
p.china.org.cn by Zhao Binyu,March 09, 2020

Adjust font size: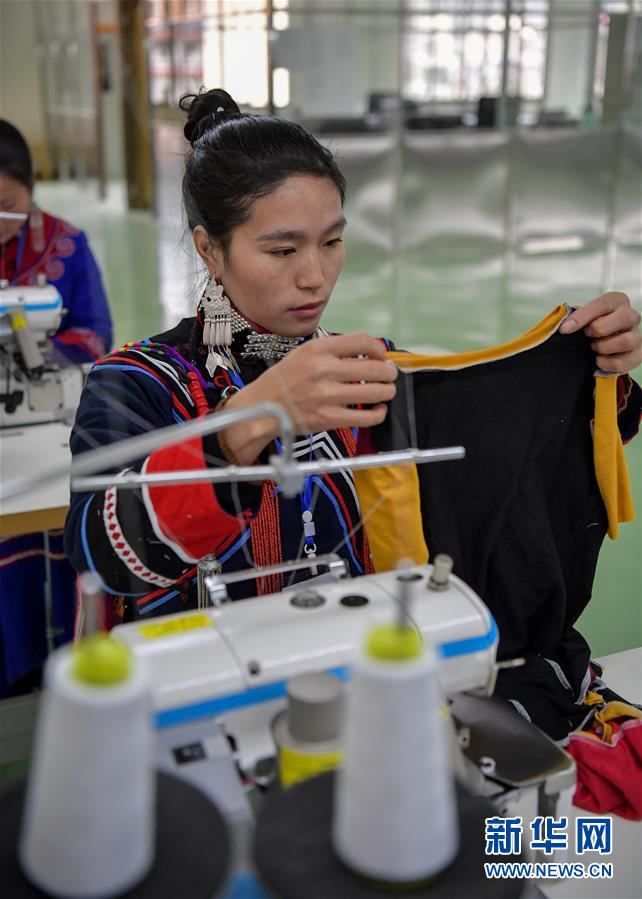 A woman wearing traditional ethnic Yi clothing works at a factory that was established for poverty alleviation purposes. (Xinhua/Zhang Chaoqun)

Seventy-five women were busily sewing articles of clothing together in a 3,000-sq m garment factory that was established for poverty reduction purposes in Xuekoushan township, Mabian Yi autonomous county, Sichuan province. Some of them were wearing traditional ethnic Yi clothing.
Zhejiang province has been helping impoverished people in certain parts of Sichuan province escape from poverty. The factory is one of the cooperative projects that Zhejiang's Yuecheng district has participated in. It was built near a poverty alleviation relocation zone in order to provide employment opportunities for people who live in the area.
Government bodies in Yuecheng district have encouraged companies to establish factories in Xuekoushan township, which is mostly inhabited by people who are part of the Yi ethnic group, in order to help impoverished people increase their incomes.The factory's employees each earn an estimated 20,000 yuan per year.
This year, the Xuekoushan factory leadership plans to expand the scale of the facility and hire 100 additional people who live in the area in accordance with a requirement established by the Yuecheng government that states that at least 60 percent of the complex's employees are impoverished when they begin working there. These kinds of regulations help promote sustainable poverty alleviation.