At the foot of Mount Qomolangma local resident Gesang finds a colorful way out of poverty
p.china.org.cn by Zhao Binyu,March 09, 2020

Adjust font size: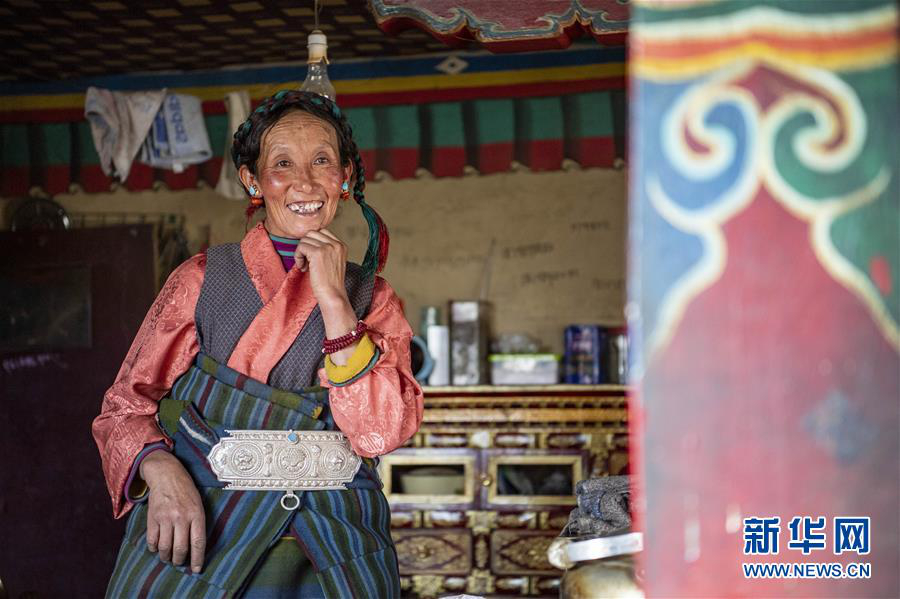 Gesang, a resident of Tuosanglin village, Tashizong township, Tibet autonomous region (Xinhua/Sun Fei)

A resourceful woman by the name of Gesang can be found in Tuosanglin village, Tashizong township, Tibet autonomous region at the foot of Mount Qomolangma. In 2016, her household became registered as poverty-stricken when she was 47 years old. Gesang thought that the bangdian she had created since childhood – a form of traditional, colorful, woolen Tibetan fabric – could provide a new income stream for her.
Bangdian is used to make aprons, collars, backpacks, and other items and was listed as a national intangible cultural heritage item in 2006.
"At first, I sold my bangdian in the countryside," Gesang explained. " Later, the acquaintances came to my home to buy my products." The exquisite color and good quality of Gesang's bangdian led to it becoming popular in rural areas. Each item is sold for 300 to 500 yuan.
The combination of government subsidies and Gesang's bangdian business made it possible for her family to escape from poverty in 2017. The only breadwinner in her home, Gesang was relieved to find out that her family could continue to enjoy various subsidies and education and healthcare programs after they were no longer impoverished. In 2019, Gesang bought a refrigerator with proceeds she earned from selling bangdian.This year, she plans to build a greenhouse on the roof of her home.
I am fond of weaving bangdian and always sing happily while I work," Gesang said. She concluded that the fabric is a good-style decoration, as well as a good way to escape from poverty and increase her income.