Nested market popularizes products from mountainous region
p.china.org.cn by Wang Jinli,March 05, 2020

Adjust font size: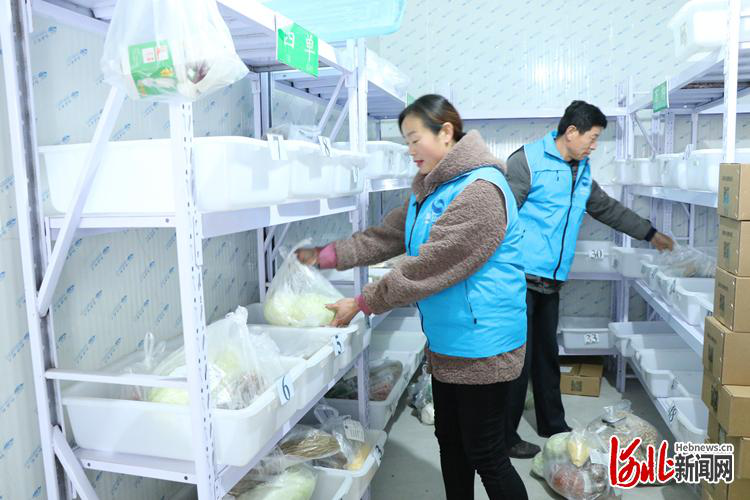 Villagers prepare goods in a cold storage room in Sanggang village. (Hebei Daily/Su Ya'nan)
Sanggang village is located in a remote, mountainous region,65km from the seat of Yi county, Hebei province. This reality makes it difficult to develop largescale fruit, forestry, and animal farming endeavors.
In 2012, Yi county's poverty alleviation office introduced a"nested" market model in Sanggang village in cooperation with a China Agricultural University research team in order to help impoverished people especially the elders and women in the area. It involves selling green agricultural products from poverty-stricken villages directly to consumers in Beijing.
"Last year, we earned more than3,000 yuan (US$431) by providing free-range chickens and eggs to the nested market," a participant from Sanggang village named Xu Yanhong mentioned. Xu has diabetes, and her husband is visually impaired. The couple relied on their daughter for support before they became involved with the market.
Products sold on the nested market feature have labels that feature customers' names and sourcing information, such as the names of the people who produced them and detailed descriptions.
"These kinds of labels are informative and make it easy for customers to continue buying high-quality products that they enjoy," explained Xu Yongchen, director of the Nested Market Farmers' Cooperative.
Xu also commented on quality control and said, "Many practical methods have been developed to guarantee quality, and all of the products on the market pass strict inspections."
Poverty alleviation funds were used to build a216-cu m cold storage room and a 48-cu m drying room and purchase a 3.18-ton refrigerated truck in order to ensure freshness.
An official working in Sanggang village named Zhang Changchun explained that more than 5,000 orders worth a total of more than one million yuan ($143,559) have been made through the nested market since November of 2015.
In 2018, 158 villagers who were participating in the market escaped from poverty. Per capita income doubled in Sanggang from 2014 to 2019, reaching7,025 yuan (US$1,009).
Ma Dongsheng, vice director of Yi county's poverty alleviation office, stated that efforts will be made to continue to develop the nested market.
Twenty-two poverty-stricken villages in six towns in Yi county are currently involved with the market. This has benefitted more than 2,000 people in800 impoverished households and resulted in an increase of 1,000 yuan (US$144) per capita..