Laborers from Ningxia head southeast to increase their incomes
p.china.org.cn by Zhao Binyu,March 04, 2020

Adjust font size: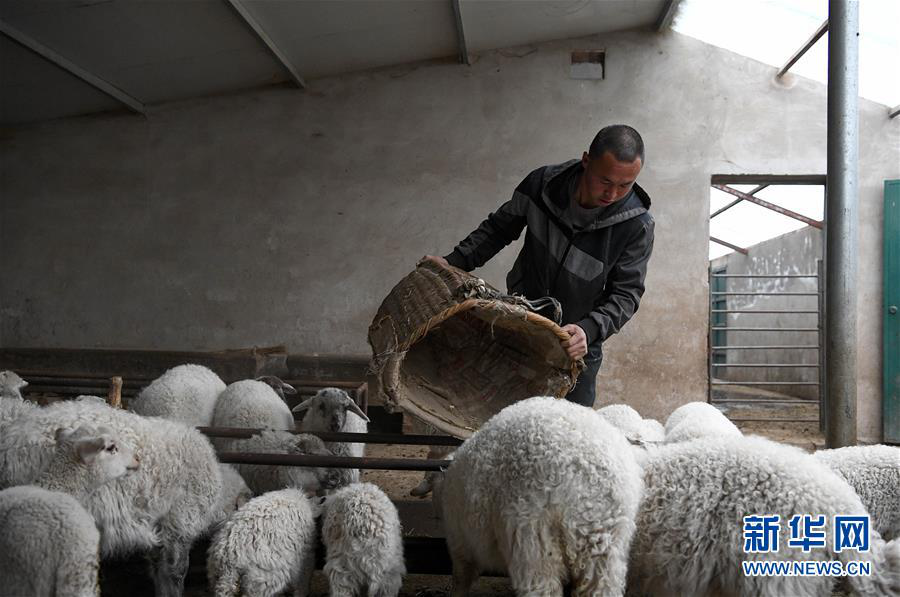 Jin Susu feeds his sheep on Feb. 26 in preparation for a trip to Fujian province the next day. (Xinhua/Feng Kaihua)
Jin Susu is a 30-year-old resident of Xihaigu, which is a remote prefecture in southern Ningxia Hui autonomous region. He had never been to southern China or even on a plane before he flew to Fujian province for work in late February, which was a dream of his.
On Feb.27, a chartered flight took Jin and 141 other people from villages administered by towns in the city of Guyuan more than 2,000 km to Fuzhou, the capital of Fujian province. A cooperative project between Ningxia and Fujian made it possible for them to become employed there so that they can increase their incomes.
Jin's permanent residence is in Kaicheng village, Kaicheng township, Guyuan city, Ningxia. He lives with hiselderlyparents and two young children and works hard to support his family.They escaped from poverty in 2017, but their lives are not easy.
Jin thought that the COVID-19 outbreak might hinder his ability to earn money in Guyuan in the near future, so he applied to work in Fujian province.
Guyuan participates in the "Minning model" of poverty alleviation, which consists of certain parts of eastern China cooperating with locations in the west in order to provide employment opportunities and other assistance. More than 30,000 people from Guyuan work in Fujian every year. Human resources and social security departments in Fujian and Ningxia have recently implemented COVID-19 prevention and control measures to help contain the outbreak and organized chartered transportation between the two areas.
On Feb. 26, Jin fed his sheep and cattle and helped his parents with as much housework as he had time for. When he was done, he sat at a small, round table in his kitchen and had dinner with his family. Jin's mother made potato noodles – a common dish in Xihaigu – and gave him a large serving.
After that, the hardworking Kaicheng resident went to his room, where he held his two-year-old daughter and touched his three-month-old son's hands. Jin felt reluctant to leave them. He knew that he had a good opportunity to earn money, however, and that following through with his plan would help make it possible for his children to have a good upbringing and his parents to enjoy the remainder of their lives.
On the morning of Feb.27, Jin wheeled his luggage out of his home. His daughter cried when she saw him leaving. Another laborer from the area who was also headed to Fujian picked up the father of two, and they drove to the Guyuan Liupanshan Airport. The migrant workers boarded their plane and arrived at the Fuzhou Changle International Airport after about two hours.Jin was immediately struck by the warm, moist air that surrounded him when he deboarded. Flowers were already blossoming around him, in contrast with the snow that currently covered the ground in Ningxia.