Taobao helps farmers sell overstocked agricultural products during COVID-19 outbreak
p.china.org.cn by Wang Jinli,February 28, 2020

Adjust font size:

Early in the morning of Feb.15, Taobao launched a special online sales event through its Farmer Assistance Project. More than 200 tons of overstocked agricultural products were sold before 3:00 p.m. Venders consisted of warm-hearted merchants and farmers who donated money and produce to regions that have been impacted by the epidemic.Taobao, China's largest online shopping platform, created the campaign in order to help Wuhan city, Hubei province, which has had difficulties with sales since the COVID-19 epidemic emerged.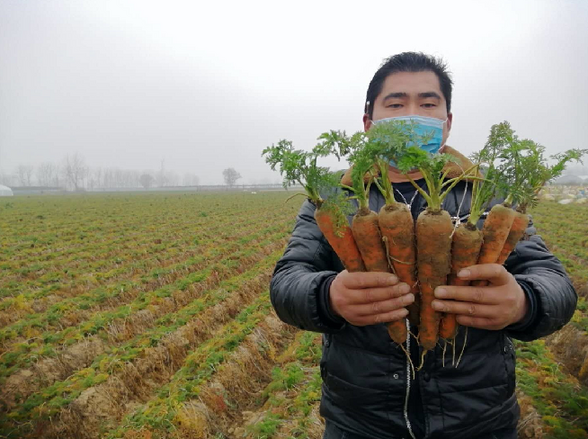 A farmer shows fresh carrots.
Agriculturalists from all over China have donated money and produce to Wuhan, despite the fact that farmers in much of the country have had difficulties with sales recently. Truckloads of fruits and vegetables have been transported to Hubei from Hainan, Guangxi, Sichuan, Shandong, Shanxi and other provinces,which has helped to maintain supply.
On Feb. 14, a farmer from Shouguang city, Shandong posted a message on the internet that stated:" We donate fruit and vegetables to Wuhan without hesitation. We have also faced difficulties with sales and hope people can help." Shouguang's farmers have donated hundreds of tons of produce since the COVID-19 outbreak emerged.
"Offline sales channels can be inefficient, so we are doing our best to help agriculturalists sell their products online during this difficult time," expressed the head of Tmall's flagship store, which is known as Xianfu.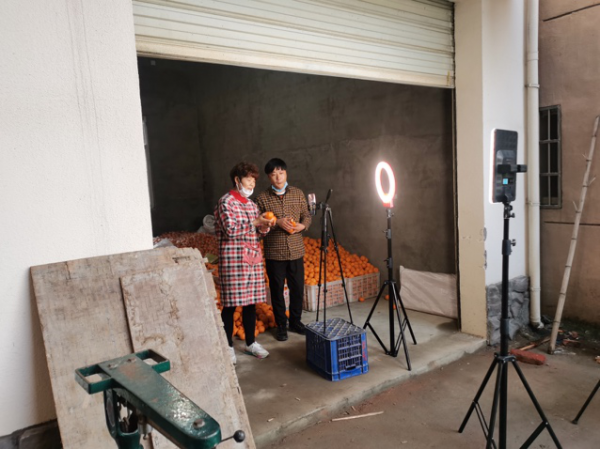 Farmers promote oranges through online streaming.
"Many of the merchants on Taobao that offered to help regions that have been impacted by the epidemic have had problems with sales," mentioned the head of Taobao's Chihuo Channel, a person who goes by "Xuhong." "We feel very proud of our partners and want to help them attract more customers."
Twenty of Taobao's staff members that are associated with its Farmer Assistance Project were divided into two groups on Feb. 14 and worked the afternoon until early the next morning. One group was responsible for web design, and the other contacted farmers and merchants to look for participants.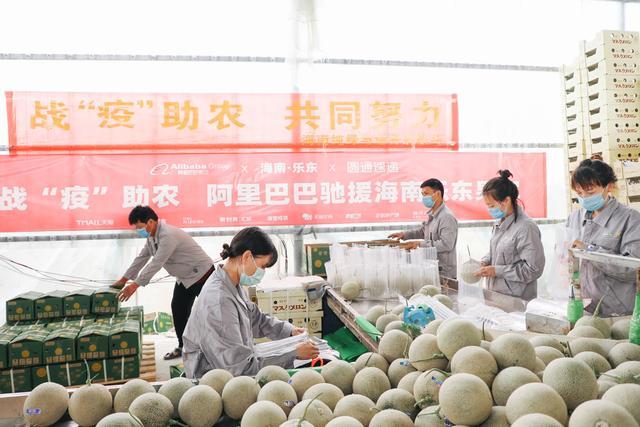 Workers package cantaloupes.
The dedication of the staff and vendors who were involved made it possible for the sales event to begin on time on the morning of Feb.15. The first batch of offerings includes nearly 10 categories, such as vegetables from the city of Shouguang and asparagus from the city of Qingdao in Shandong province, apples from the city of Yuncheng in Shanxi province and fruit from Hainan province. Customers can search for "爱心助农" or "吃货助农" on Taobao to find the items.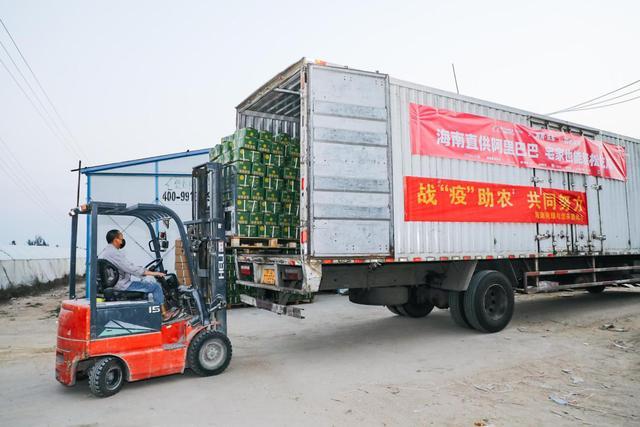 A worker loads fruits on the truck.
Taobao's Farmer Assistance Project was launched on Feb. 6 in order to help agriculturalists sell their overstocked products. The same day, the company announced that it created the one billion-yuan (US$143 million) Farmer Assistance Fund. More than 20,000 tons of overstocked fruit and vegetables from Hainan have been sold so far.
Taobao is currently actively collecting information about unmarketable produce that is grown across China. It has contacted more than 500 governments, media organizations, and other enterprises in various agricultural regions.