China's authorities provide financial support for poverty alleviation in areas impacted by epidemic
p.china.org.cn by Zhao Binyu,February 25, 2020

Adjust font size: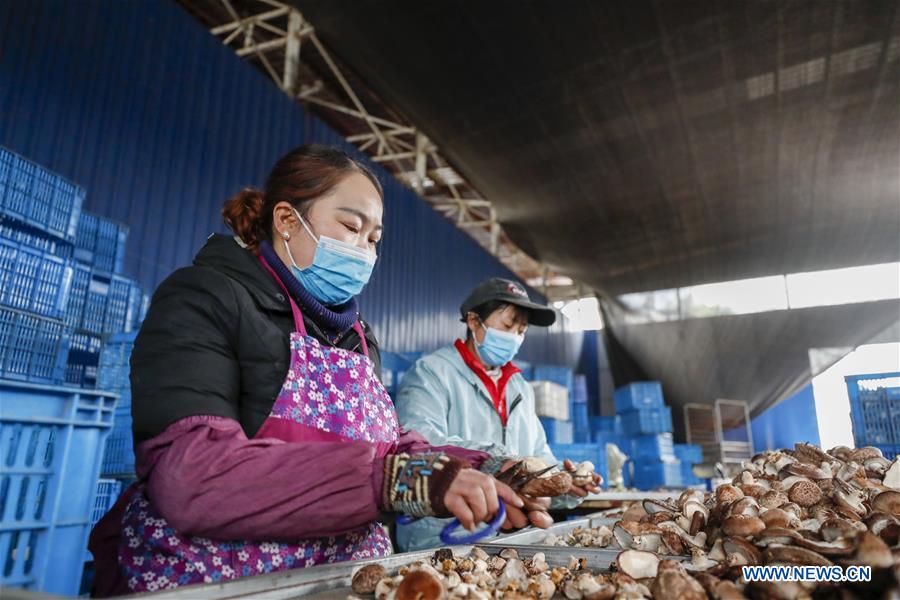 Workers trim mushrooms at a poverty alleviation industrial base in Xiuqi Township of Chengkou County, southwest China's Chongqing, Feb. 24, 2020. The poverty alleviation industrial base has resumed production amid epidemic prevention and control efforts. (Photo by Huang Wei/Xinhua)
Recently, China's State Council Leading Group Office of Poverty Alleviation and Development and Ministry of Finance jointly issued a circular which emphasizes that funding support for poverty alleviation work will be provided in regions that have been impacted by the COVID-19 epidemic. The regions and projects that have been significantly impacted by the outbreak will be prioritized in the distribution of targeted poverty alleviation funding this year in order to secure a comprehensive poverty alleviation victory on schedule.
The circular notes that government bodies should formulate policies that are tailored to local conditions in order to support poverty alleviation efforts in places that have been affected by the epidemic. County-level governments are allowed to optimize the use of funding based on the circumstances in their areas in order to support industrial projects, promote employment, and help impoverished people secure their livelihoods.
The notice also mentions that steps should be taken to fund industrial poverty alleviation projects that have been strongly affected by the epidemic outbreak in order to support production, storage, transportation and sales. Subsides, loans with discounted interest rates, and other benefits are being granted to leading enterprises and cooperatives involved with poverty alleviation and poverty-stricken households that resume production. Agricultural enterprises and other agricultural organizations that have made outstanding contributions to epidemic prevention and control will be prioritized when eligible poverty alleviation projects require this kind of participation, which benefits poverty reduction and reduces the threshold of fund use.
The release also covers employment. Financial support should be provided for the purpose of employing impoverished people. This group should also be prioritized when filling temporary jobs involving sanitation, disinfection, epidemic prevention and inspection. Policies shall be implemented that benefit poverty relief factories, enterprises that have resumed production, and those that participate in labor cooperation projects between regions in eastern China and areas in the western part of the country based on their adherence to regulations and the number of poverty-stricken people they have employed. Subsides for transportation and living expenses should be provided to impoverished people who travel in order to work during the epidemic prevention and control period. More subsides are encouraged.
Efforts should be made to ensure that people can secure their livelihoods amidst the outbreak. Tailored measures that are meant to support impoverished people and migrant workers who are suffering from difficulties or have slipped back into poverty as a result of the COVID-19 epidemic should be implemented in a timely manner.
The circular highlights the necessity of poverty-alleviation projects being dynamically adjusted in a timely manner in order to counteract the impact of the epidemic. Projects that conform to poverty alleviation policies, promote epidemic prevention and control, and benefit the impoverished will be prioritized when it comes to financial support. The project procurement process should be optimized in order to ensure that projects can be implemented effectively and start quickly.
The circular declares that supervision and management of government poverty alleviation funds should be strengthened in order to ensure that funds are used accurately and effectively in accordance with prescribed policies and regulations. A system involving the open and timely publication of information about funds and projects will be implemented, and supervision from relevant parties should be accepted.