Persisting with poverty alleviation amidst epidemic prevention in Chongqing
p.china.org.cn by Zhao Binyu,February 21, 2020

Adjust font size: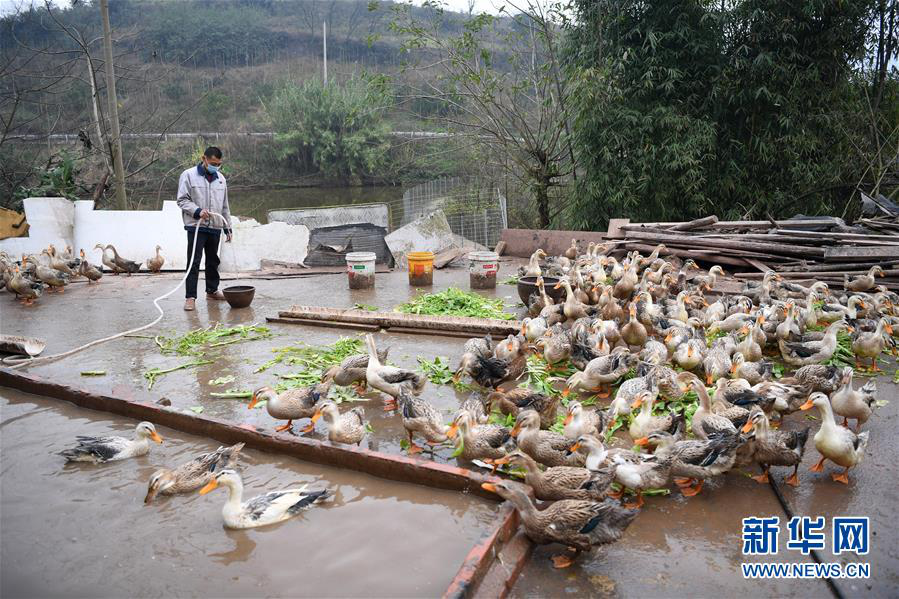 Fu Zongyong feedshisducks. (Xinhua/Tang Yi)

Fu Zongyong is a duck farmer who lives in Shuangjing village, Yufengshan township, Chongqing municipality, and his family used to be impoverished. He had 300 ducks that he was unable to sell after the novel coronavirus emerged as a result of limited fodder supply and closure of the market that he typically moves them at. The Yufengshan government became aware of the situation and helped the farmer sell his ducks on the internet. It arranged for employees of a local animal husbandry and veterinary station and other laborers and volunteers to provide assistance with slaughter, quarantine, packaging, and distribution procedures.Their help has made it possible for Fu to sell 156 of the ducks so far.
The local government has implemented various prevention and control measures during the novel coronavirus epidemic and taken steps to ensure that production proceeds and people can continue to support themselves over the course of the outbreak. It also provides assistance with sales and makes temporary employment available to people who need it. The town has been helping to maintain economic activity in addition to fighting against the disease.(Xinhua/Tang Yi)