Trees, shrubs, and Chinese herbs help village out of poverty
p.china.org.cn by Teng Jingyan ,February 19, 2020

Adjust font size:

Located in Zhongzhai town, Minxian county, Gansu province, Maya village is part of an extremely impoverished region that runs through the Liupan Mountains. There was a poverty incidence rate of 43 percent and there were only 0.067 ha of cultivated land per capita in the village until it found a path out of poverty.

Zhao Suoding is a resident of Maya who was impoverished until recently. A few years ago, his family subsisted on 0.2 ha of land, and his wife was bedridden due to illness. Their lives were very difficult.

The local government eventually engaged in poverty alleviation efforts, which made it possible for Zhao Suoding and other villagers to begin cultivating angelica and other Chinese herbs. He began earning an average of 90,000 yuan (US$12,915) to 105,000 yuan (US$15,048) per ha as a result of these efforts. In 2018, Zhao Suoding took out a 50,000-yuan (US$7,166) loan and launched an herb processing business. He was able to save more than 80,000 yuan (US$11,465) in the two years since and has escaped from poverty.

"The biggest change that has resulted from these undertakings is that we now earn a lot more money," a female villager named Zhao Gaxia said. "Many people have bought cars with the income that they have brought in from the herb industry."

Some villagers grow sea buckthorns and spruce trees in the mountains as well. Peaks that were once barren are now green.

"The mountains have provided us with more opportunities to make money," mentioned local resident Zhao Chengyi. He currently earns more than 100,000 yuan (US$14,331) of net income per year by growing 10.67 ha's worth of sea buckthorns and spruce trees on land that he leases.

"Transportation has become much more convenient," Zhao Gaxia emphasized. The local government has built paved roads in recent years, which has made it easier to distribute the products that are grown in Maya.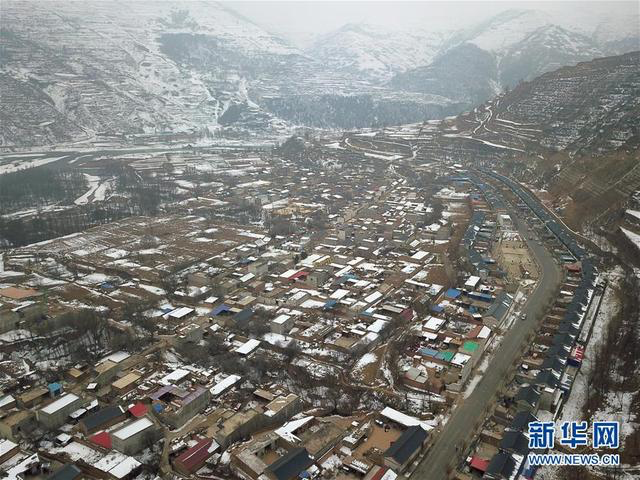 Maya village, Zhongzhai town, Minxian county, Dingxi city, Gansu province (Xinhua/Wangpeng)
The dilapidated homes that once stood in the village have been renovated, and brand-new, two-story buildings have been constructed along the highway. Every household is connected to clean tap water. A new village square that features many different kinds of fitness equipment can now be found as well.
A Maya official named Mi Qigang stated: "More new houses have been constructed and our village has become more beautiful as industry has developed in the area. Maya residents have become motivated to earn more money."
By the end of 2019, 634 people in 150 households in the village were no longer impoverished; poverty incidence had fallen to 0.4 percent.