China's poverty alleviation authority: Commitment to achieving comprehensive poverty reduction as scheduled
p.china.org.cn by Zhao Binyu,February 18, 2020

Adjust font size: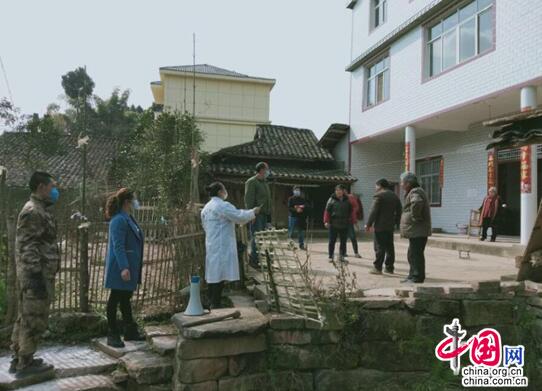 The State Council Leading Group Office of Poverty Alleviation and Development recently issued a circular that stresses the need to triumph in the battles against both poverty reduction and the novel coronavirus epidemic.
2020 is a decisive year in the fight against poverty and the comprehensive development of a moderately prosperous society. The sudden outbreak of the novel coronavirus presents new challenges and difficulties that must be overcome in order to achieve these goals.
The circular states that China's poverty alleviation authority considers winning the battles against poverty and the novel coronavirus to be major tasks that both deserve special emphasis and that comprehensive poverty eradication should be achieved as scheduled. Every effort should be made to ensure that work is carried out in a practical and detailed manner, and changes should not be made to overall plans and goals.
The circular notes that attempts should be made to overcome the impact of the epidemic on poverty alleviation, targeted poverty eradication should continue to be implemented, and new forms of targeted action should be taken.
Firstly, impoverished people need to be able to work. Poverty reduction workshops, non-profit roles and organizations, and other resources can be utilized to help make it possible for impoverished people to work in their local areas. Poverty-stricken people who are temporarily unable to work as a result of the epidemic should receive appropriate help with relocating to other areas.
Secondly, agricultural production should not be affected. Preparations will be made to ensure that seedlings and equipment are available and that spring planting occurs as usual.
Thirdly, steps should be taken to begin and resume poverty relief projects. Small and micro poverty alleviation projects can be handled on a case-by-case basis according to prescribed procedures in order to enhance efficiency and accelerate progress.
The circular reiterates that solid progress should be made on key poverty reduction goals. Poverty alleviation work should occur in areas that are deeply impoverished on schedule, including supervision. Deficiencies should be monitored, and problems should be rectified. Systems should be developed that monitor the return to poverty among people who have escaped from it and prevent them from doing so. Measures should be implemented to keep people who are no longer impoverished stay out of poverty and other people from falling into it. Work related to helping people who have relocated emerge from poverty, get jobs, and live stable lives should be improved.
The circular also highlights the importance of improving guidance and the dissemination of information related to epidemic prevention and control and poverty alleviation and educating impoverished people about the necessity of forming good habits. Full play should be given to the role of poverty reduction forces in villages in the pursuit of these goals.
Poverty alleviation policies should be carefully interpreted, people's concerns and opinions should be responded to in a timely manner, clear examples of poverty eradication efforts during the novel coronavirus outbreak should be circulated in a vigorous and innovative manner, and a good poverty reduction atmosphere should be formed.