Slow trains help villagers in Guizhou escape from poverty
China.org.cn/Chinagate.cn by Teng Jingyan ,January 21, 2020

Adjust font size:

Although modern, high-speed trainsrace between sleek, new stations throughout China, slow, green-colored trains continue to run through some of the poverty-stricken areas in Guizhou province and bring hope and prosperity to the people who live near them.

The 5639/5640trains connect the city of Guiyang in central Guizhou province with Yuping Dong autonomous county in the east.The337-km-long trip takes7.5 hours, and there are a total of 16 railway stations along the way. The trains are the only convenient and cost-effective way for people living in places like Wengdang village to sell their agricultural products.

Wengdang is located in the Miaoling mountains and is under the administration ofthe city of Kaili. More than 500of the households in the village grow vegetables and raise fish in paddy fields to support themselves.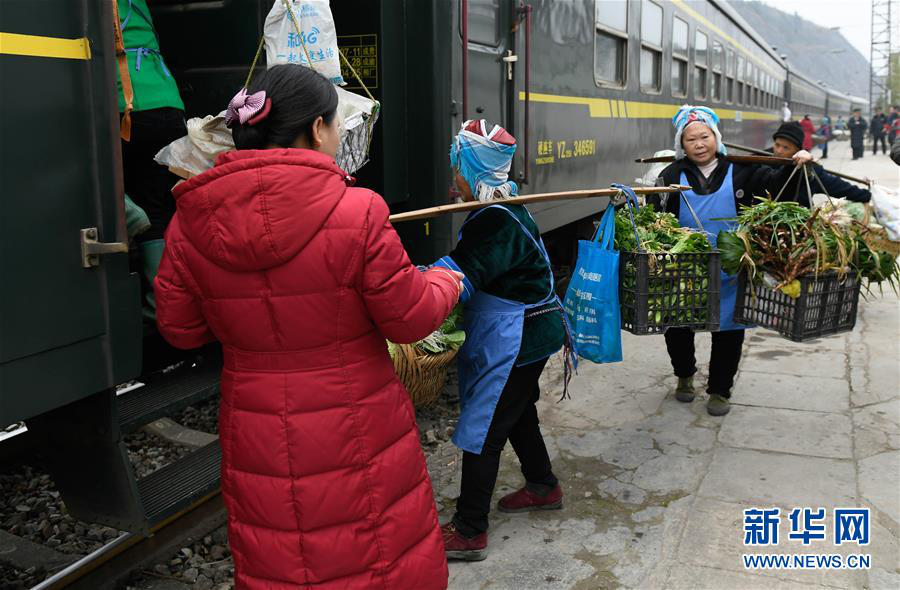 Passengers load the 5639 train with produce. (Xinhua/Xu Yi)
A Wengdang resident named Wang Xiaomei stated:"The slow train makes it possible for us tosell our vegetables in Kaili. I don't know what we would do without it."