Experts: Chinese targeted poverty alleviation benefits the world
China.org.cn/Chinagate.cn by Jiao Meng, Sun Fang, He Yuyang ,October 02, 2019

Adjust font size:

China has been conducting targeted poverty alleviation strategy nationwide addressing the practical needs of the poor population and aiming to eradicate poverty by 2020. This strategy coincides with the multidimensional poverty indicator study which is widely recognized by international experts on poverty alleviation. And the experts spoke highly of China's achievements in poverty alleviation and its contribution to the world, hoping that Chinese experience can help the UN Sustainable Development Goals come true at an earlier date.

No One Left Behind under the One-to-One System

Sabina Alkire, Director of the Oxford Poverty & Human Development Initiative (OPHI), described China's targeted-poverty-alleviation program as "really becoming an inspiration", saying that two things struck them.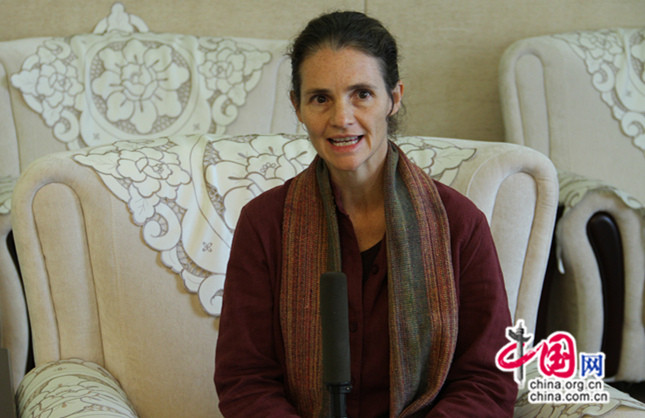 Prof. Sabina Alkire, Director of the Oxford Poverty andHuman Development Initiative.
One is the degree of coordination across ministries by the State Council Leading Group Office of Poverty Alleviation and Development. "That's a huge coordination effort. But then to coordinate at every level from the national to the provincial, down to the township, down to the village, down to the family level. That's really impressive," said Alkire. She thinks the clarity of the program, including who is identified as poor, and who graduates from poverty, provides a management structure for coordination across ministries and activities.
The other is the one-to-one contact person system. "Not only is there a professional set of human resources by the Leading Group Office of Poverty Alleviation and Development and by the Party to really work with the poor households and connect them to the benefits. But there is also a one-to-one contact person whose telephone number is known to the poor households, who visit them, who help to make sure that nobody is left behind," said Alkire, adding that, in a sense, is the "personalization of a relationship to a poor family", something she has not seen in any other country.
Since 1978, China has developed a relatively successful way to reduce poverty. By sticking to the reform and opening-up, the government has led the campaign by focusing on development and mobilizing the participation of the whole society. As a result, almost 800 million people have been lifted out of poverty, laying a solid foundation for building a moderately prosperous society in China.
"The leadership of President Xi has been really tremendous," said Director Alkire. She thinks the poverty alleviation campaign requires not just professional support and resources, but also a level of personal responsibility and motivation by politic officials.