Laid-off Worker Creates Business
china.org.cn / chinagate.cn by Jiao Meng,September 04, 2019

Adjust font size:

Timely assistance

She saw a news report on TV about government-subsidized-interest micro credits. Then she tried to contact the municipal re-employment micro credits guarantee center.

She was told that she could apply for loans at the Harbin Bank, the only local cooperator in this field.

"I couldn't believe that it took less than two weeks to get my loans. This money helped me to quickly build up my company," she said.

"What's more, with my repayments records, I can apply for more loans."

She said bank staff also gave her plentiful advise on financial affairs, as well as nominated her for the 6th Citi Micro-entrepreneurship award in 2010, which brought her fame and popularity among clients.

By the end of 2011, the Harbin Bank's micro loan balance was over 36 billion yuan (US$ 5.73 billion), accounting for 61% of its whole loan balance, according to data from Sun Jiawei, General Manager of its department for small business financing.

When asking why it decided to focus on micro loans, instead of the banks' usual preference, Sun explained its ideal to be a trustworthy bank with all-inclusive financing plans.

"We want to share our clients' growth to realize mutual financial gain. One loan for a fledgling entrepreneur means his or her family's entire livelihood. Of course he or she will value this loan and credit records. Then why not?" she said.

Under a new type of policies, micro loans and re-employment micro guarantee credits were launched by the Chinese government in 2002. It offered people who had lost their jobs the opportunity to set up small businesses with government guaranteed loans. The interests to the banks were then paid by local governments.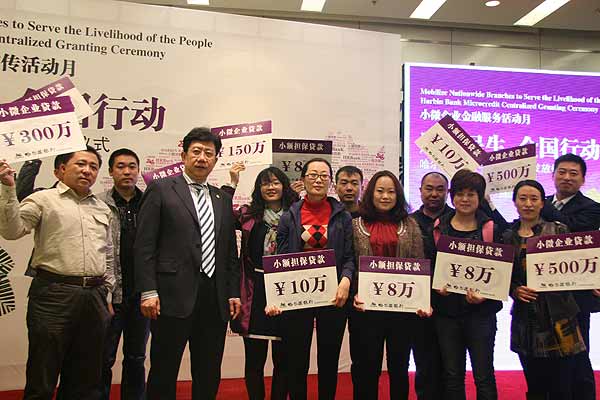 In a collective granting ceremony, Shi Rong (M) gets another 100,000 yuan (US$15,910) in micro guarantee loans, together with other borrowers from the Harbin Bank in April 23. [CnDG by Jiao Meng]