Mushrooms help revive woodlands in Shimenlou village
p.china.org.cn by Wu Tong,July 04, 2019

Adjust font size: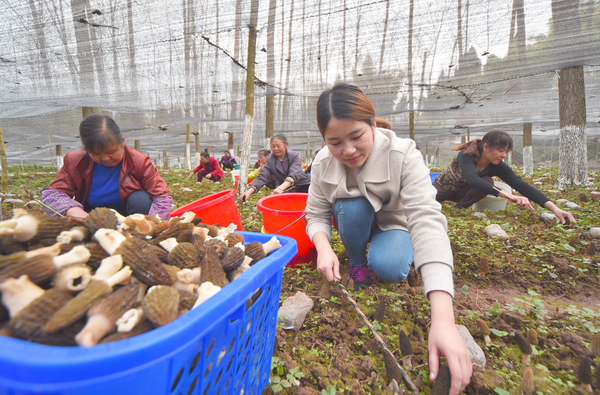 Long Ping (in beige coat), an official of Shimenlou village in Sichuan Province, picks "morchella" mushrooms with other villagers.
Shimenlou is a village located in Nanchong city, Sichuan province in southwestern China. A 3.5-km-long poplar forest sits along the river by the village, covering an area of more than 53 hectares.
In April 2017, Long Ping, a village official of Shimenlou, invited Li Daxiang, a mushroom botanist from Sichuan Academy of Agricultural Sciences and his team to conduct field research, with hopes of creating a source of income for villagers.
After two months of research on the temperature and humidity of the poplar woods, the soil and other factors, the team concluded that the place was ideal for growing morchella.
Li then raised more than 4 million yuan (US$636,800) to invest in morchella planting. He pays villagers an annual land rental of 9,000 yuan (US$1,400) per hectare. Meanwhile, the expert also teaches villagers how to plant this kind of mushroom and pays them 50 to 80 yuan (U.S$8–13) per day according to their work performance.
Long (in beige coat), along with other villagers, is loading a truck with newly-harvested morchella which is to be transported for sale or further processing.
Li said that one kilo of dried morchella can sellfor1,700 to 3,000 yuan (US$270–480) depending on their quality. Exported varieties can sell for as much as 5,000 yuan per kilo (US$800), while the market price of regular mushrooms is only 160 yuan (US$25).
In March 2018, after a seven-month growing season, the region saw its first harvest. According to the villagers, one hectare of morchella mushrooms generated approximately 450,000 yuan (US$71,000).
In the future, Long plans to promote mushroom-picking as a highlight of local tourism.