Leaving poverty by improving road and water system
p.china.org.cn by Wei Boya,July 02, 2019

Adjust font size: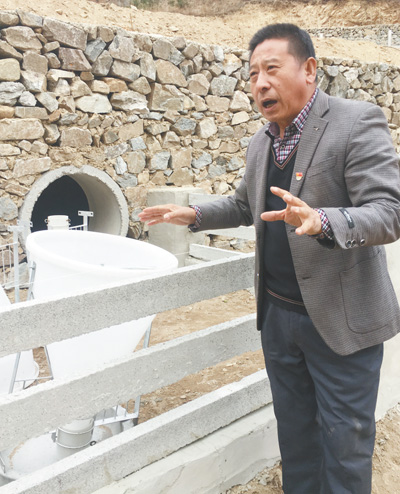 Yi Yuanliang, Party secretary of Yijia village, teaches villagers the scientific way of building pigsty. [ File photo]
In 2009, Yi Yuanliang, who had served in the military for 14 years, returned to Qixia County, Shandong Province to take the post as Party secretary of Yijia village. He didn't expect poverty had been deeply rooted here. The dilapidated office building, dozens of thousands of debt of the village and villagers' repeated petitions to governments of higher levels added to the difficulty for Yi's work.
Despite of this,Yi got familiar with the village condition after taking office.He realized that further development was faced with several bottlenecks, namely insufficient labor, road and water. At that time, up to 80 percent of the labor force in the village sought employment in cities or towns at peak season, leaving children and the elderly behind. There was no decent road besides some winding narrow footpaths leading to the orchards up on the hill. A more pressing problem was that the only water resource for all villagers was a well of salty water.
"A dire lack of road and water are the obstacles on the way to development. We have to make changes if we want a letter life," Yi said. He decided to give priority first to developing local economy so as to explore a way out of poverty. In 2017 when the Qixia municipal Party committee called for the development of village-level cooperatives, it came to Yi that he could organize villagers to plant late-ripening peach trees by setting up a cooperative.
He did a door-to-door survey and discussed solutions with other village officials. After convincing them, Yi tried to convince villagers to join the cooperative. In order to reassure villagers, Yi organized them to Nanshu town, Caixi city to visit peach gardens.
Seeing Nanshu people having obtained benefits, the villagers' enthusiasm of joining the cooperative was aroused.During the five months from May to September 2017 when the village fruit and vegetable cooperative officially obtained its business license, 53 out of 57 households in the village joined in.
People became more united after joining in the cooperative. Road construction and water division were put top on the agenda. It was estimated that 4 million yuan (US$ 600,000) would be needed, a sum hard forthevillagers to imagine before."Now,withthe cooperativein place, though we lack of themoney, we can overcome it together," Yi said with confidence. He was happy for the villagers' support.
In order to get water, Yi contacted a drill crew. With their help, a 335-meter deep well was soon built with adequate supply of water, a cheering news for the village.
With the problem of water solved, Yithen turned to the goal of building a road.The hill where the village sits is steep. In order to open up the road up to the hill top,more than two tons of explosives were used, and more than 2,300 blastholes at a depth of 2 meters were drilled. Some places even took threeblasts to get through.
When the mountain road burst open, there left no money for construction crews. So the villagers hammered away at the rubbles, leveled the road with picks and shovels, and built the retaining walls with their hands. Without construction machinery, the villagers even used their own tricycles.
Their efforts got paid. Today in Yijia village, a 5.5-meter-wide, 5.5-kilometre-long ring road leads to the hilltop.Two reservoirs, which are 300 meters above the sea level, have been built and every reservoir can irrigate 50 mu (8.2 acres) of farmland. Near 350 mu (57.7 acres) of orchards in the village are equipped with drip irrigation equipment.
"It's just a beginning, we are still on our way to get rid of poverty," said Yi. He is now eyeing ecotourism and agritourism to integrate fruits picking tours, leisure tours and sightseeing tours. He has also planned to organize learning tours of cities for the villagers to prepare for starting another business.